welcome to the story of us
a little friday fun
One flight of stairs. One. And I still managed to trip. My face turned beet red and I turned around to give my mother the "help me, I'm SO embarrassed look" as I tried to pick up all the stuff I had dropped in that moment. Of course someone was behind her. Another student moving into the Cal Poly dorms. Another freshman, who probably wasn't as nervous as I was. Another kid who would probably laugh about the girl who fell up the stairs and dropped all her dorm goodies on move in day. Not how I thought "the story of us" would start with my future husband. And this is only Part 1 after all…
Funny thing is, that kid who watched me trip, wasn't Jake. It was his roommate Galen. I had met Galen on Facebook, after a sly friend request when my high school boyfriend mentioned his family friend's friend was going to be in the same dorm as me. Desperate to know anyone in my dorm and not be a total loner my freshman year (shoutout to my high school besties who came to the same university but lived in other dorms), I added Galen. I sent him a quick message but that was pretty much the extent of the conversation.
So, back to being beet red. I realized the guy behind us on the stairs wasn't a stranger, but him. "Galen?" I asked. Of course, he didn't realize who I was. So I probably sounded even crazier. It took a moment, but after introducing myself, he realized who I was and we all went on our way.
Whew. Not a good start to this year.
After saying (a tearful) goodbye to my parents as they ventured back to the Bay Area, I headed back to the dorms. Unsure. Uncertain. Overwhelmed. I made the trip back up the stairs to my second floor dorm room. As I approached the common room, I ran into Galen again. Almost a straight smack into each other, but not quite as dramatic as before.
"Hey Ashley! What's your number so we can connect later?"
Phew. He doesn't think I'm a total crazy person. I let him know as he was off to lunch with his family. I went back to my room and chatted with my roommates while trying to figure out how all our stuff was going to fit into a three person room with two sets of bunk beds and VERY little storage. And I mean VERY.
A few hours later, I realized, Wait. I have no way to get ahold of Galen as he didn't give me his number. Welp, this was going nowhere. Down another friend. Dang it!
That evening, we had a Speed Meet with our dorm mates. You know, like speed dating, but for awkward freshmen who don't know how to socialize. Where you had just 30 seconds to introduce yourself before they shuffled the circles. Funny thing is, a few people in, I ran into Galen. We got to chatting, as much as you can in 30 seconds, and agreed to catch up after the evening's activities. We ultimately hung out that night and again the coming days when you go to informational meetings about your college and campus tours. Things you pretend to think are lame like everyone else but are totally interested because this has to be your life for the next four years.
Two Days Later
The wilderness must be explored! Kaw! Kaw! Rawr!
Yep, you read that right. And if you're a Disney or Pixar fan, you might know what that's from. Not ringing any bells? That's the chant from Pixar's UP, Russell's wilderness explorer chant. And that's exactly what 300 freshmen had to scream in a battle against about 4000 other freshmen. And one of those was me.
Wednesday night we found out our dorm theme was UP; after all, college was a vast wilderness we knew nothing about. It was new territory to explore in order to get our "badges". After a few practices, we were off to the rally.
A sports rally. Now, that's something I can get behind. I followed Galen and few other dorm mates to the rally and proudly did our cheer.
Later that night, the red brick dorms were hosting an Open Mic night. Now, I know what you're thinking. I didn't come a hair within the microphone. Not my style.
But it was Galen's. So we each invited our roommates out to the North Lawn to hear the brave, young freshmen souls perform, share, and introduce themselves to a bunch of freshmen who were in awe of their bravery.
Halfway through the night, after Galen had been the highlight of the Open Mic with his ukulele playing and singing, he came and sat down near my roommates and I. He introduced a few guys from his side of our floor and signaled to one guy sitting a bit in the distance. "That's my roommate Jake!" Jake waved. I waved back.
A bit anticlimactic, right?
I wouldn't have believed if you had told me I would meet my soulmate. A distant wave. An open mic night. The third night of living on campus. School hadn't even started. We both had significant others back home. And Galen, a new friend who made starting college a lot less overwhelming. The reality of it all is life is unpredictable. It doesn't work how you think it will. It surprises you. And that's just what it did. I made a lot of new friends that week. And some will be my friends forever.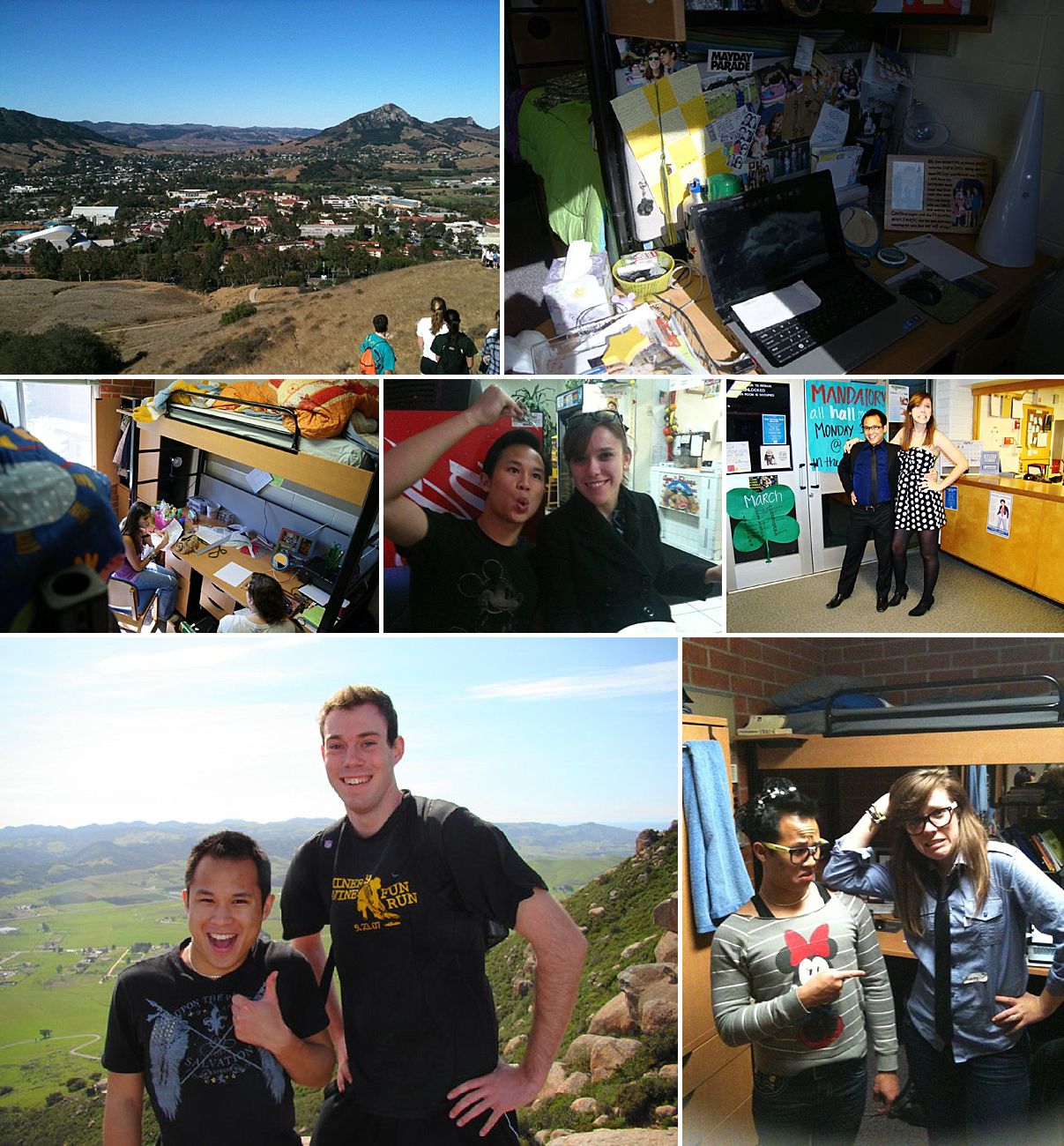 thank you to our best friend Galen
Total shoutout to Galen. Our best friend. The three of us were inseparable freshmen year (all as friends only). But more to come on that. As a treat, here's a few photos from the beginning of freshman year. A lot has changed, and there was a lot of rough patches, but I wouldn't trade it for anything. After all, it's the story of us. 
Picture of Jake and I today at the top by photo gal pal Lauren Alisse Photography.
Friday Fun: The Story of Us
Every friday for the next 8 weeks, I'll be sharing a little of "The Story of Us" on this blog. Stay tuned for the next installment, next Friday! Hope you don't mind hearing a little about our love story.
Your Love Story
We also want to hear your love story! Shoot me a message on Instagram or inquire for your wedding here. I'd love to hear your story!
About Ashley
Ashley Baumgartner is a Sacramento Wedding Photographer serving wedding clients in the Sacramento region, Placer and Tahoe regions, Napa region, Bay Area, and Central Coast. Please inquire today to check availability for your sacramento wedding, placer county wedding, tahoe wedding, napa wedding, bay area wedding, or san luis obispo wedding. We would love to head back to SLO for a few weddings a year!