Pink. The color that represents romance, sweetness, and love with a little bit of passion. There is beauty in art, and certain colors and elements can bring people joy. Seeing beauty amidst all the chaos can bring hope and happiness especially to brides all over the world. And that's exactly what this creative team wanted to do – bring beauty through delicate details and dripping in dahlias of all colors and sizes to bring beauty and inspiration to the pink-obsessed bride looking for a stylish yet intimate affair. This editorial is featured on Inspired by This today! 
the pink-obsessed bride
Pink inspired the ladies of Party Crush Studio and Le Bloomerie to push the boundaries of floral design and fabric combinations with design to create a sweet combination perfect for any pink loving bride. A simple sweet variation of a classic pink dahlia inspired a bountiful tablescape, overflowing ceremony arch, delightfully tasty pink champagne coupe tower full of Fleur de Mar rose, and more. There was no shortage of delicate pink details from the centerpieces to the backdrop, bouquets to the candlesticks, and more. 
But as the world continues to change and reframe, connection becomes even more important. While you may not be surrounded by everyone you've ever known, there is no shortage of joy when it comes to an intimate celebration. It also provides a chance to connect on a deeper level, spoil your guests, and push your creative boundaries. 
the details
From overflowing dahlia ceremony arch, to a luscious pink hand painted backdrop from Suzy Pierce Art, perfect to elevate any part of the wedding day. A perfect spot for your guests to celebrate your love, despite everything going on. 
Chic white and gold chairs from Lux Event Rentals & Design provided a luxurious place for guests to sit and enjoy an intimate dinner on a tablescape dripping in textured fabrics from Party Crush Studio, delicate place cards from Curved and Co, and colorful bountiful florals from Le Bloomerie. Guests enjoyed a pink champagne treat alongside their delicious dessert from Palette Cakes alongside a stunning vintage dresser stand from Lux. 
The bride, Becky, stunned the guests in her feminine and shimmery Blush by Hayley Paige Nash gown from Grace and White Bridal, adorned in bling from Untamed Petals and glamorously classic hair and makeup from Camille Goldston Hair & Makeup. Badgley Mischka heels completed her bridal look after a spritz of Chanel perfume and Dior glam products. 
Delicate stationery from La Pomme et La Pipe guided guests to the evening and set the tone for an intimate and delicate affair while The Mrs Box details provided pops of color. 
Entering our new normal as COVID continues, does not mean you need to sacrifice design, glamorous affairs, or a love of pink. Modern, minimalistic, but bountiful designs can be incorporated to treat even the smallest of wedding parties.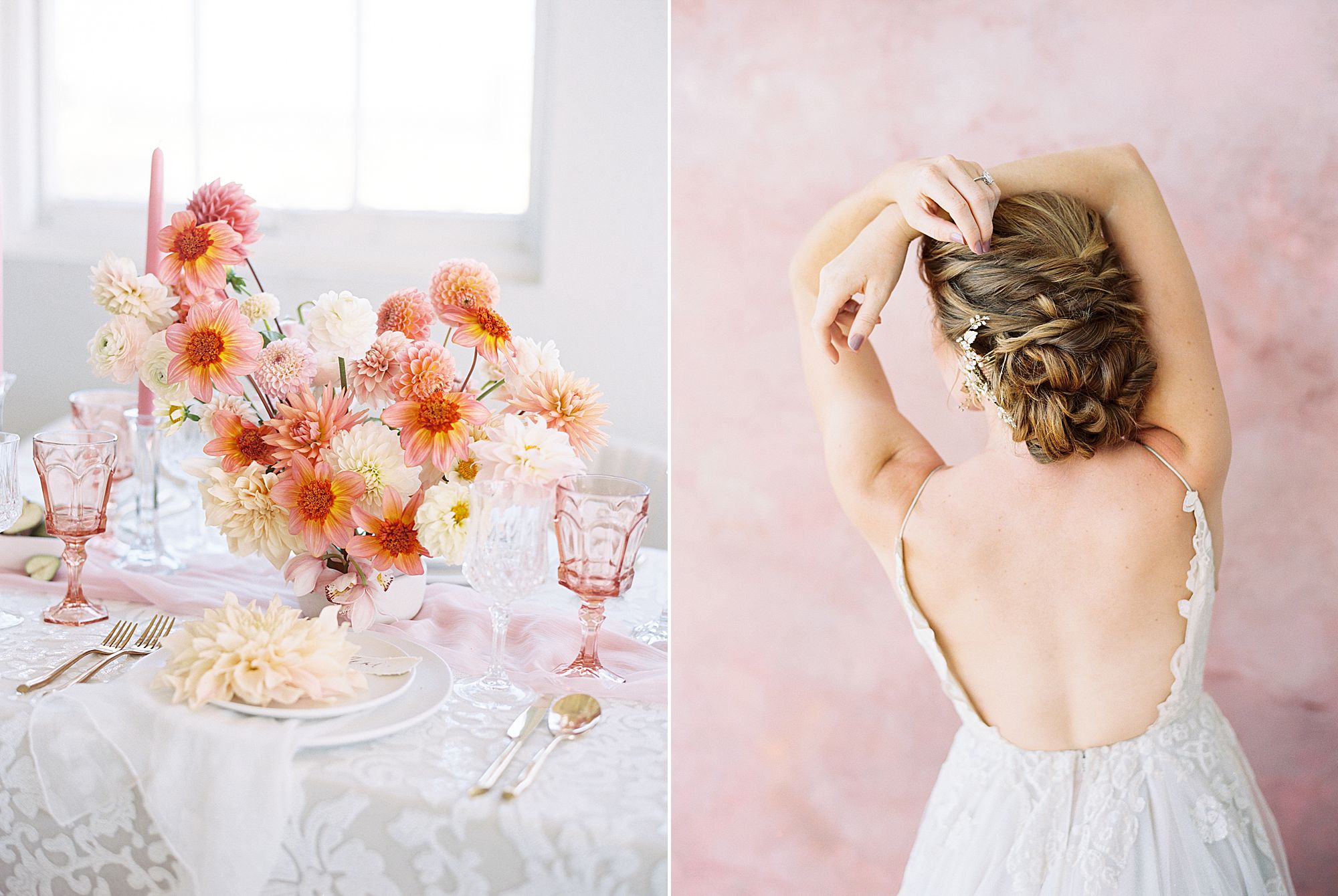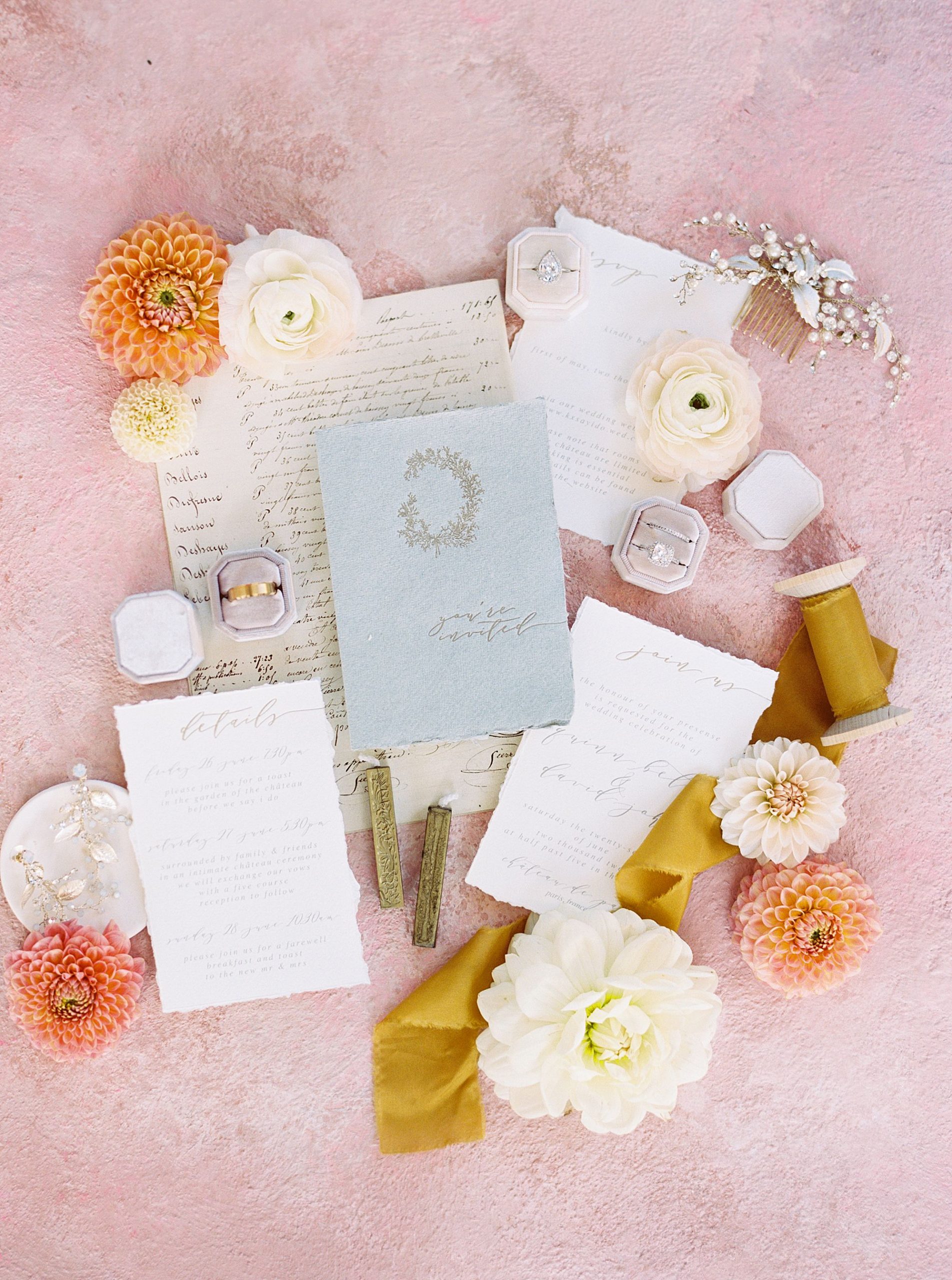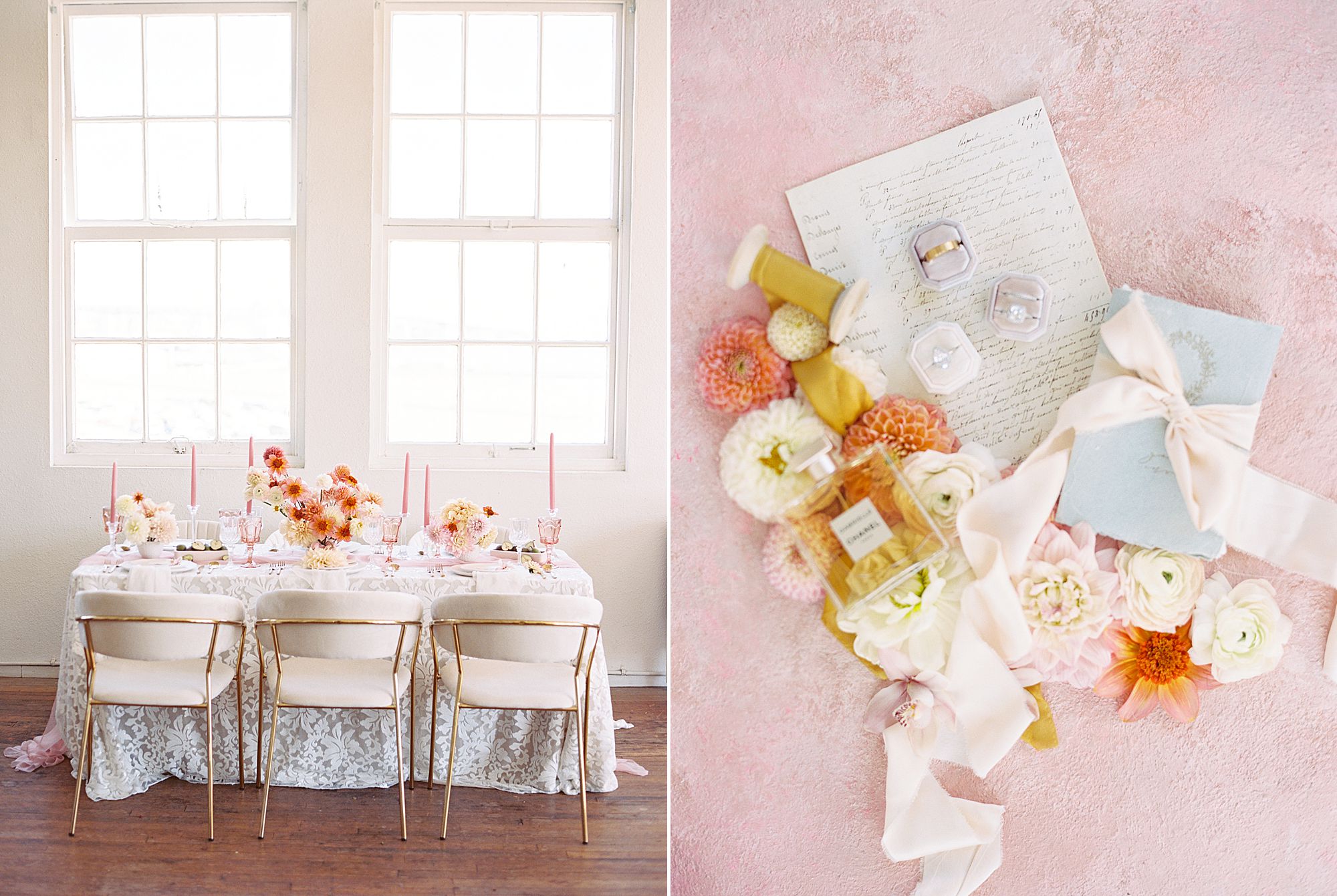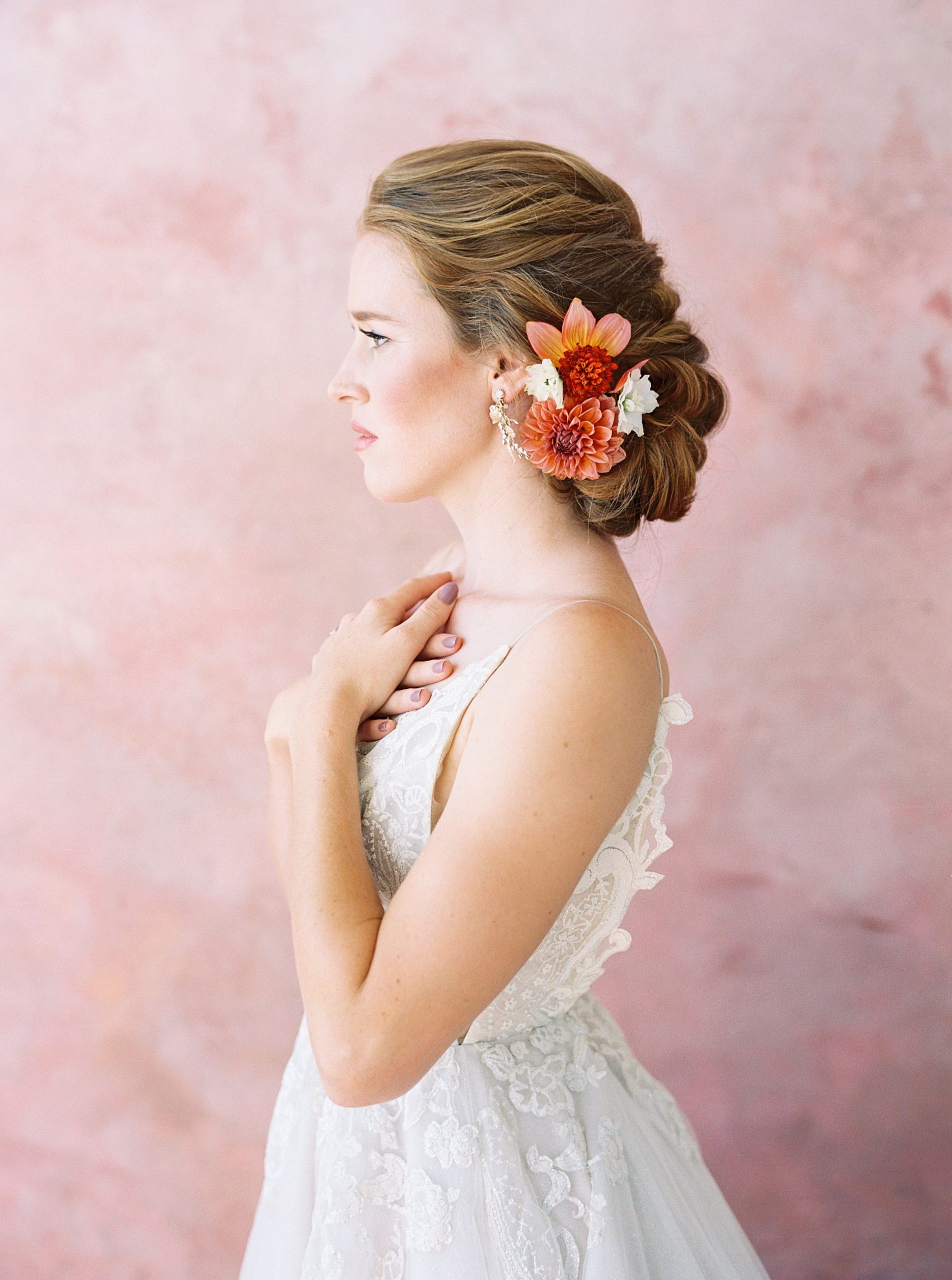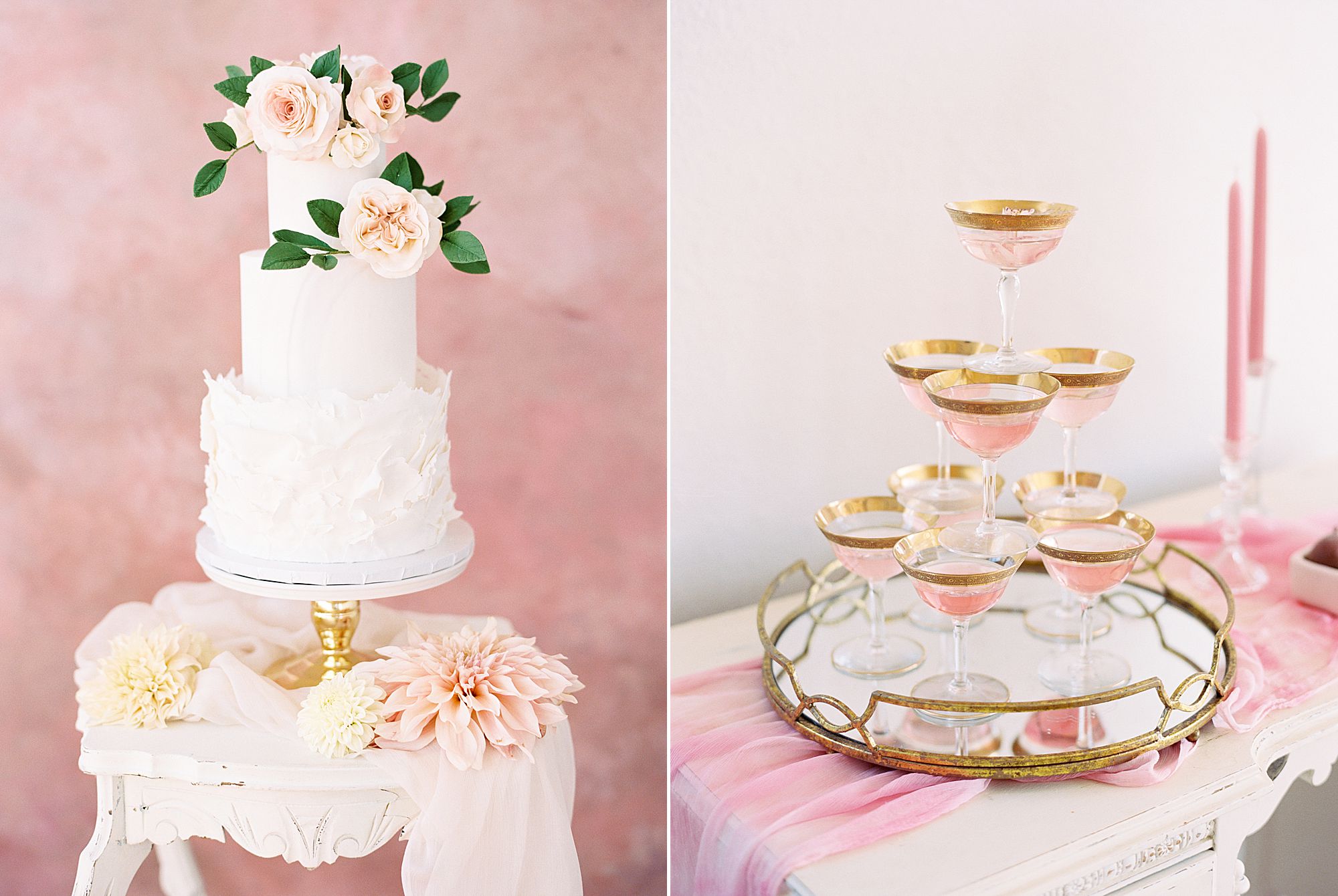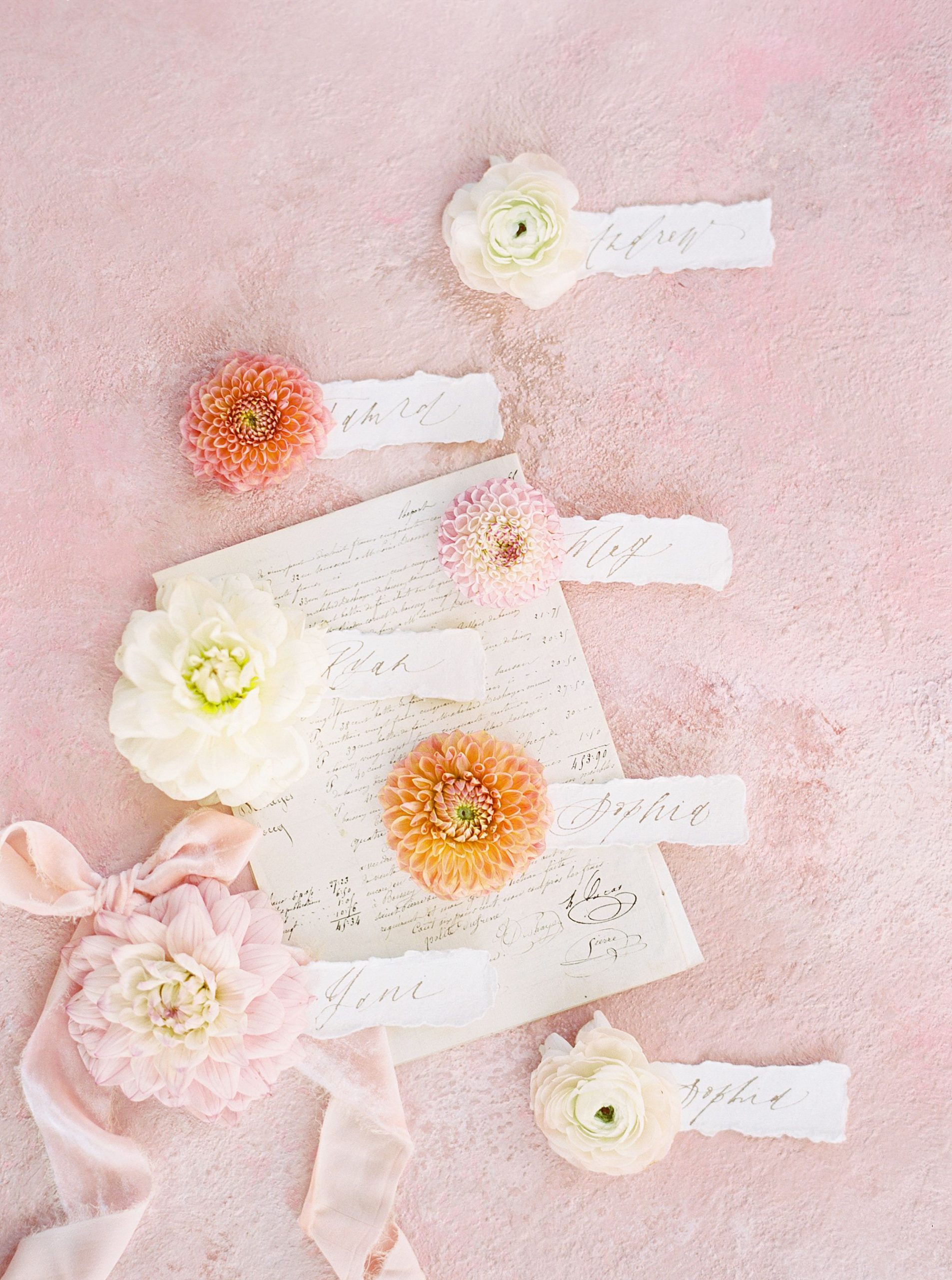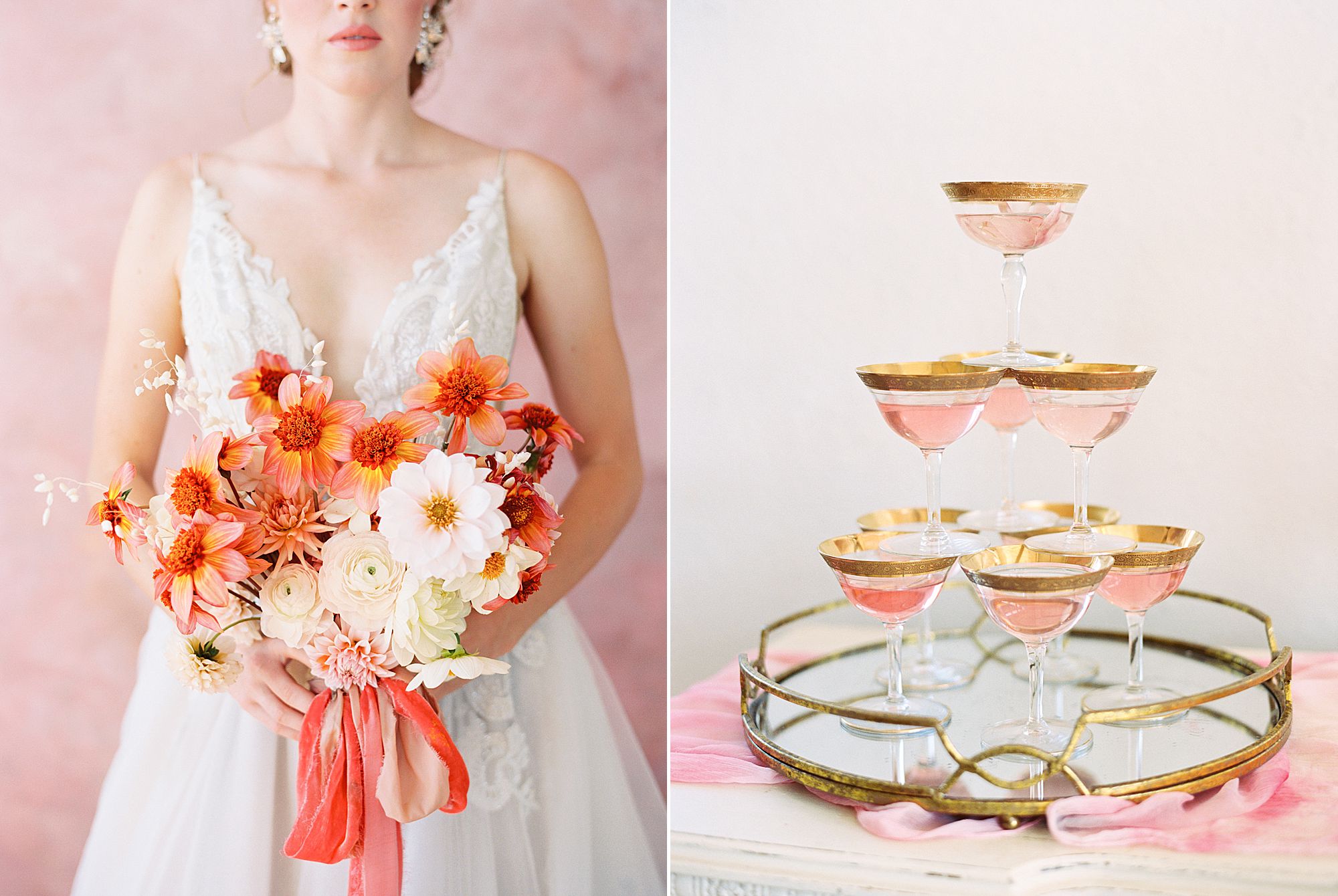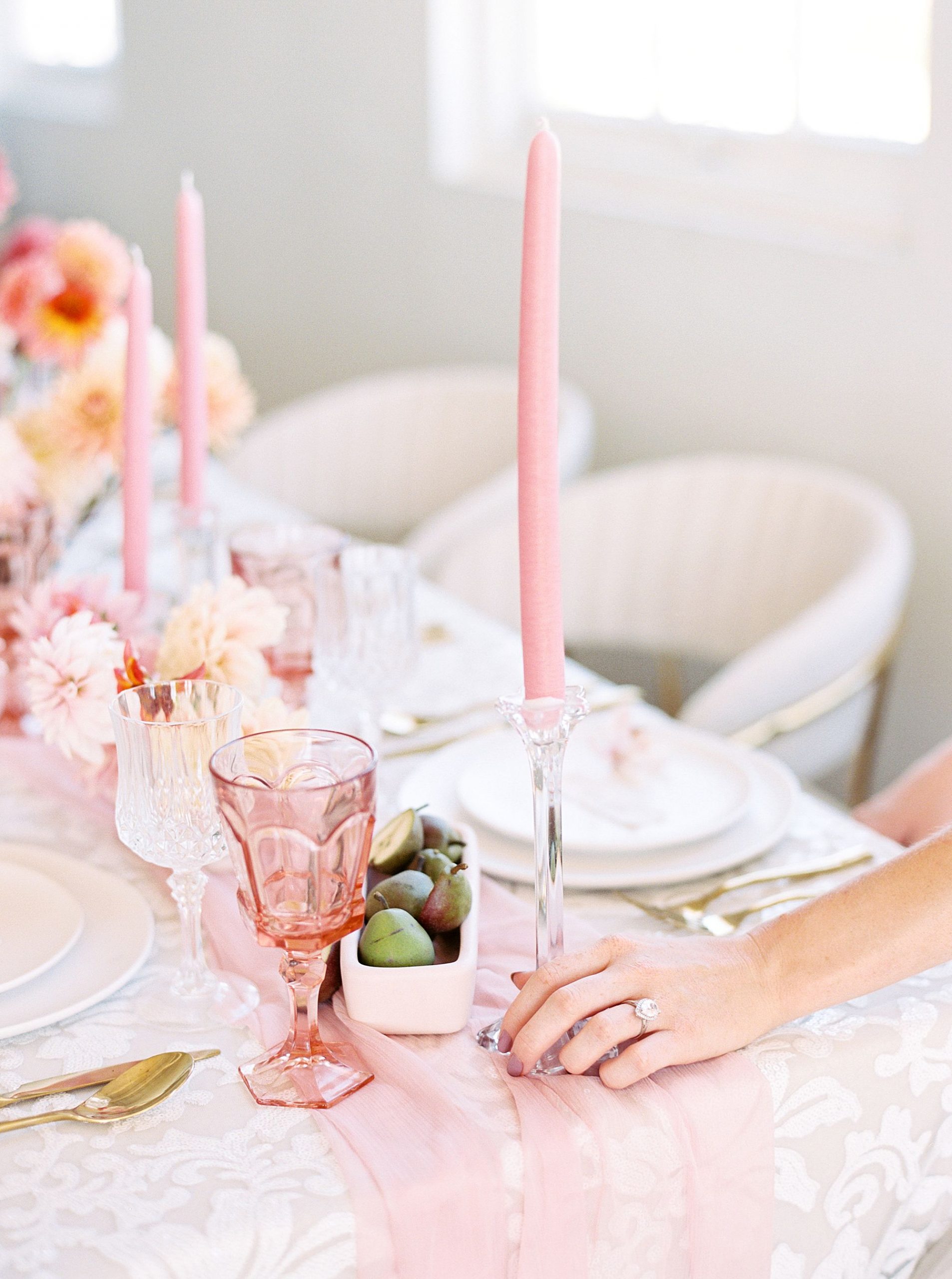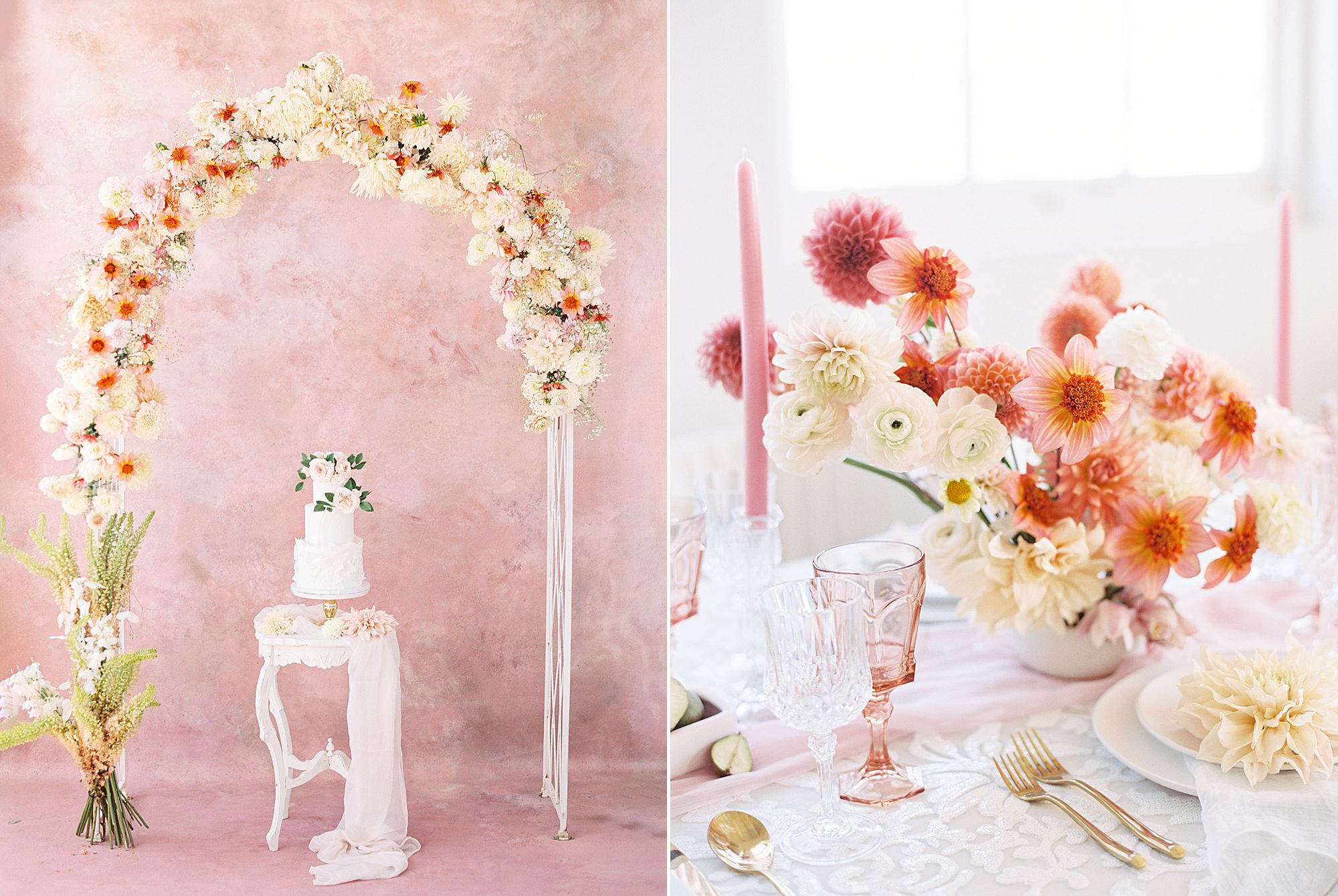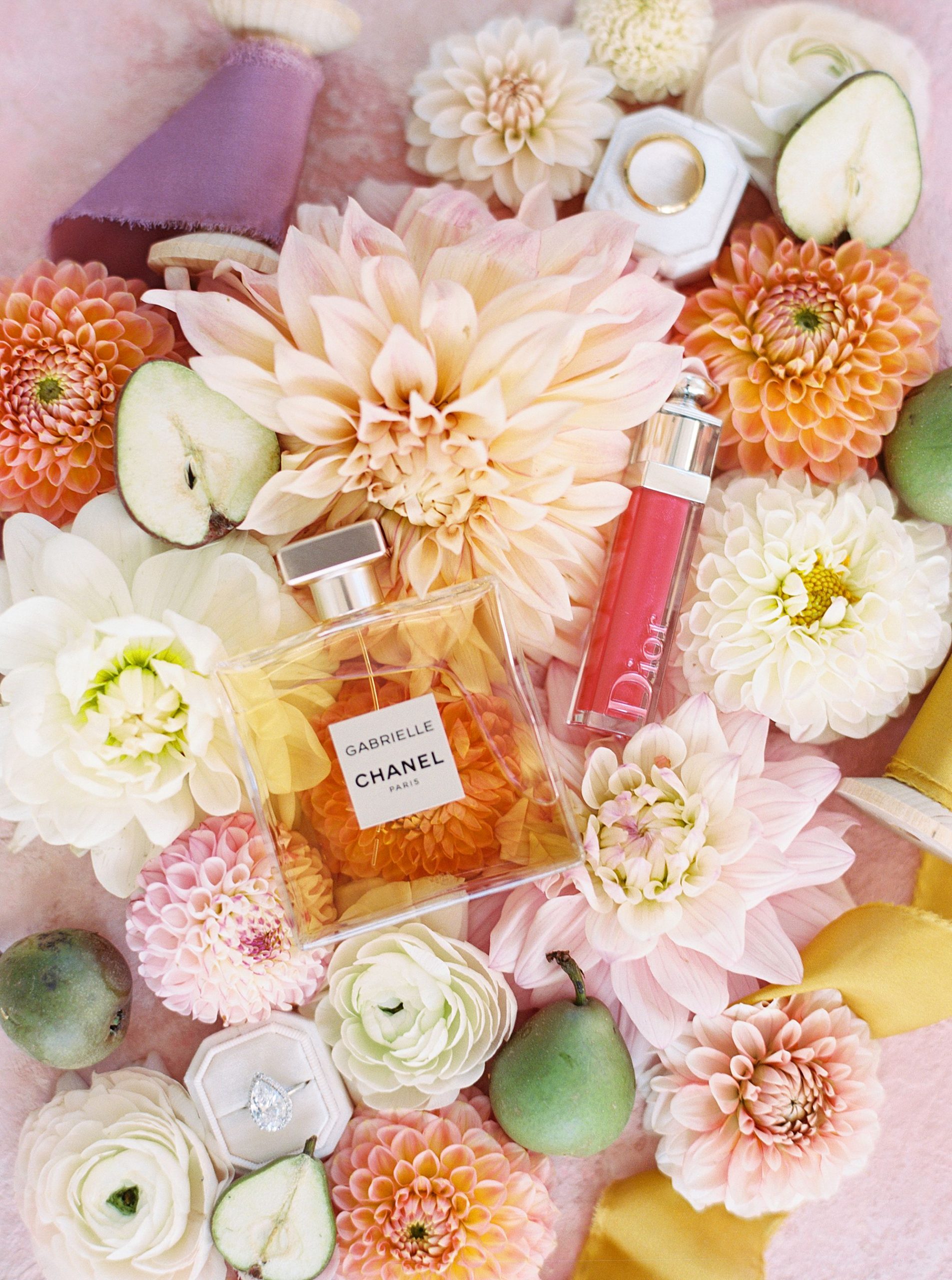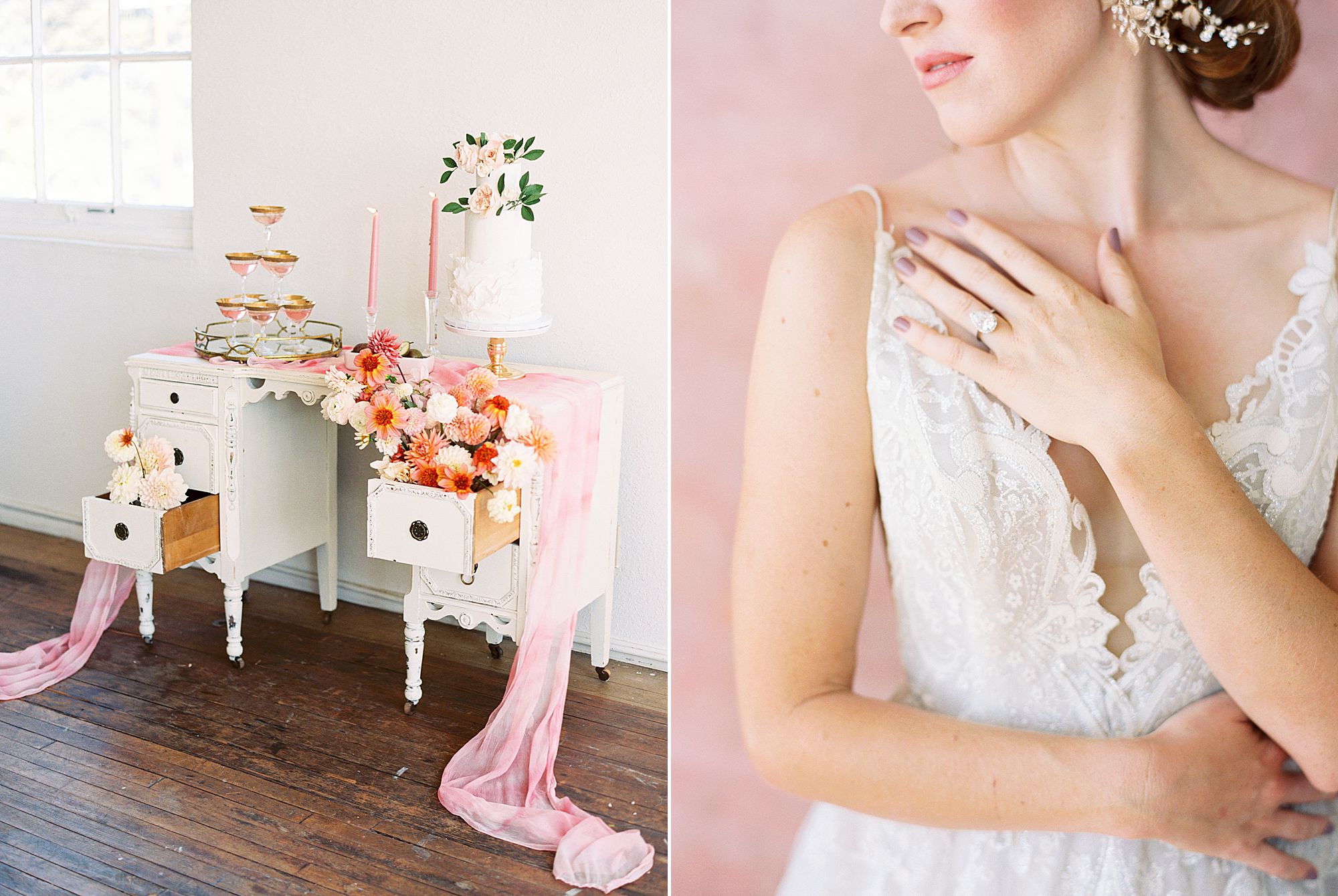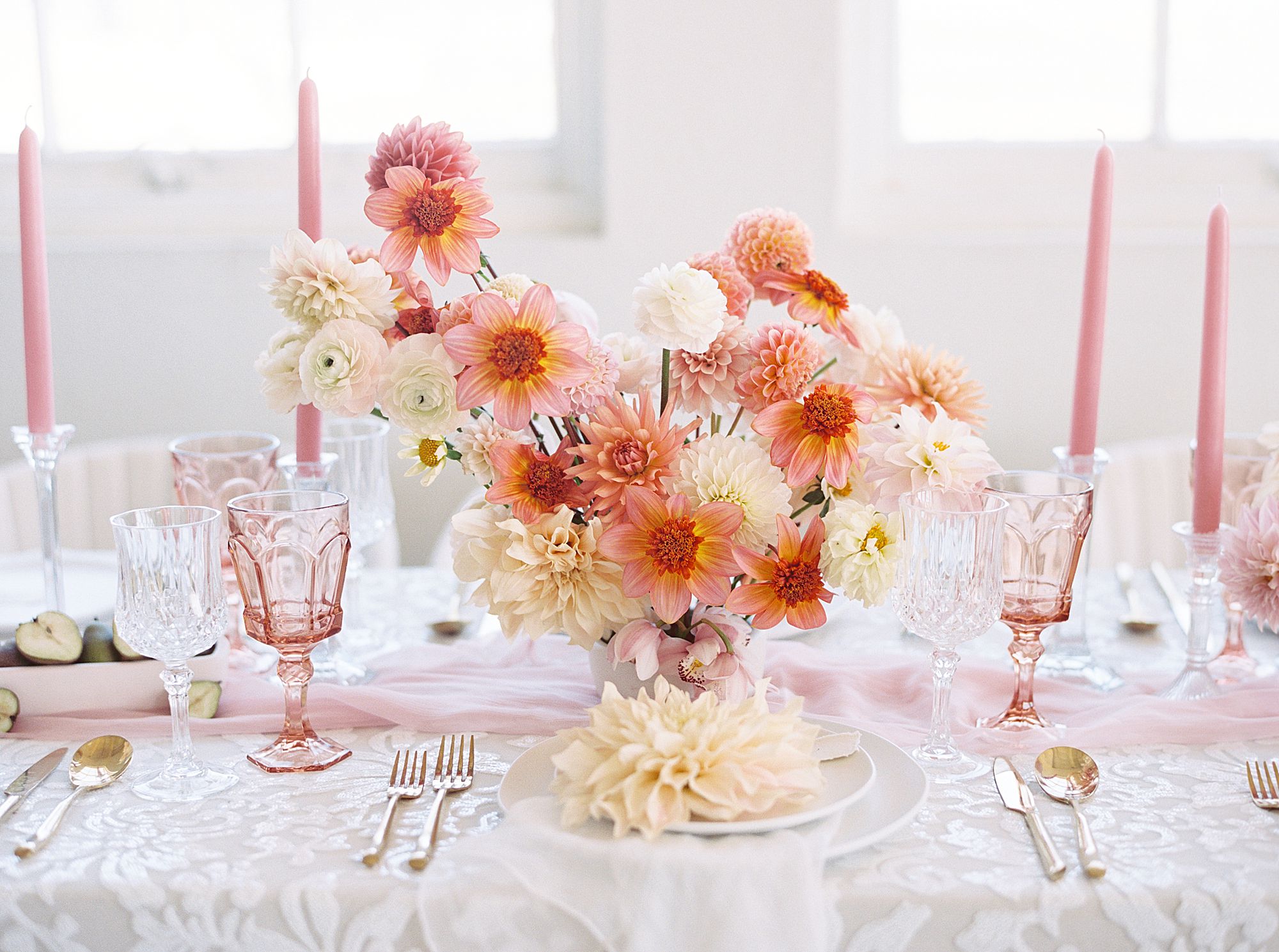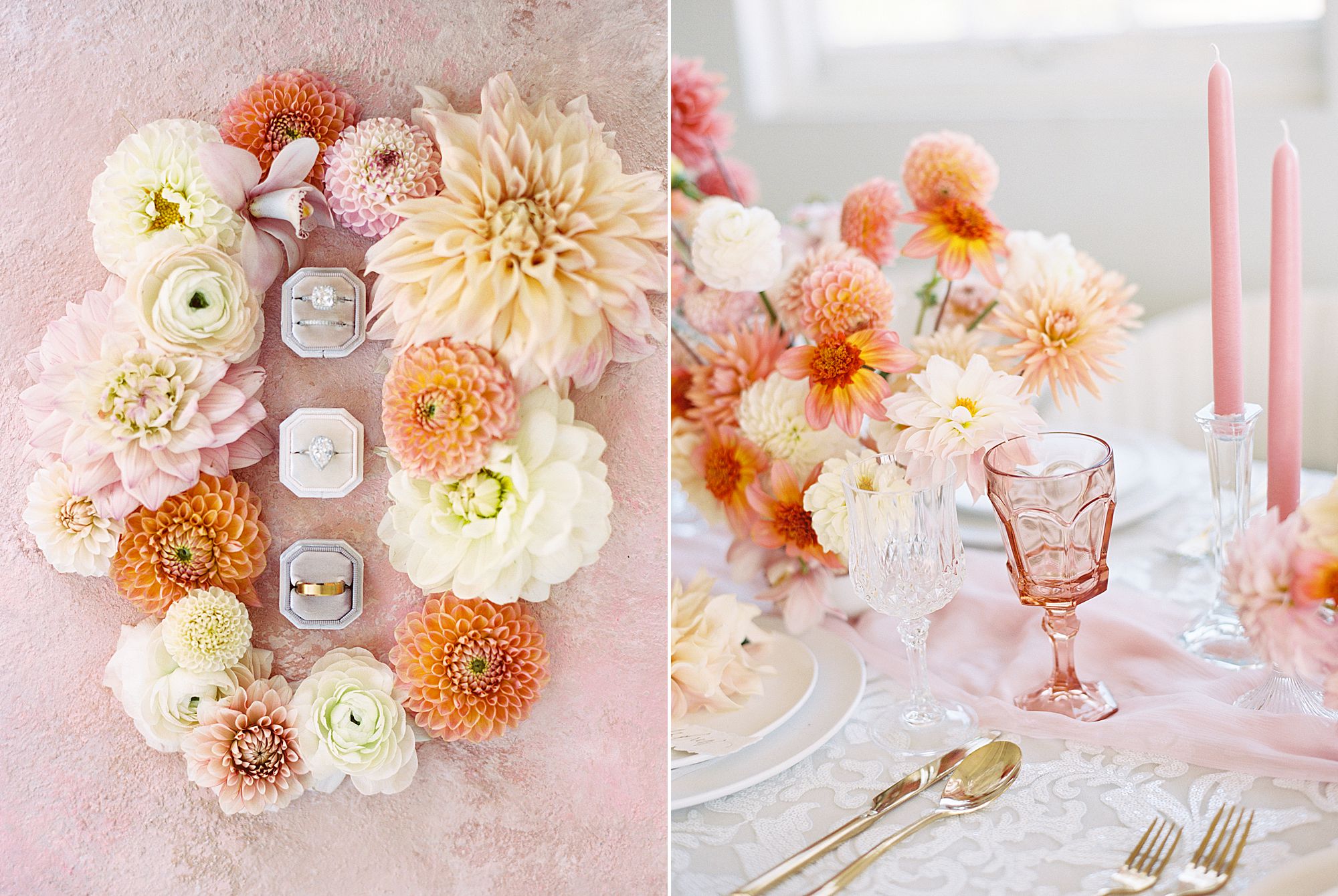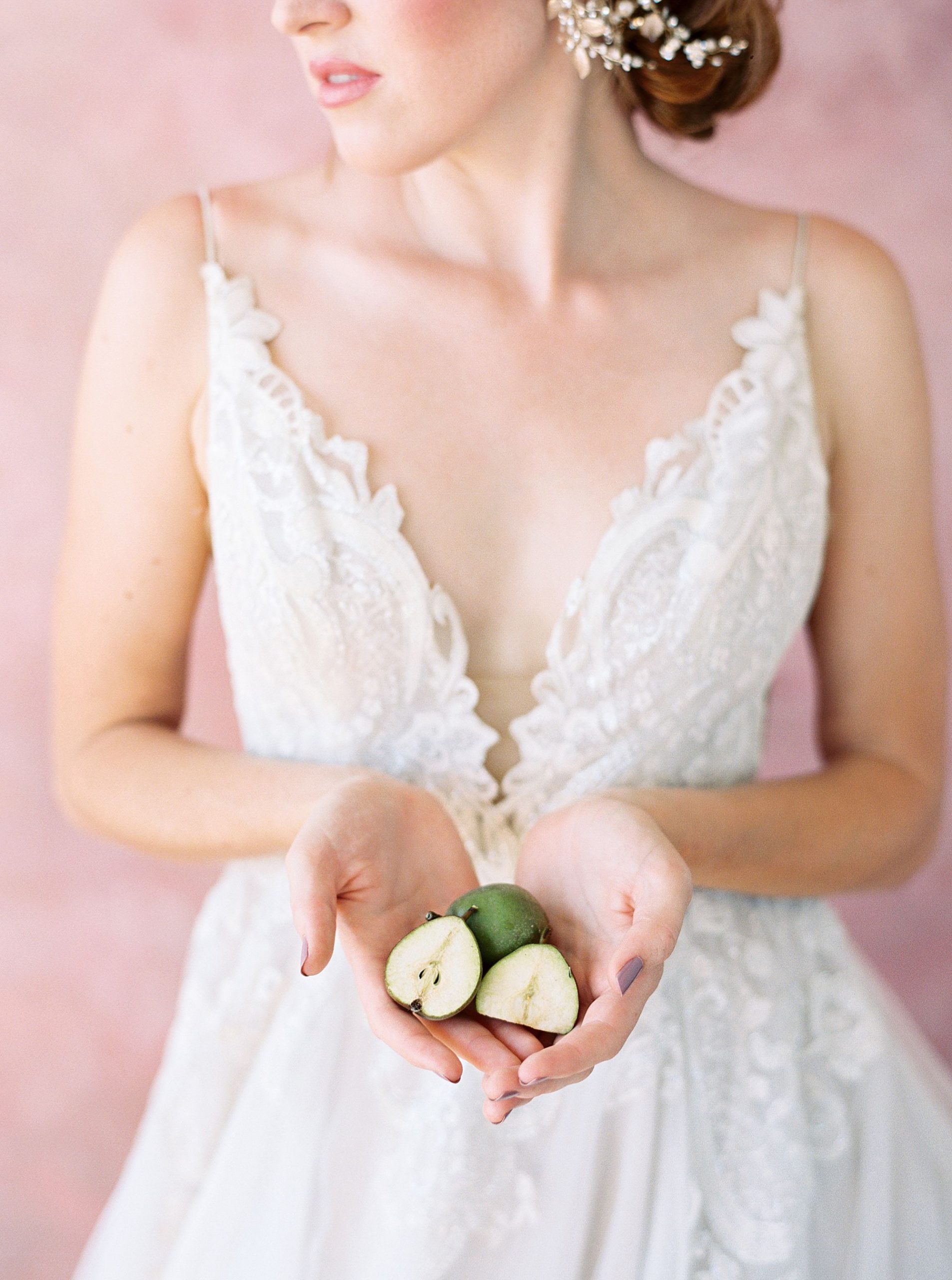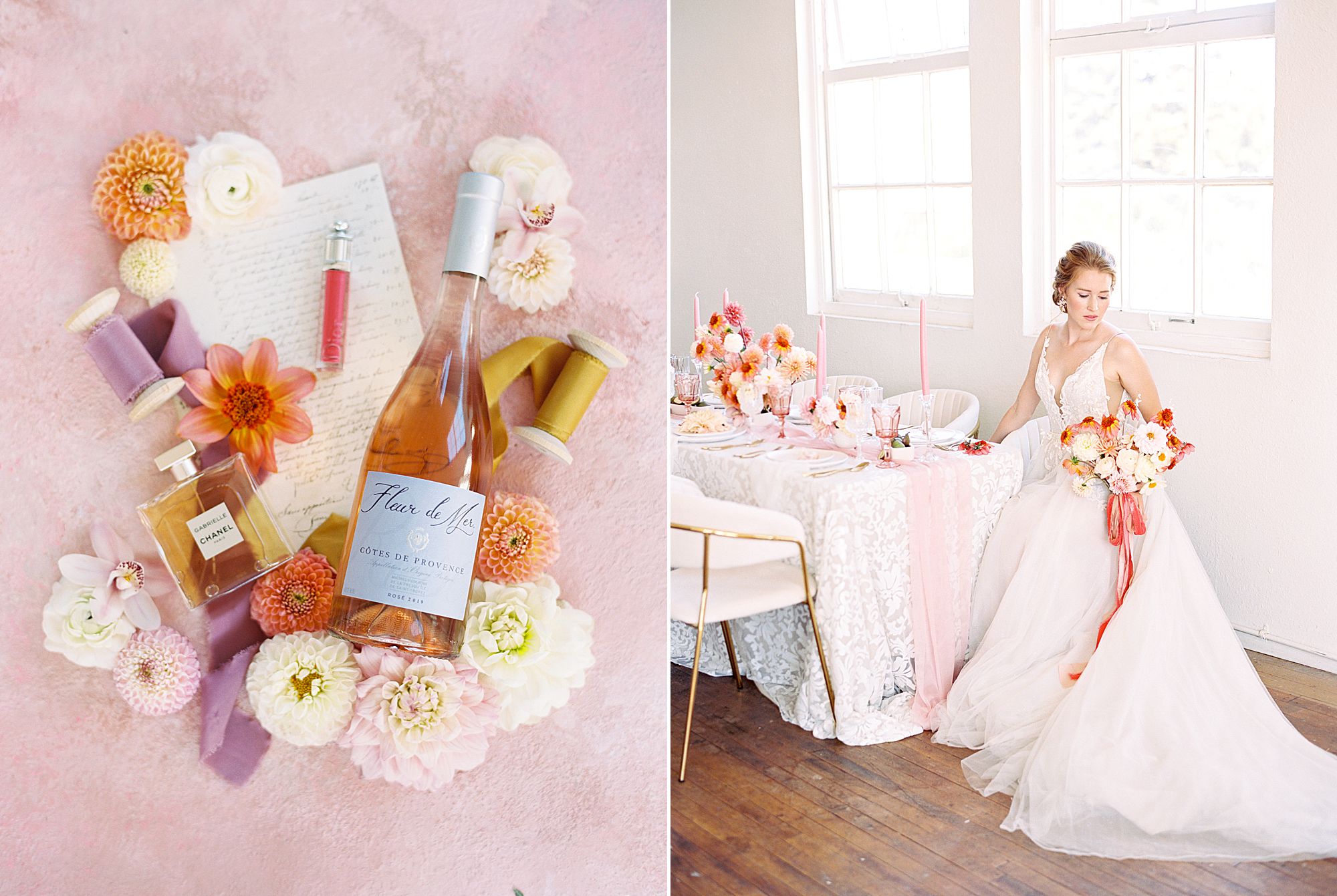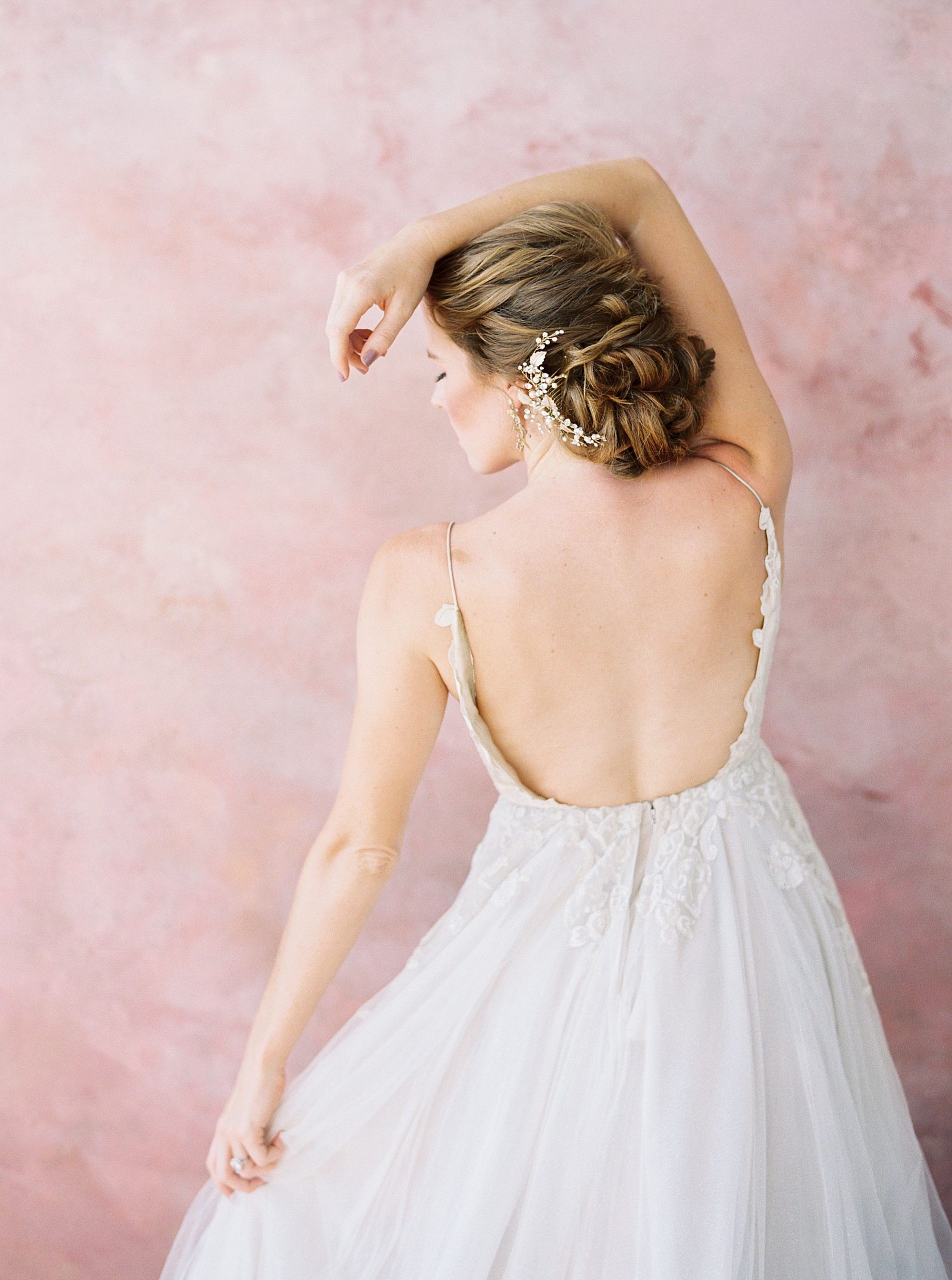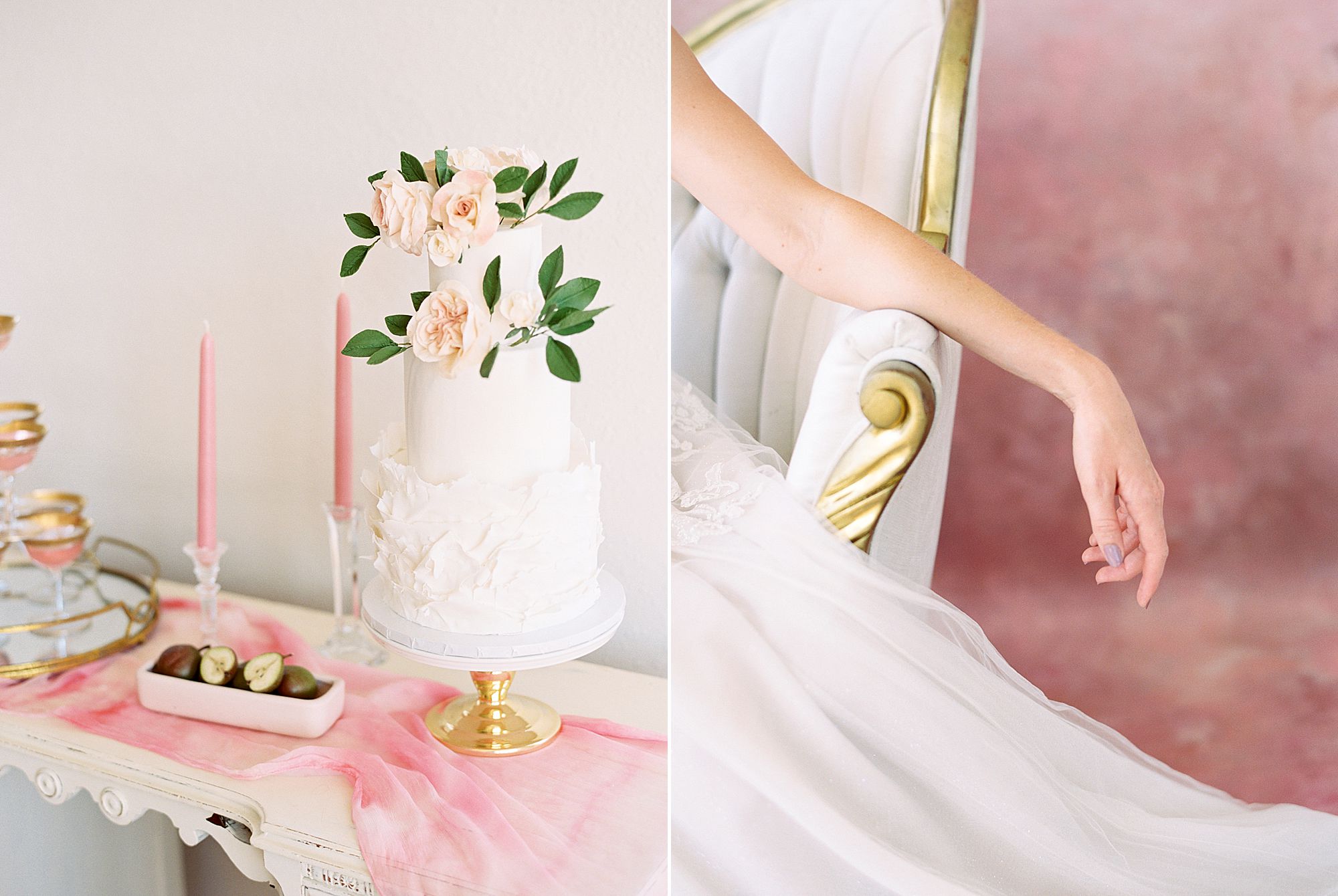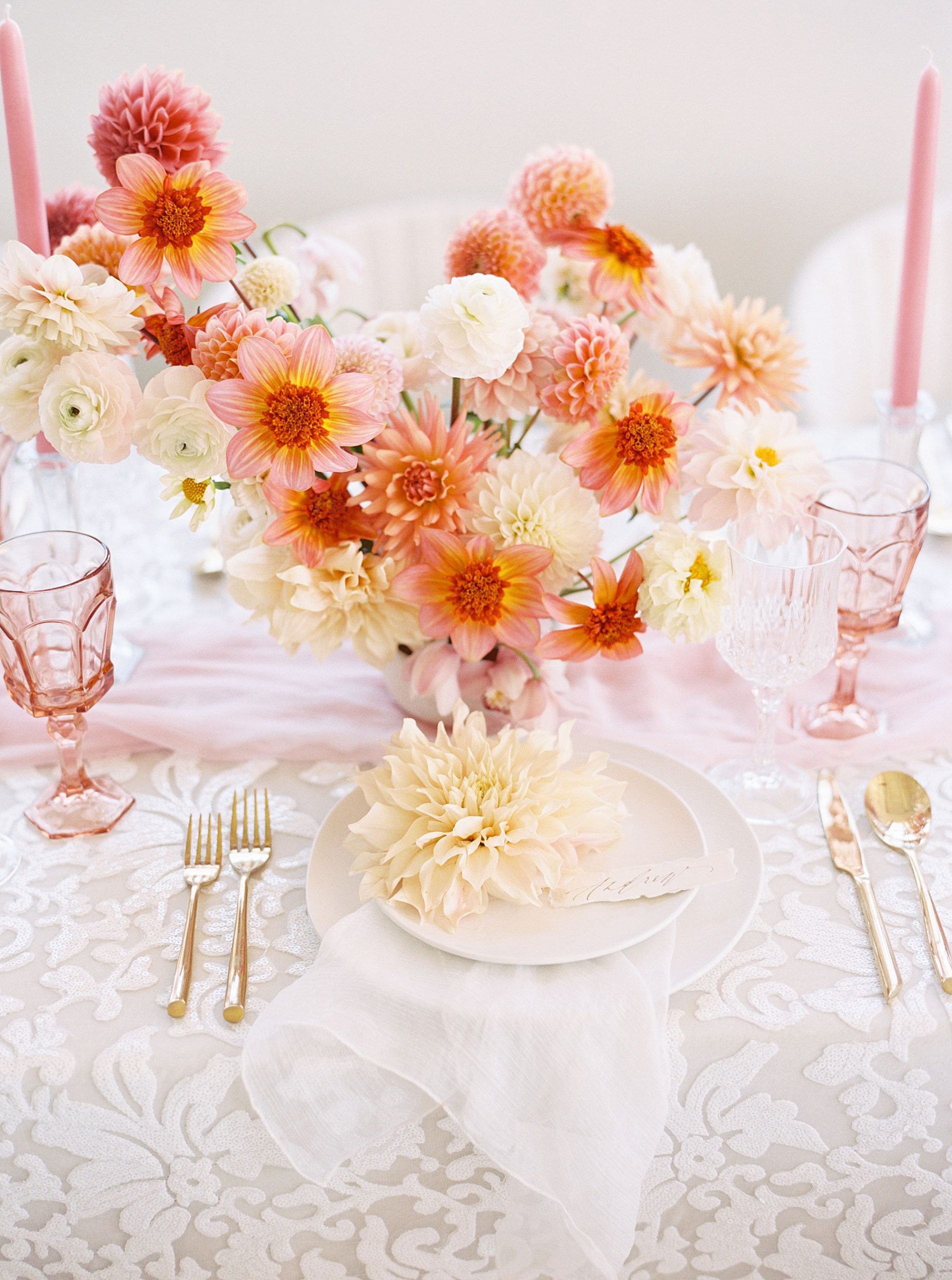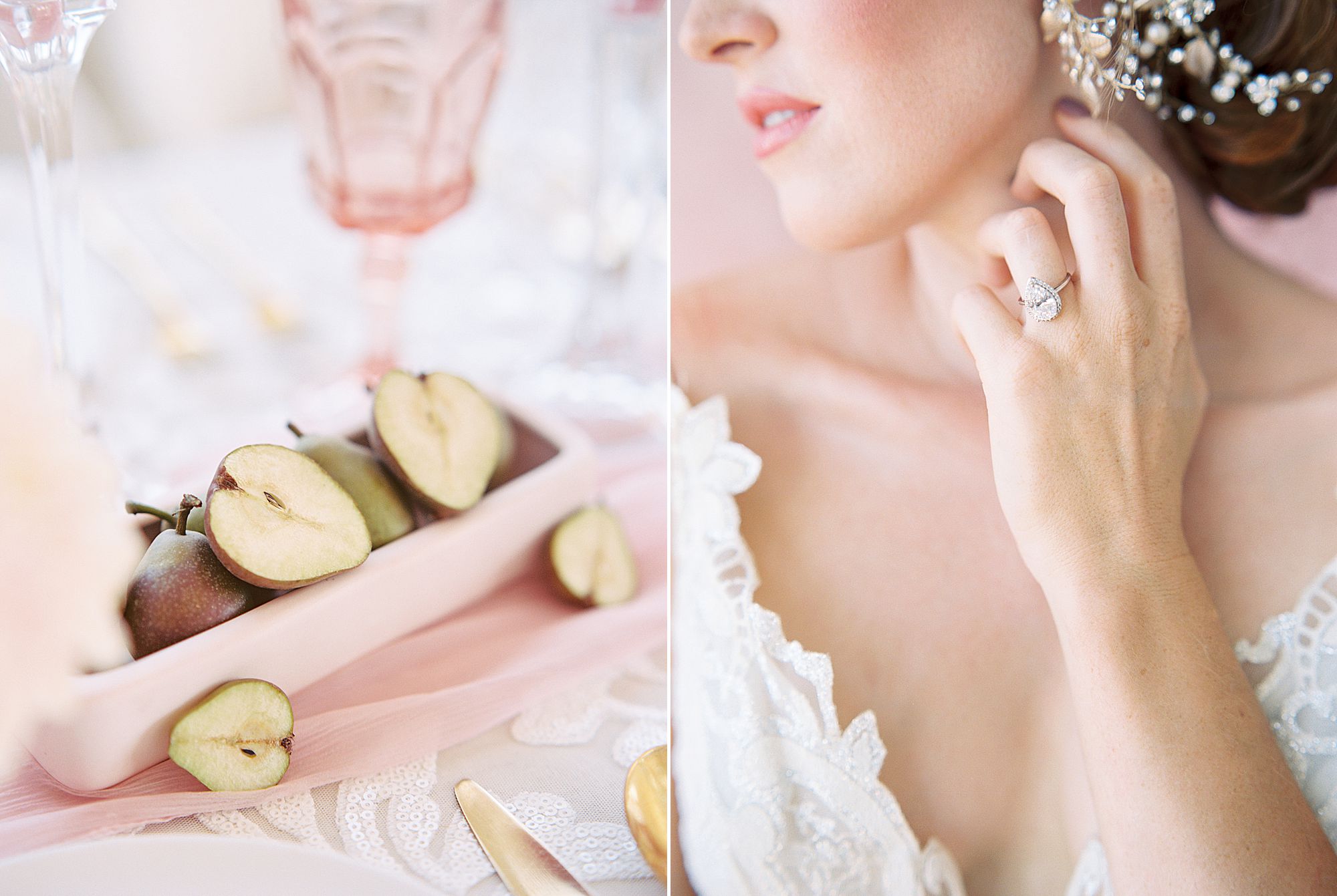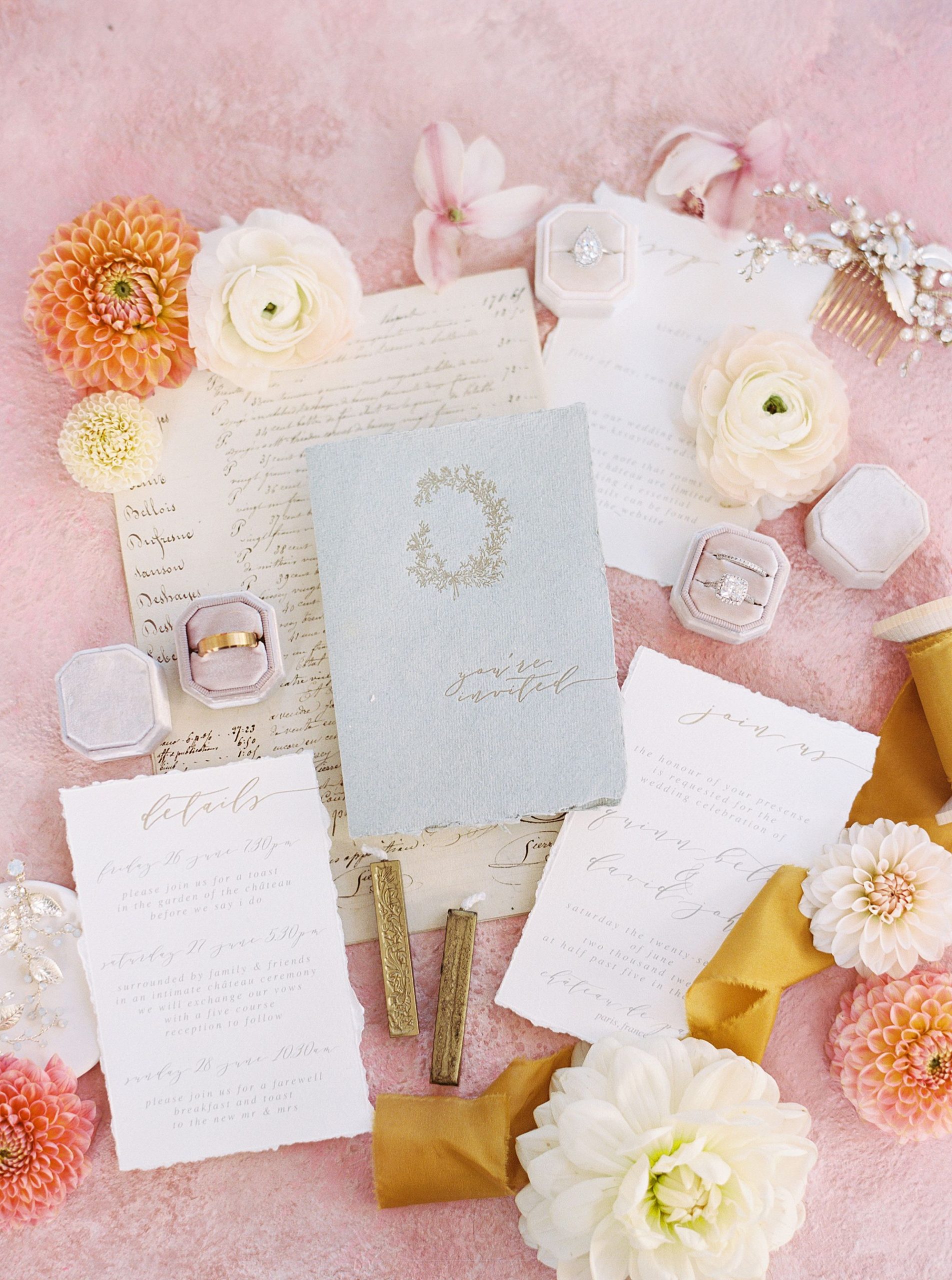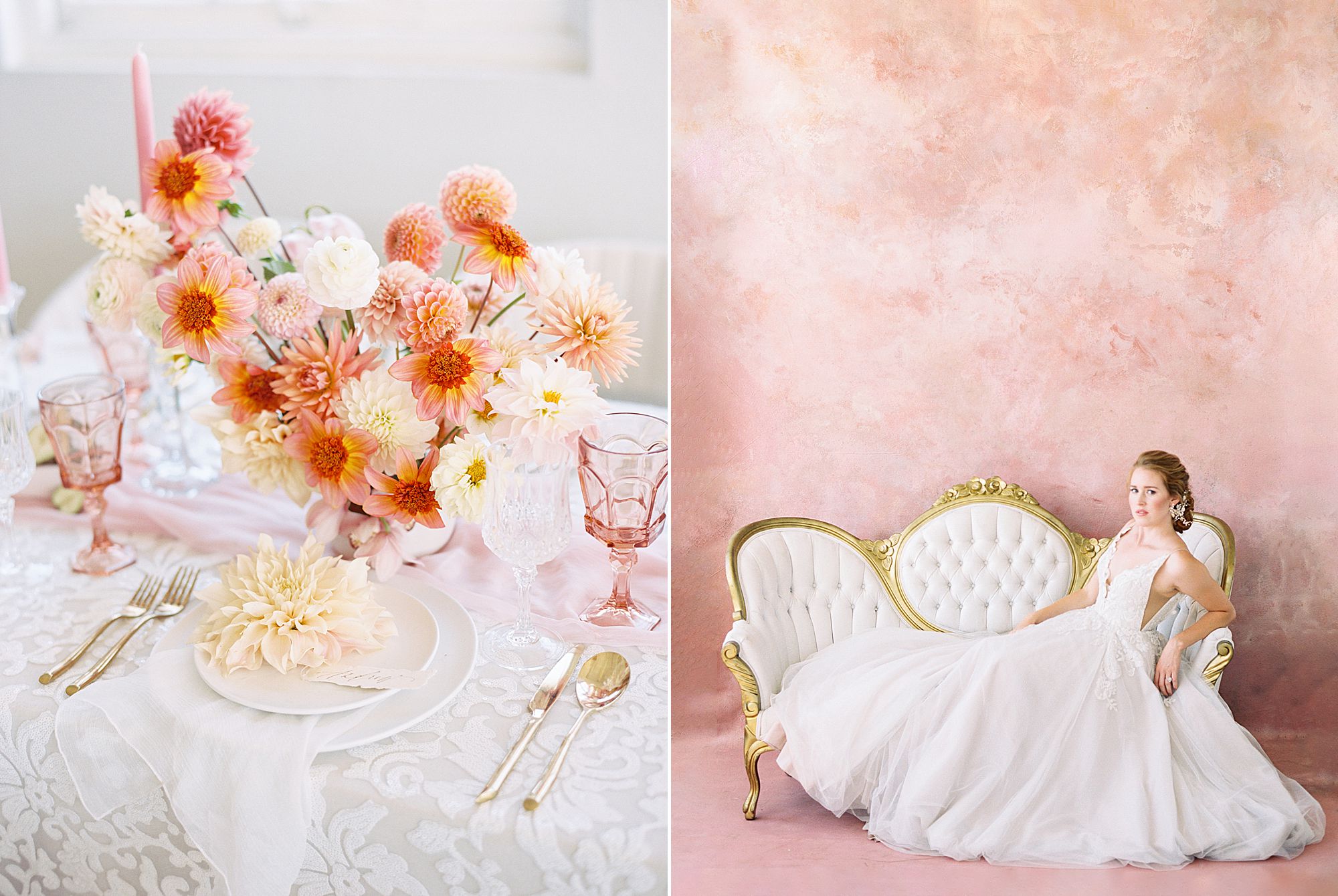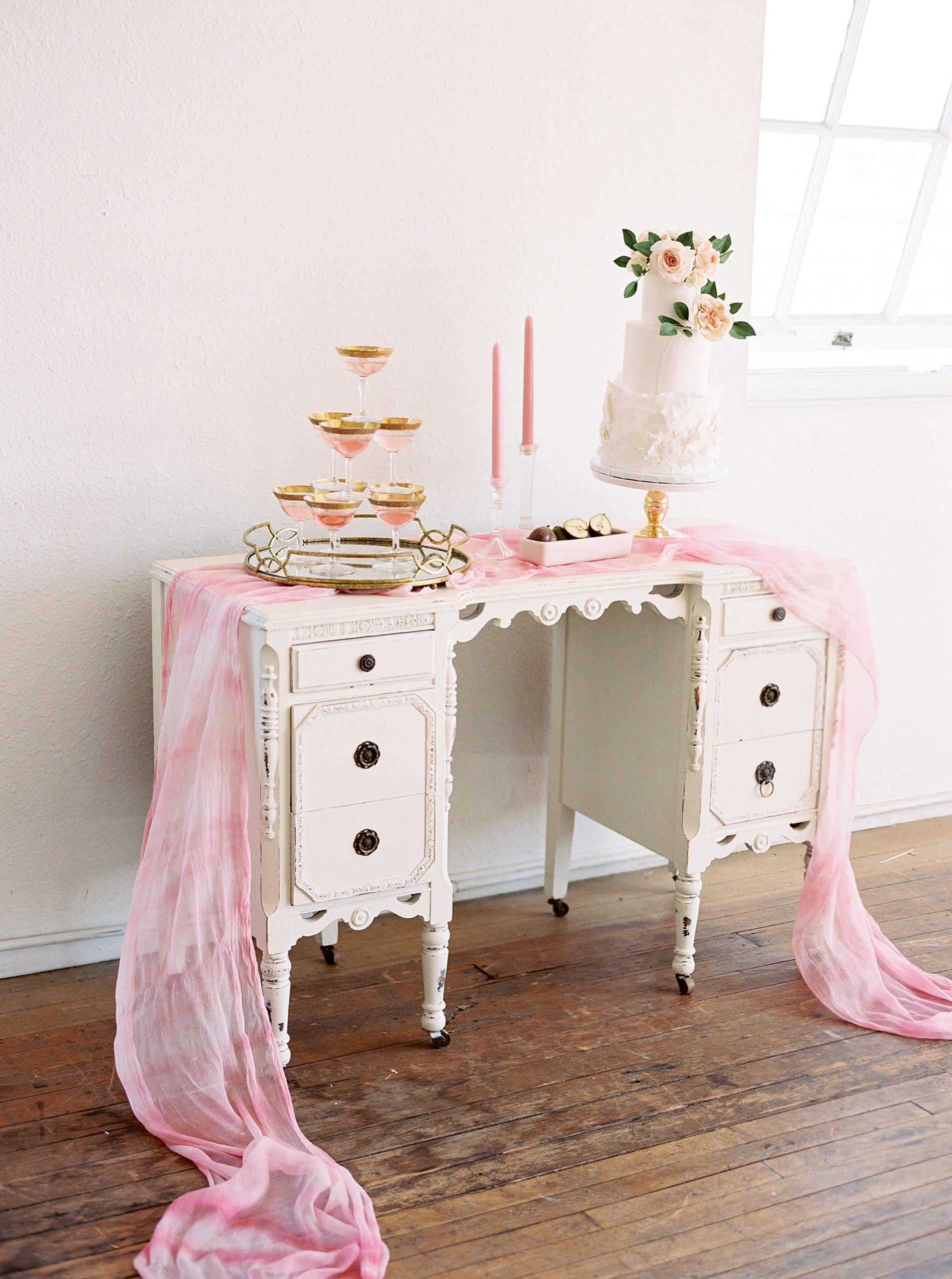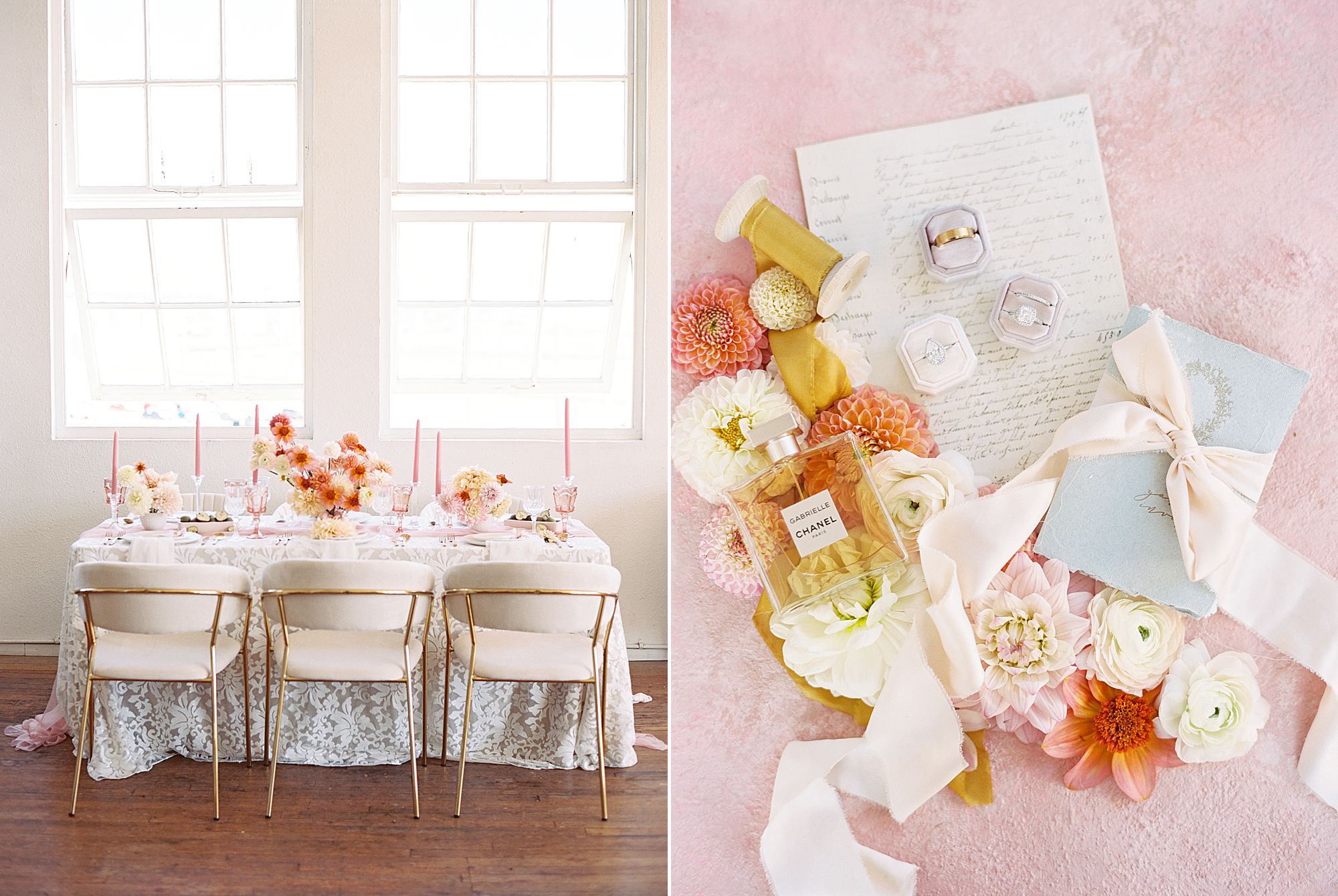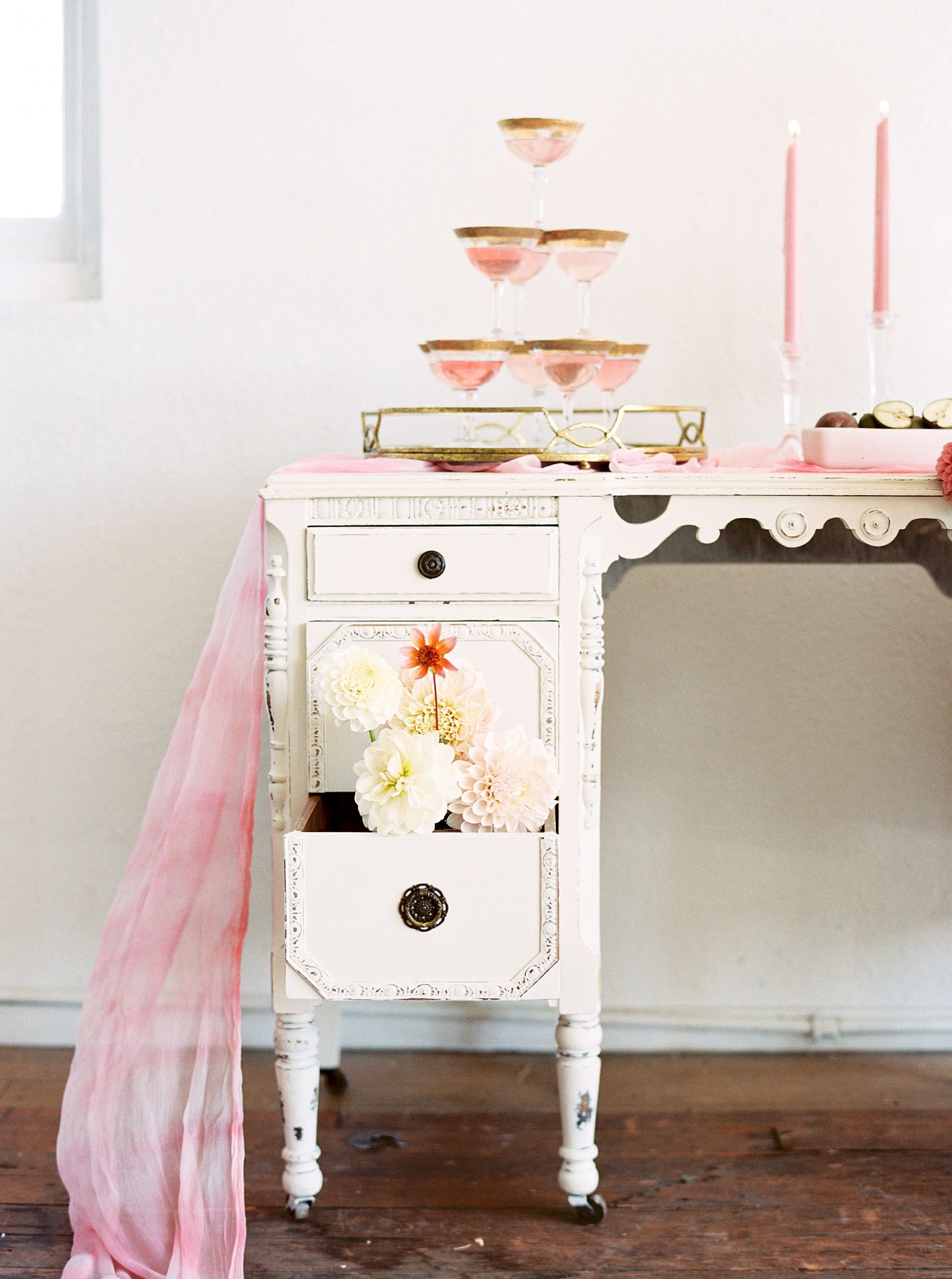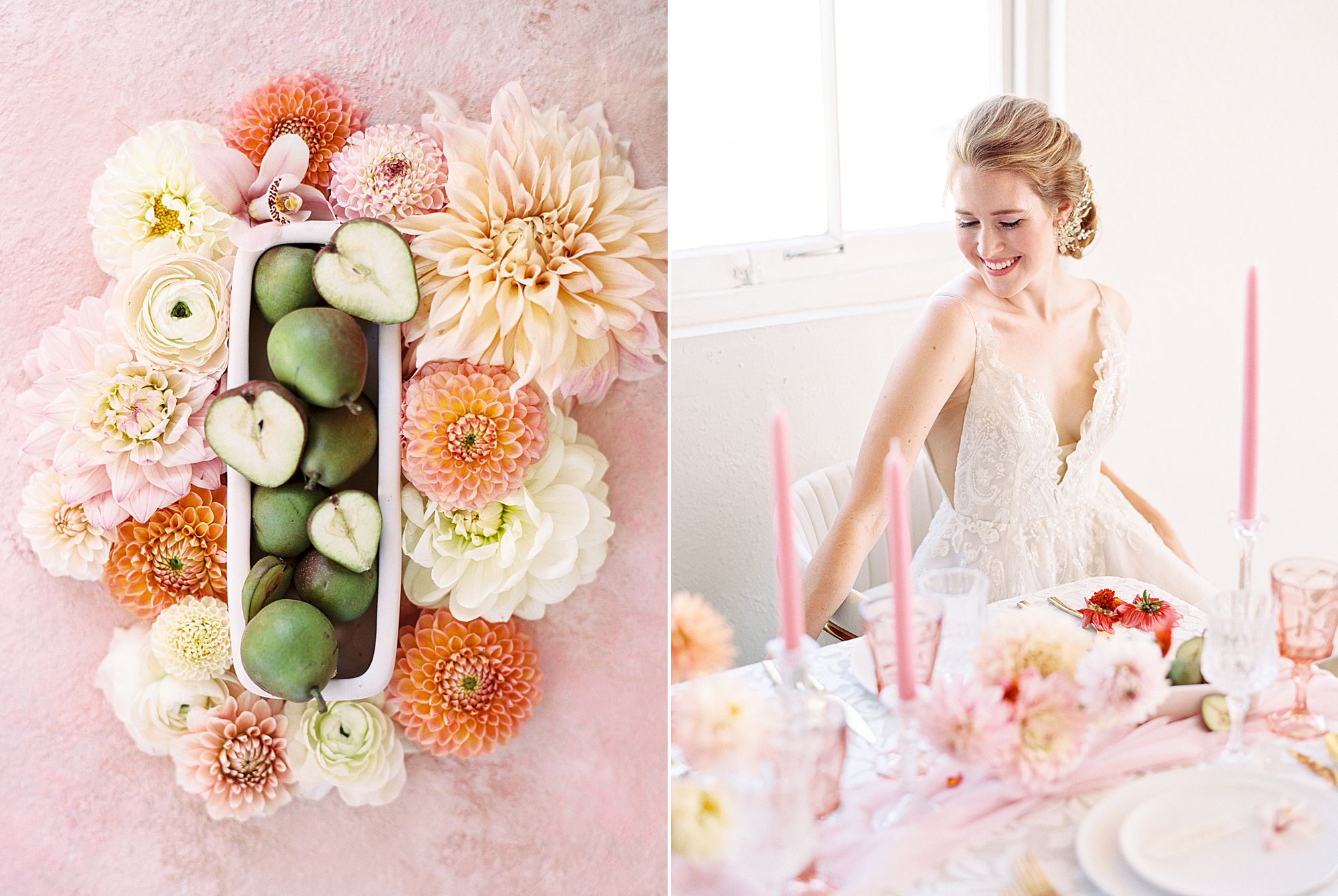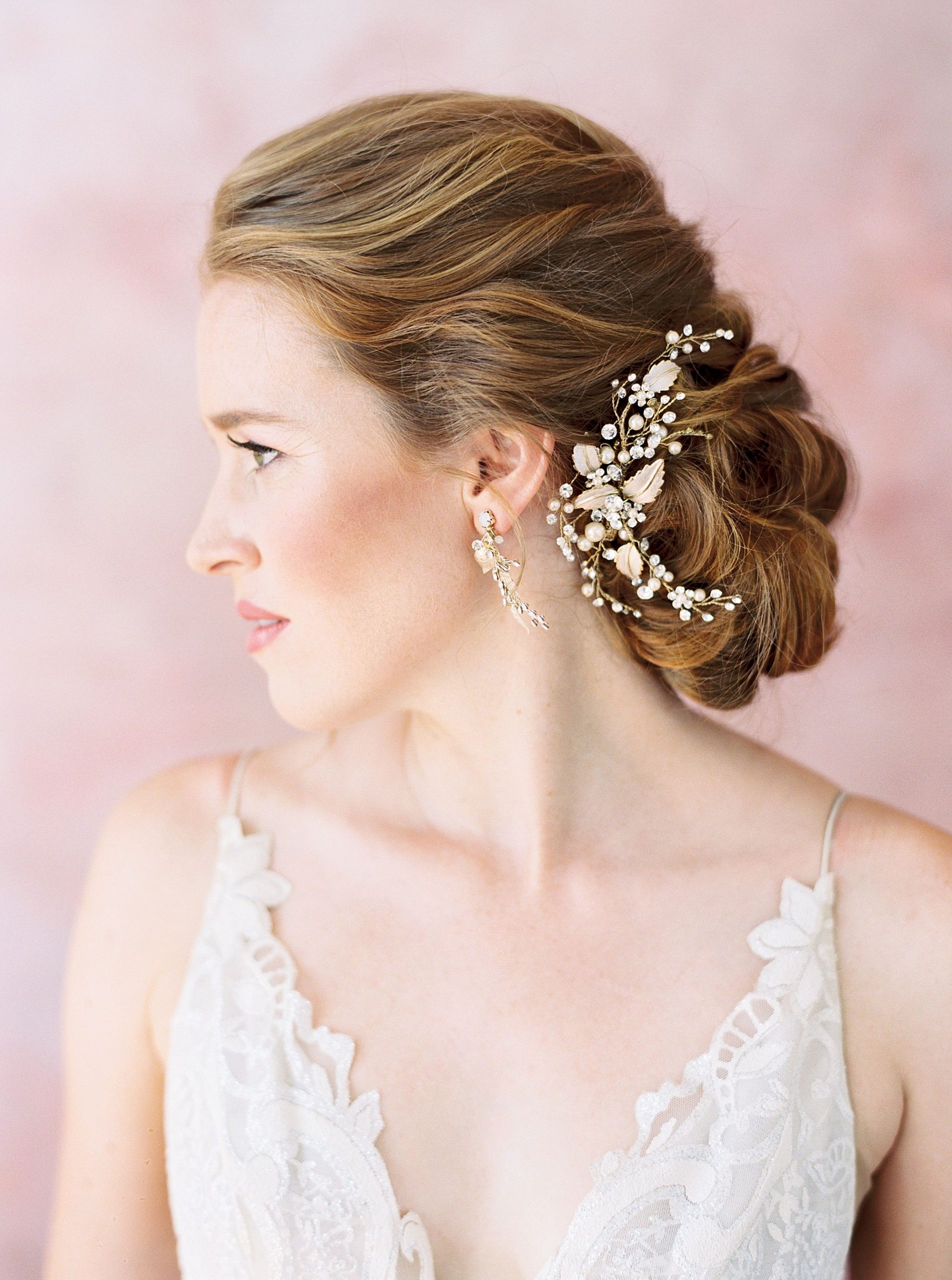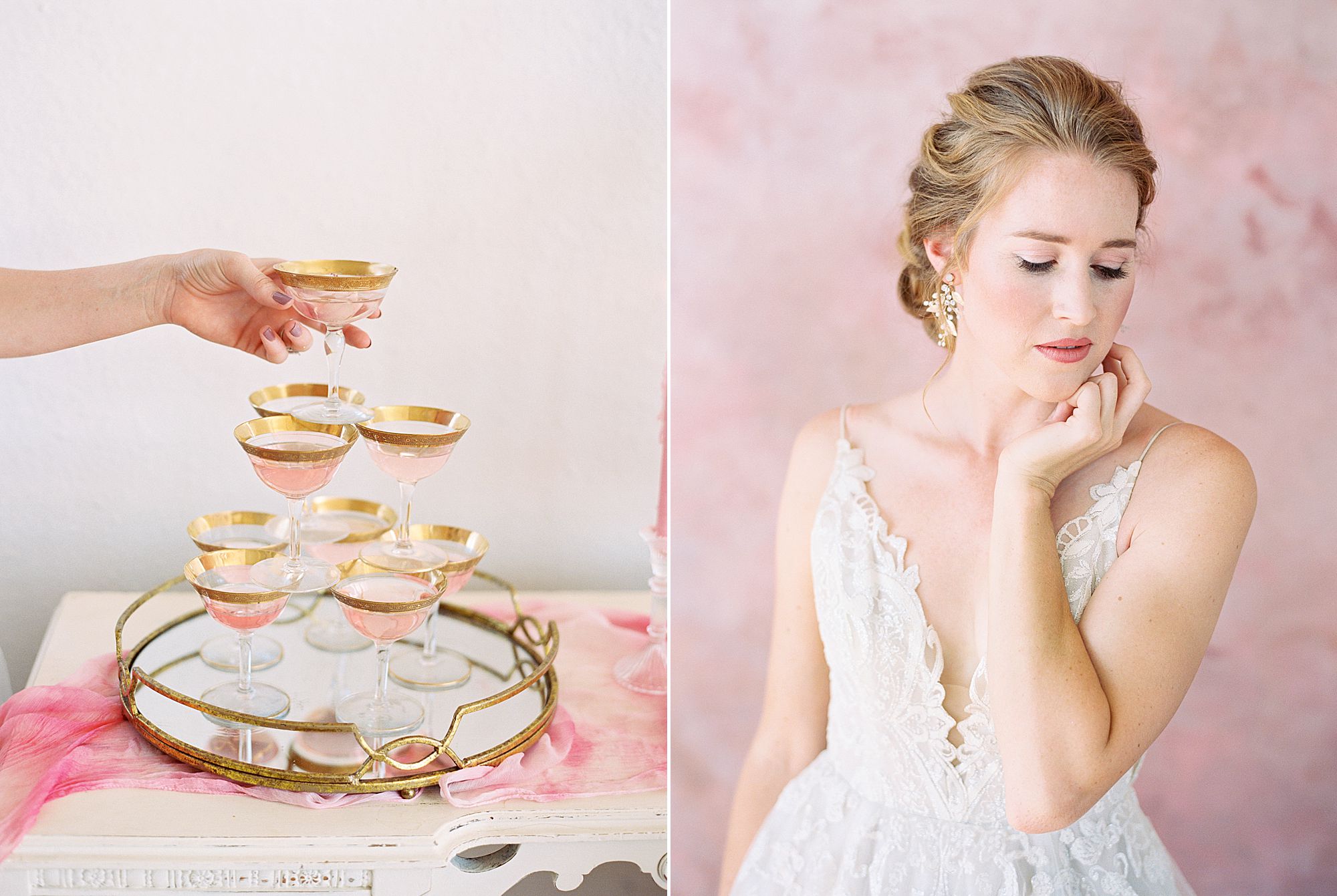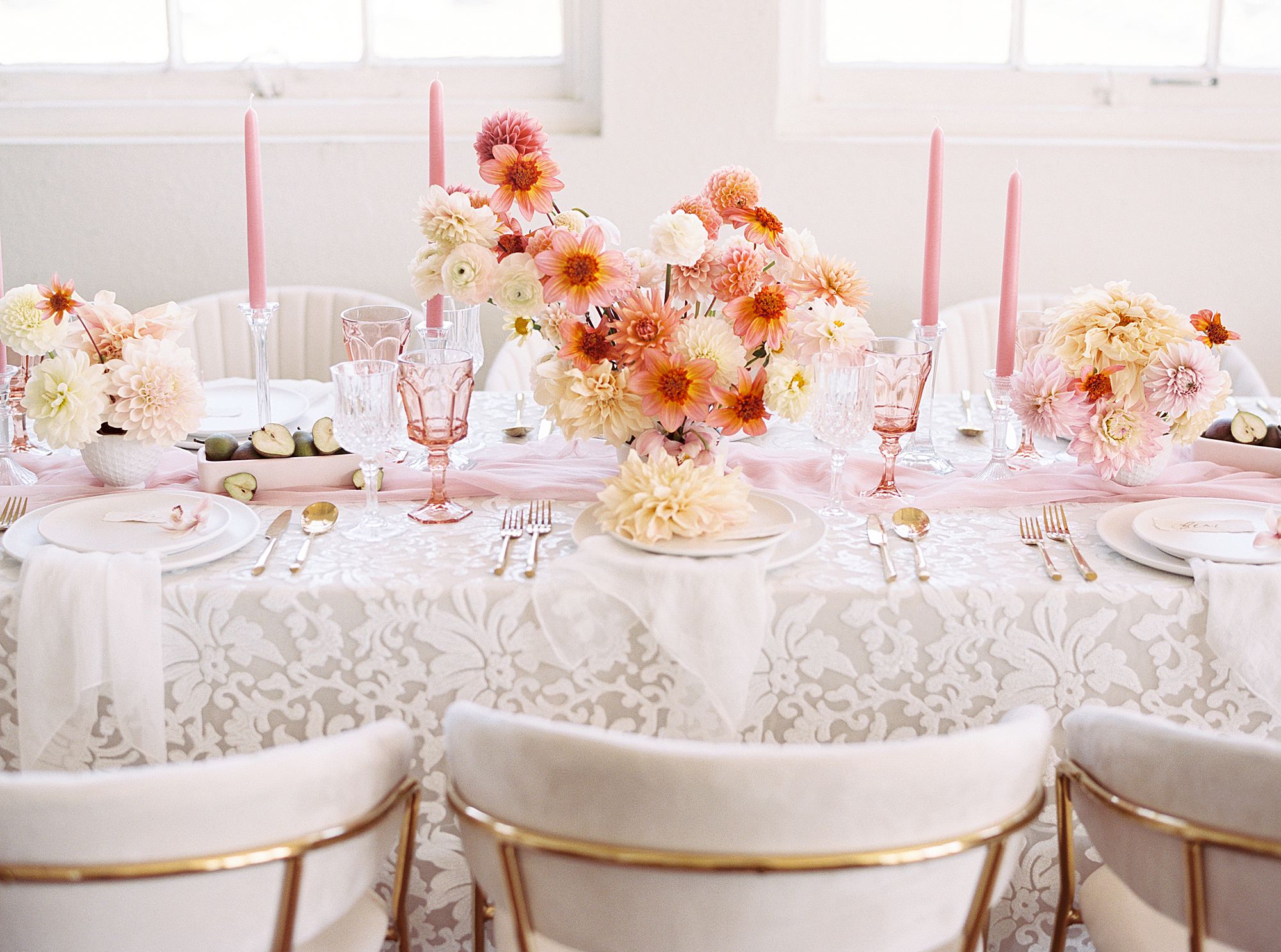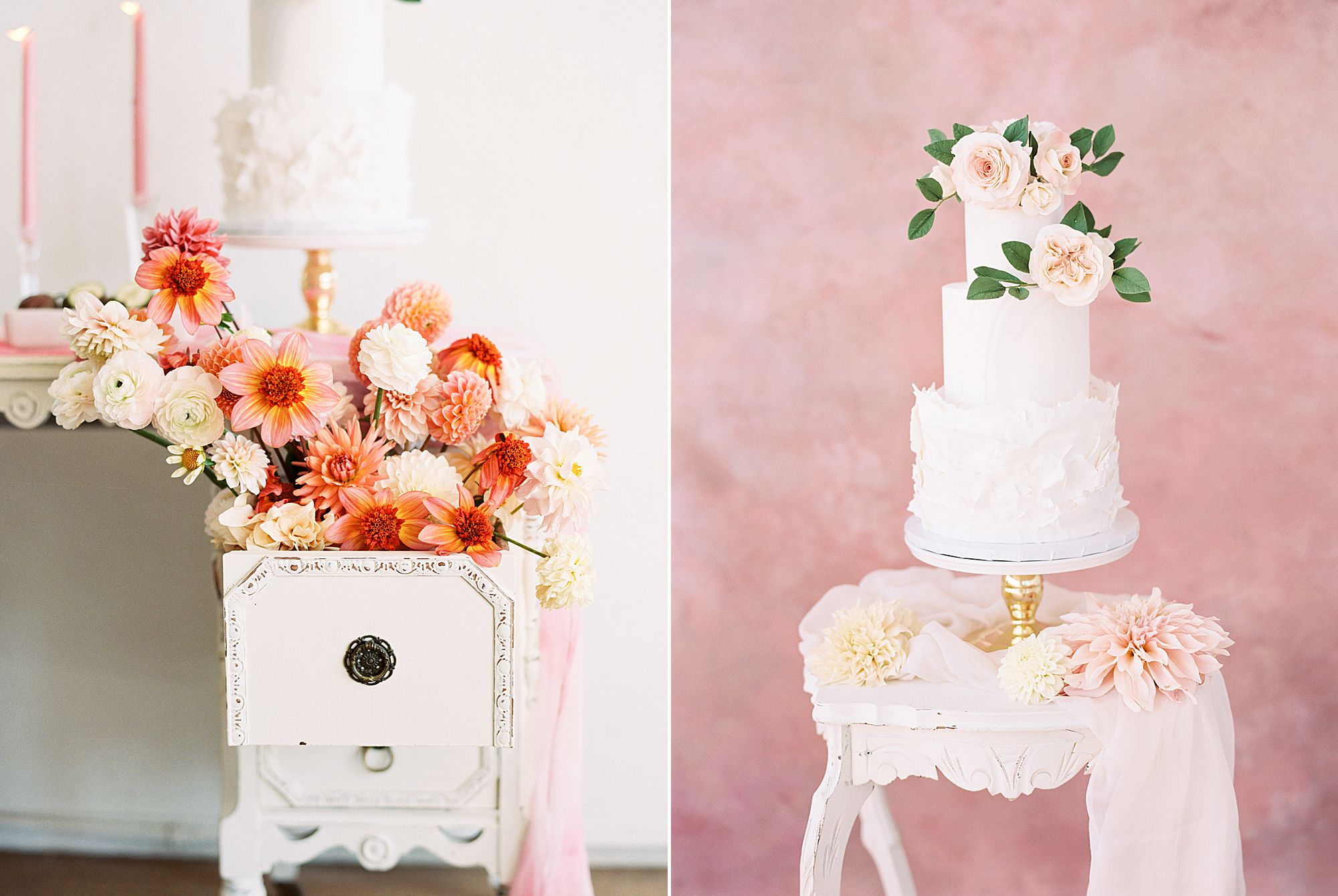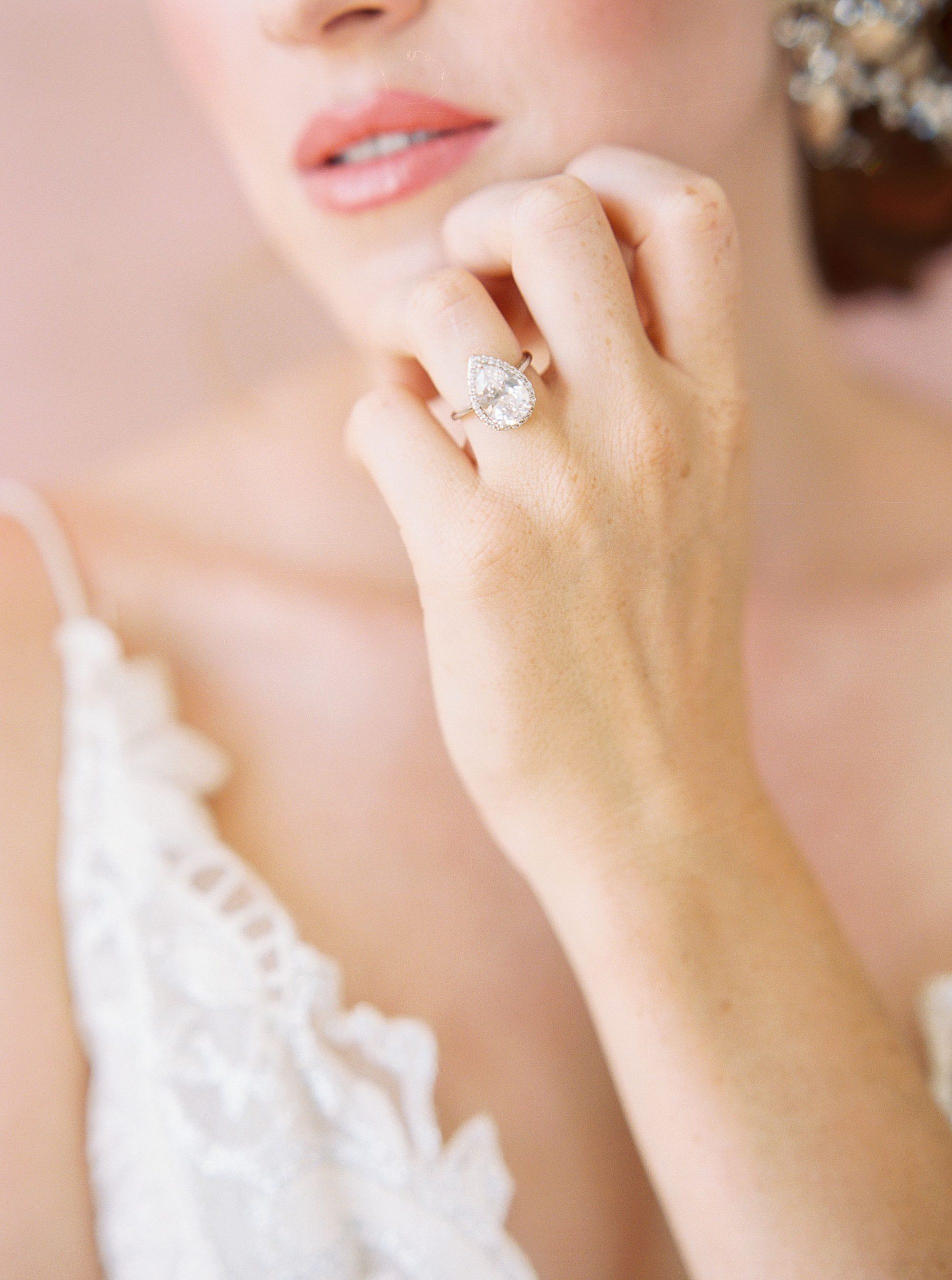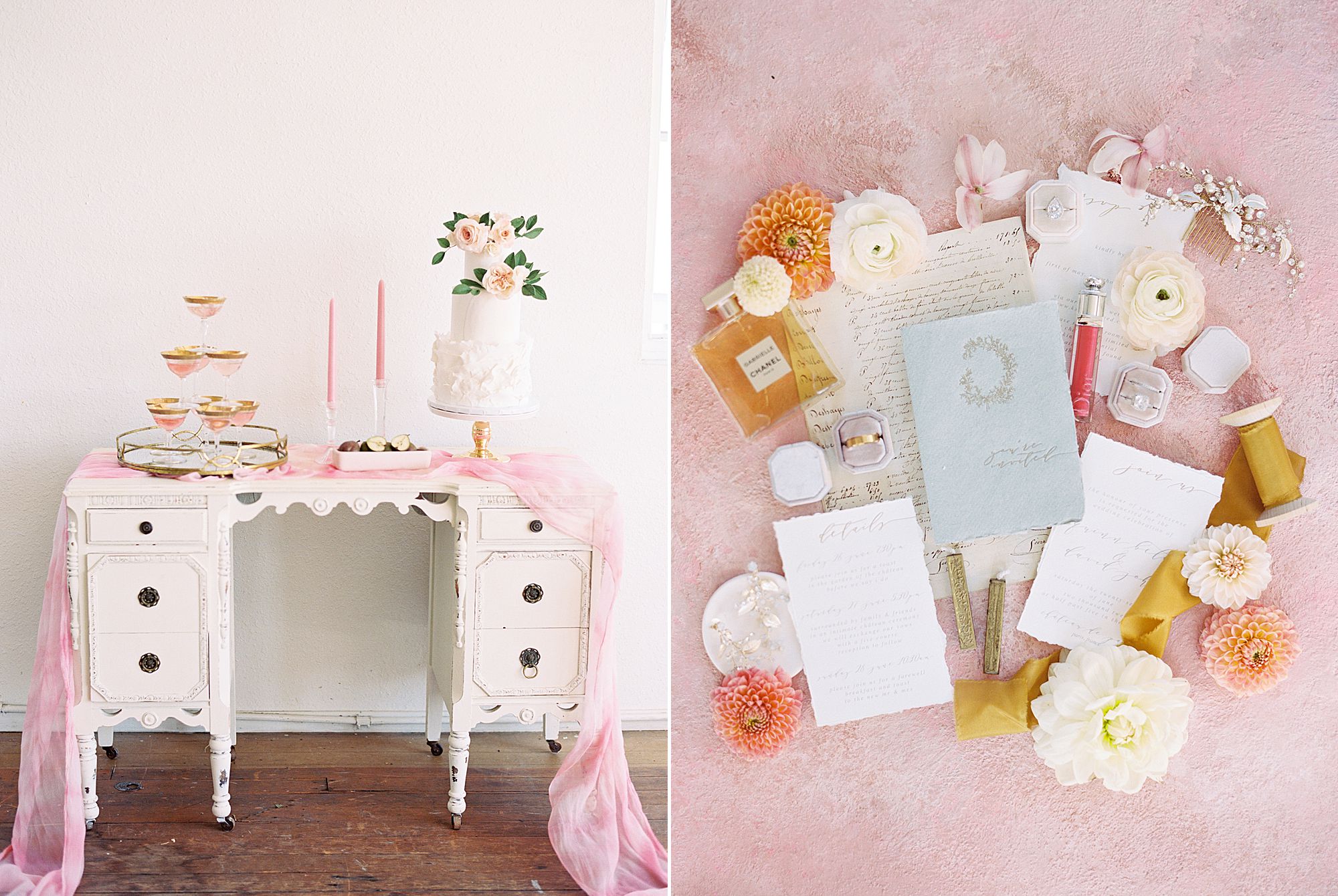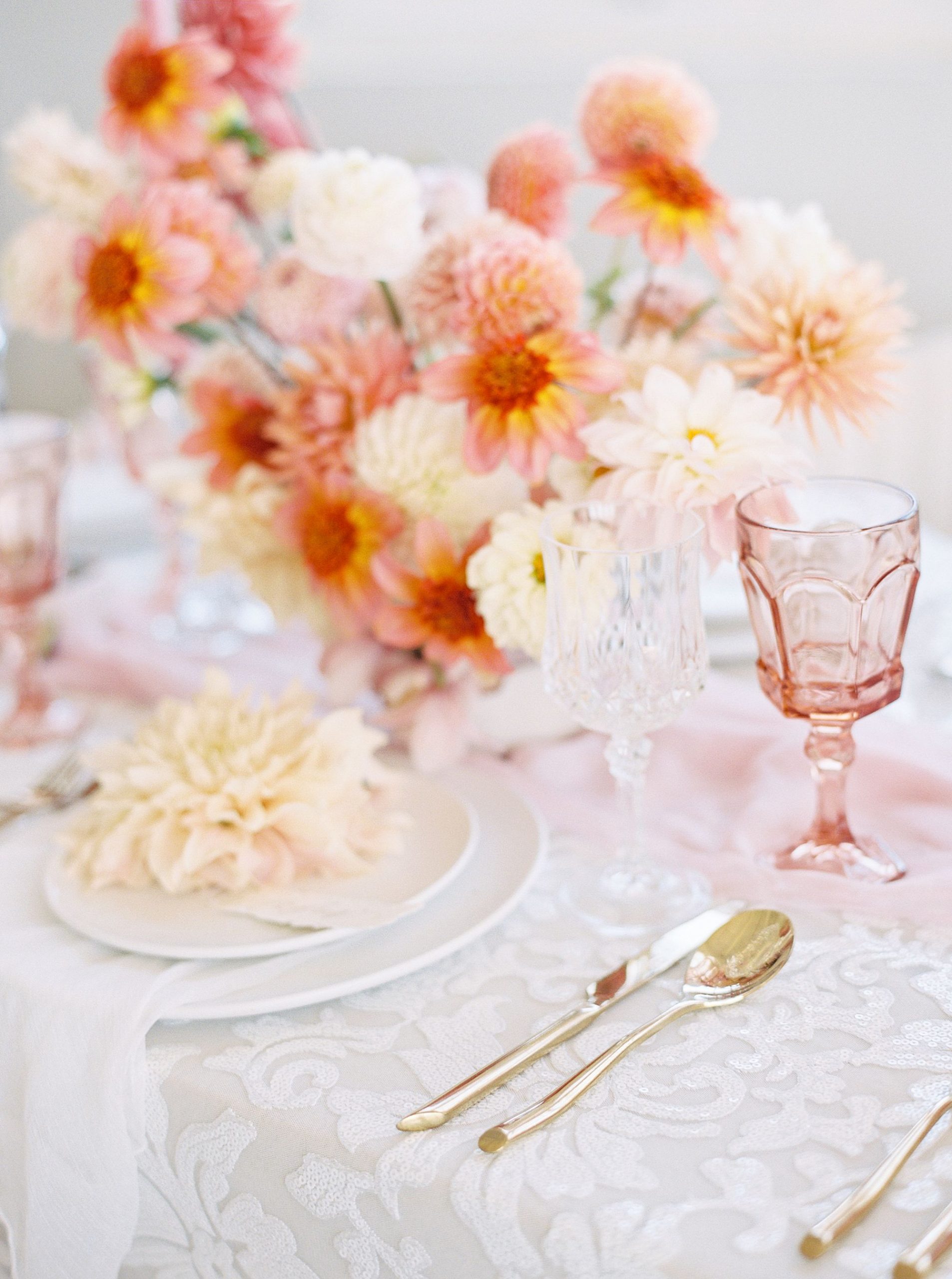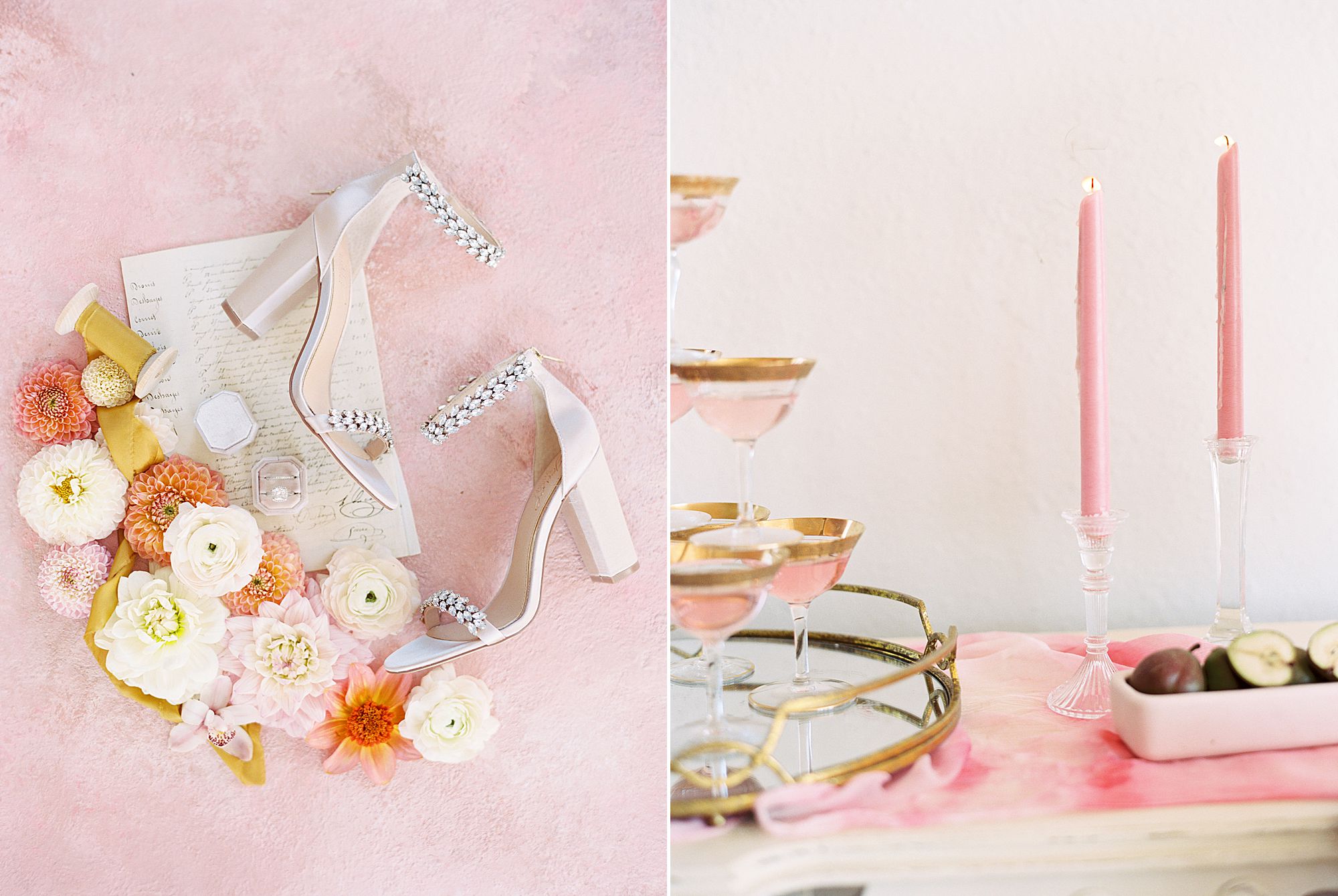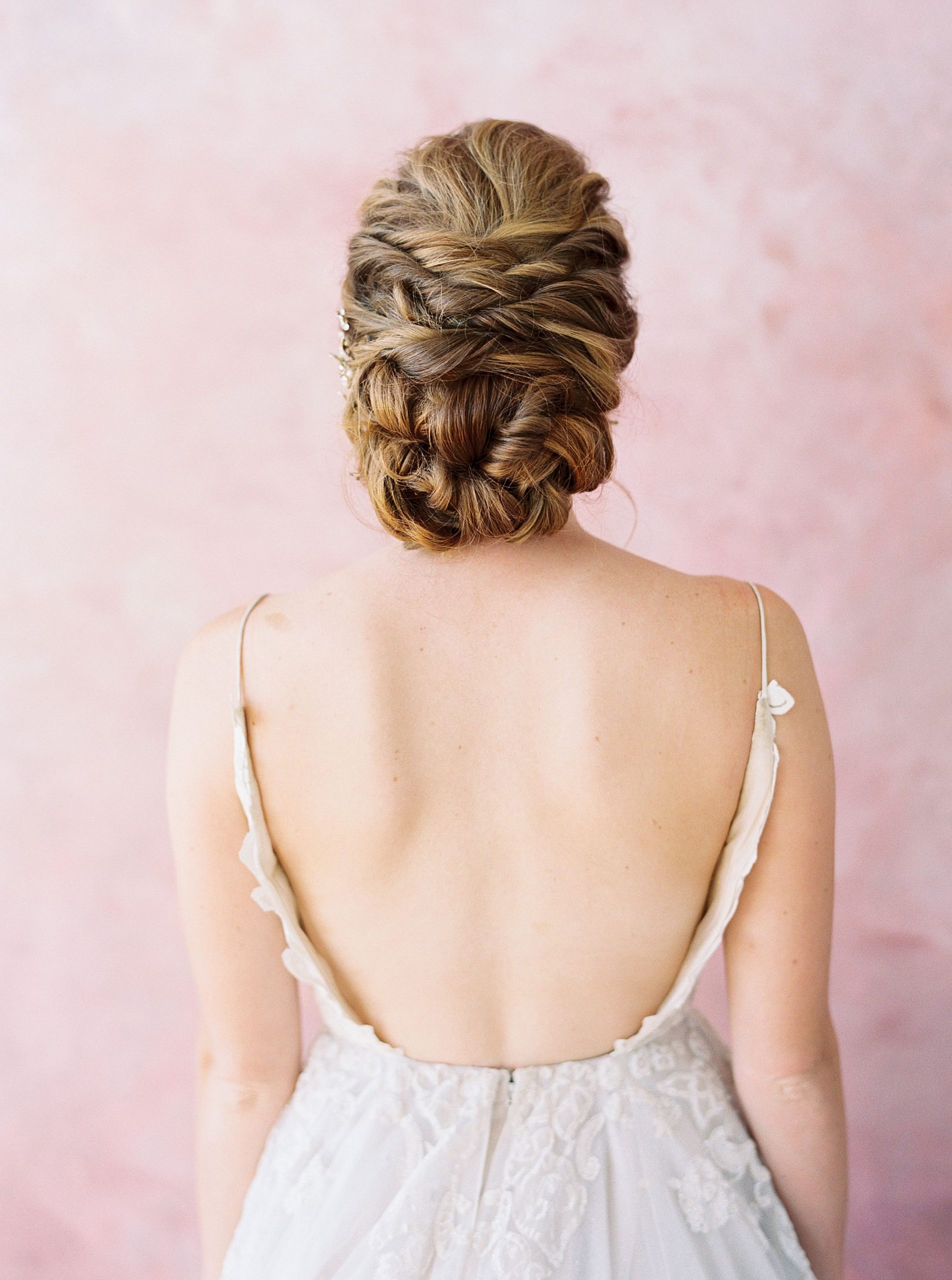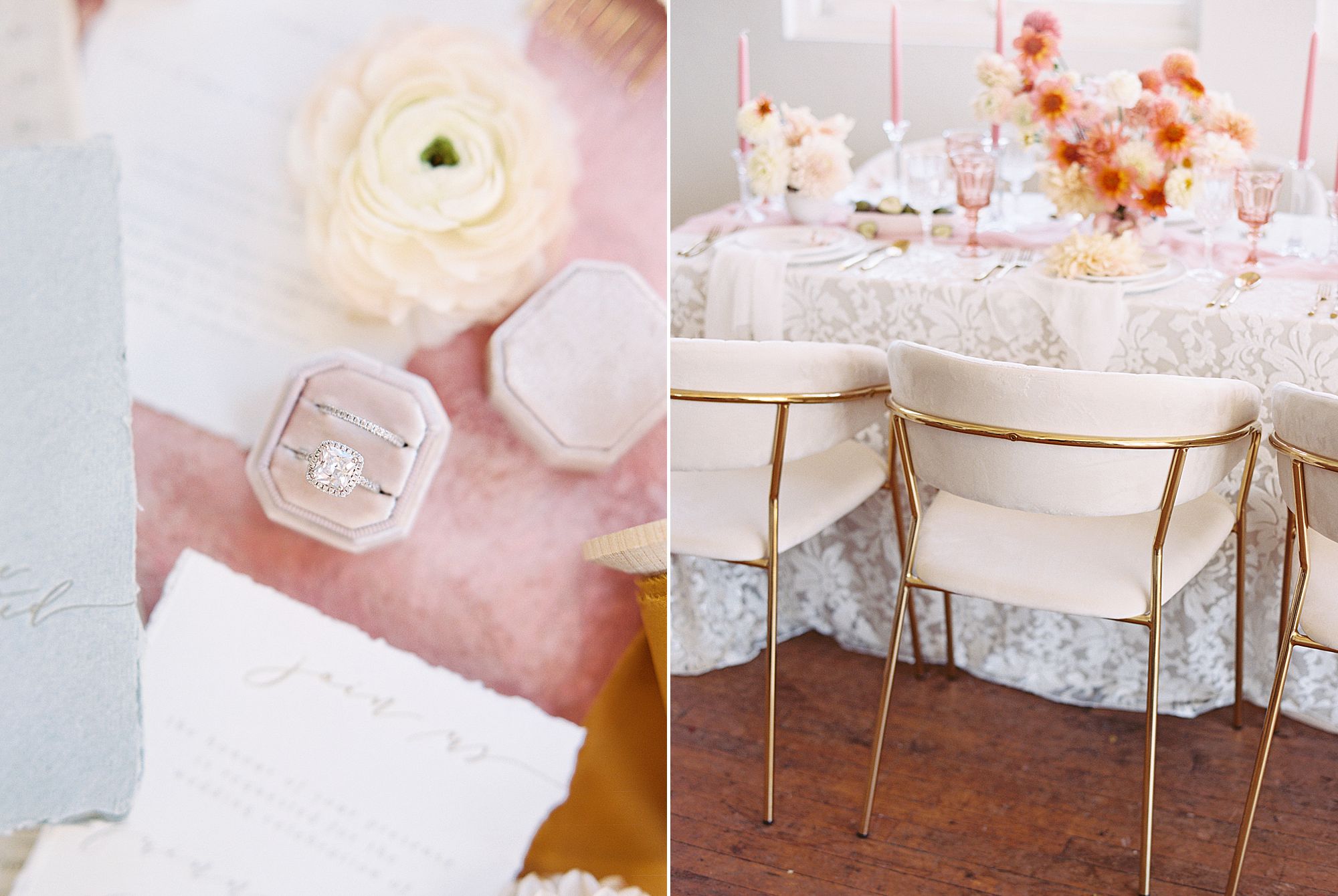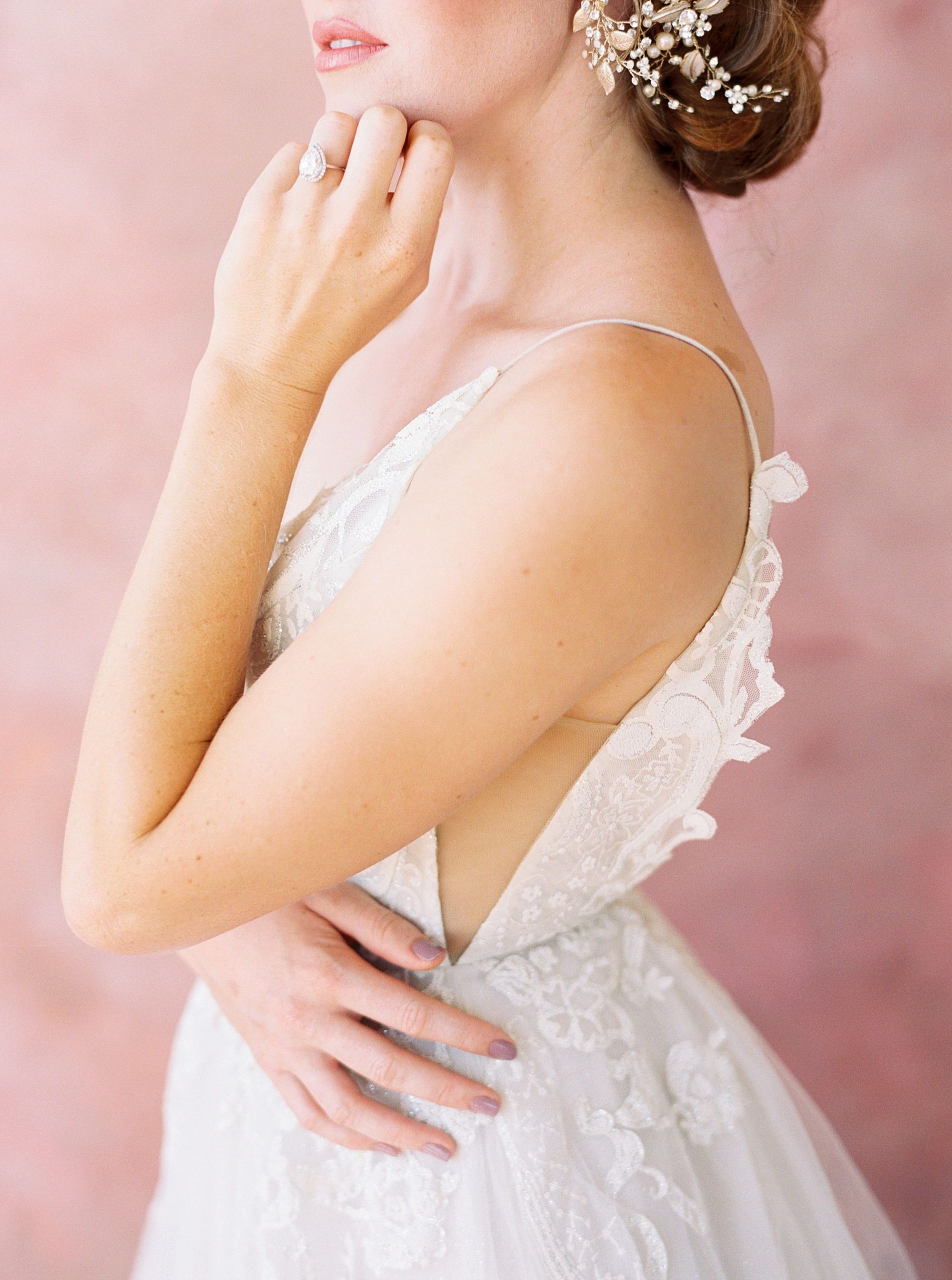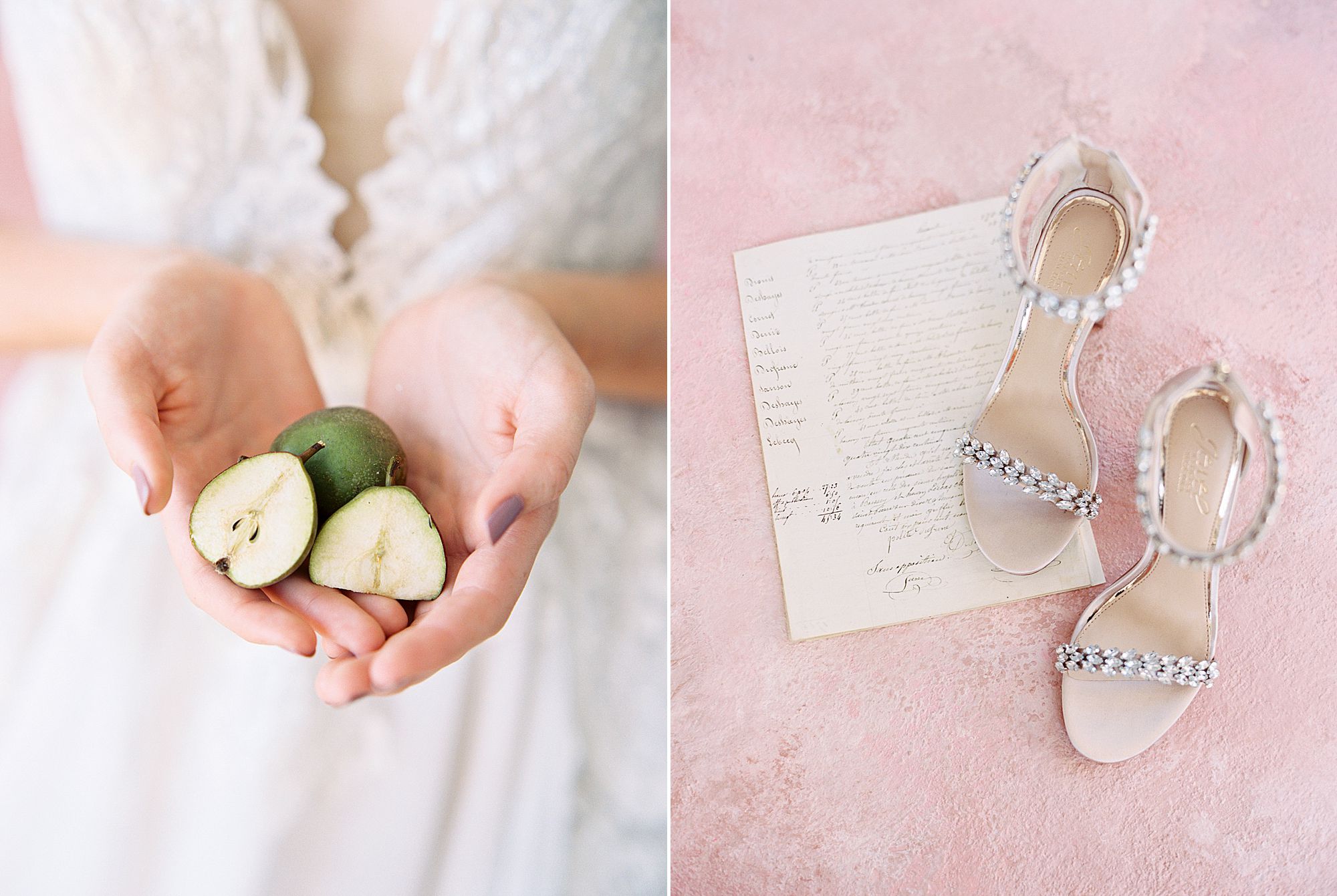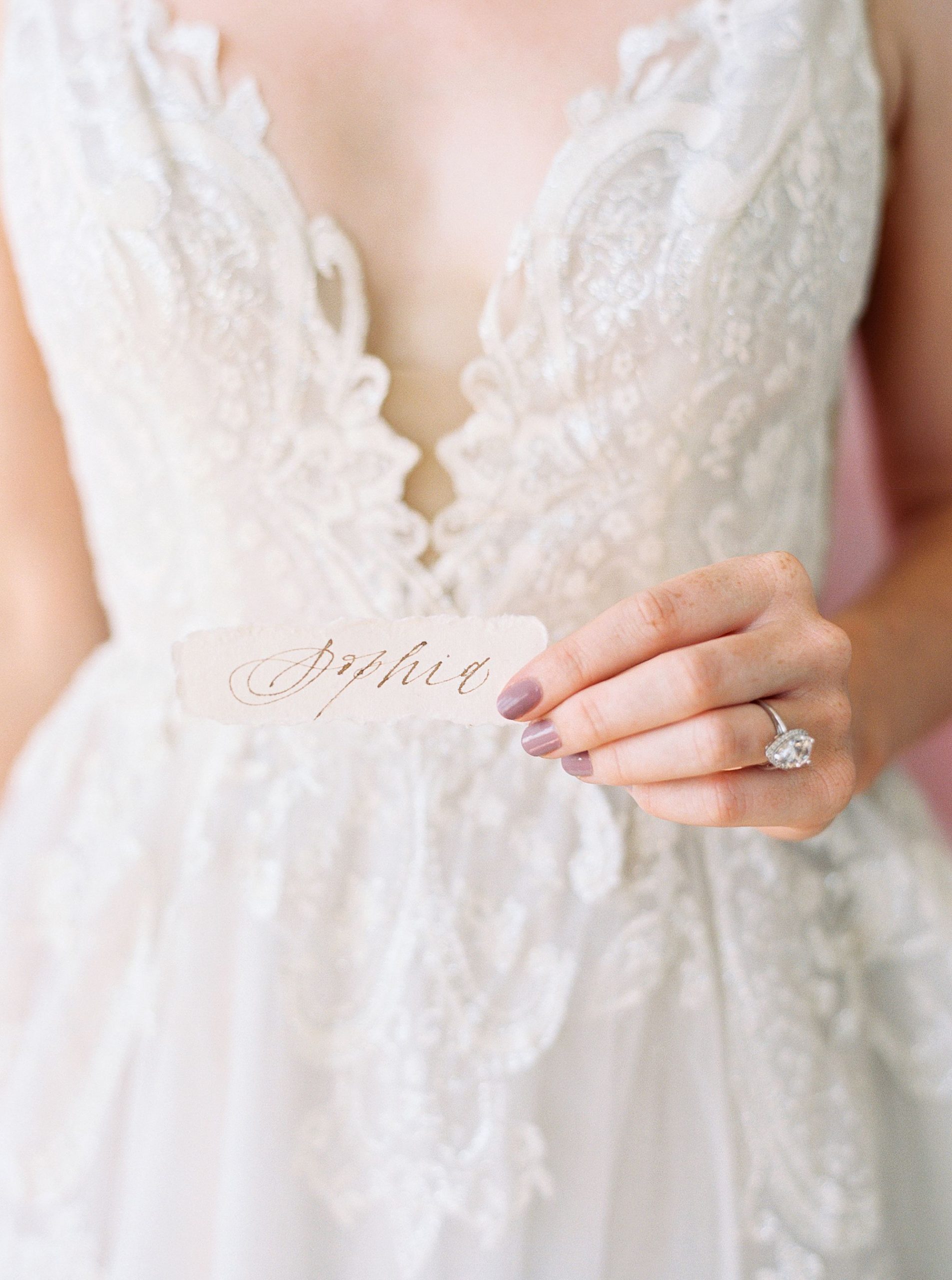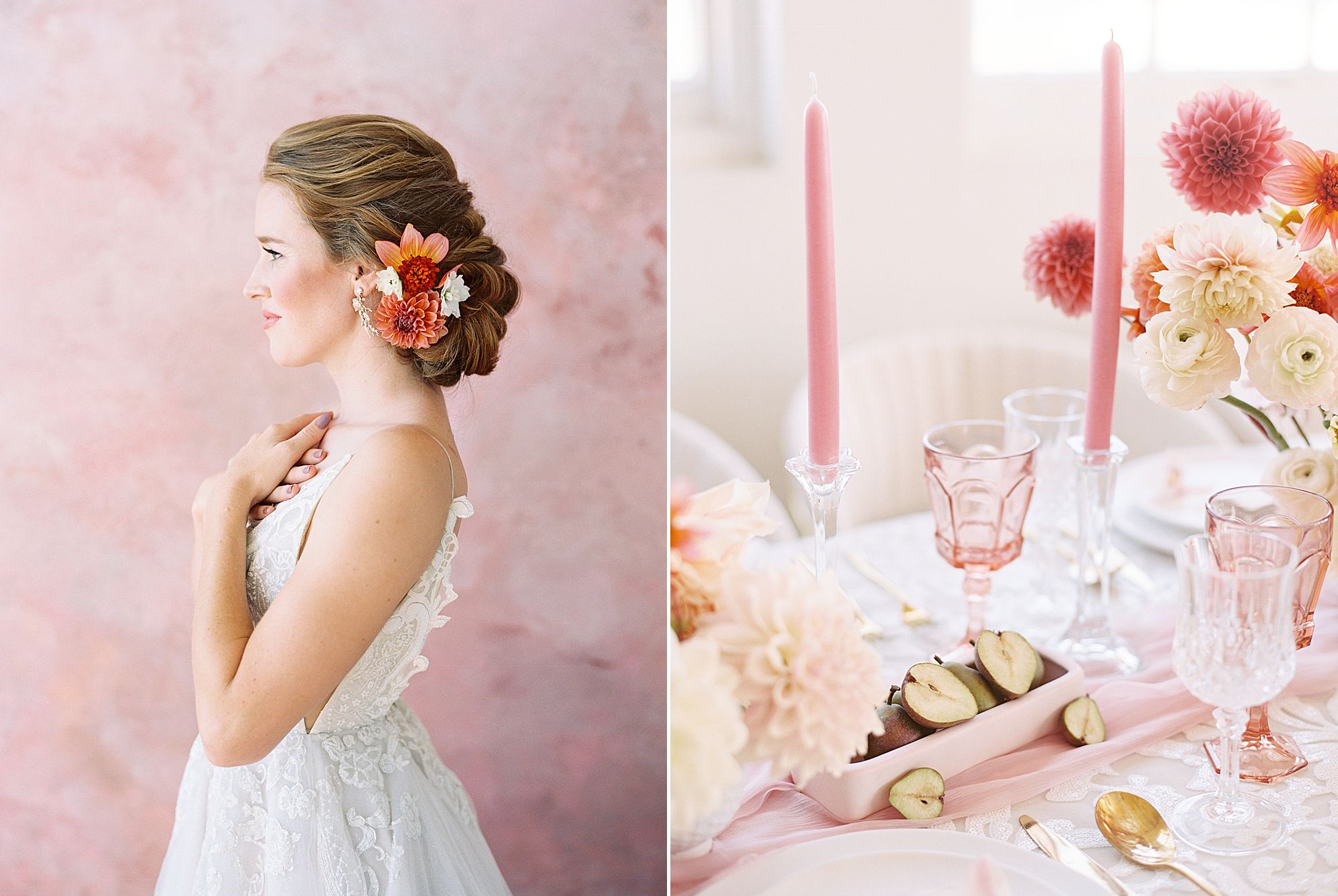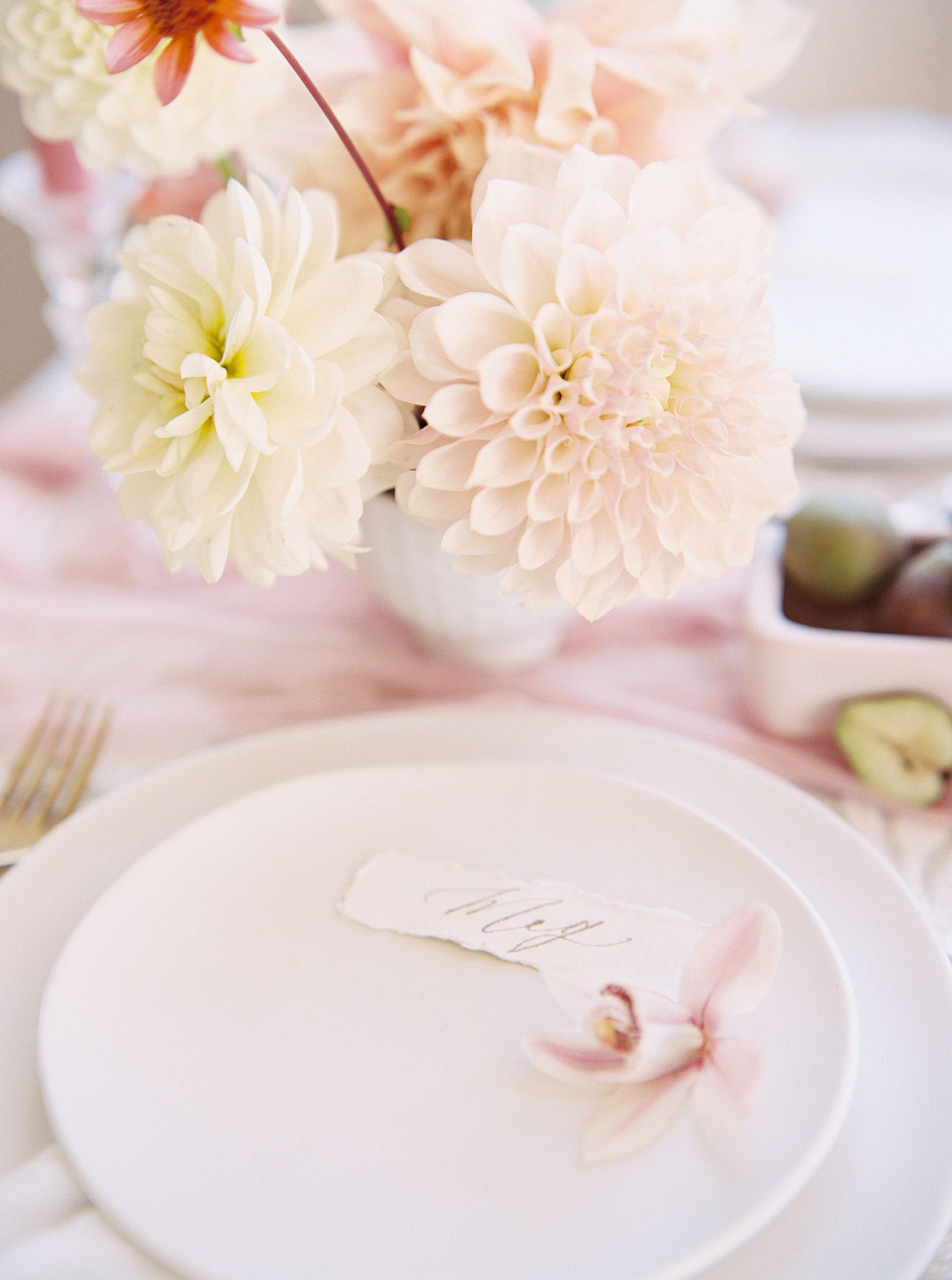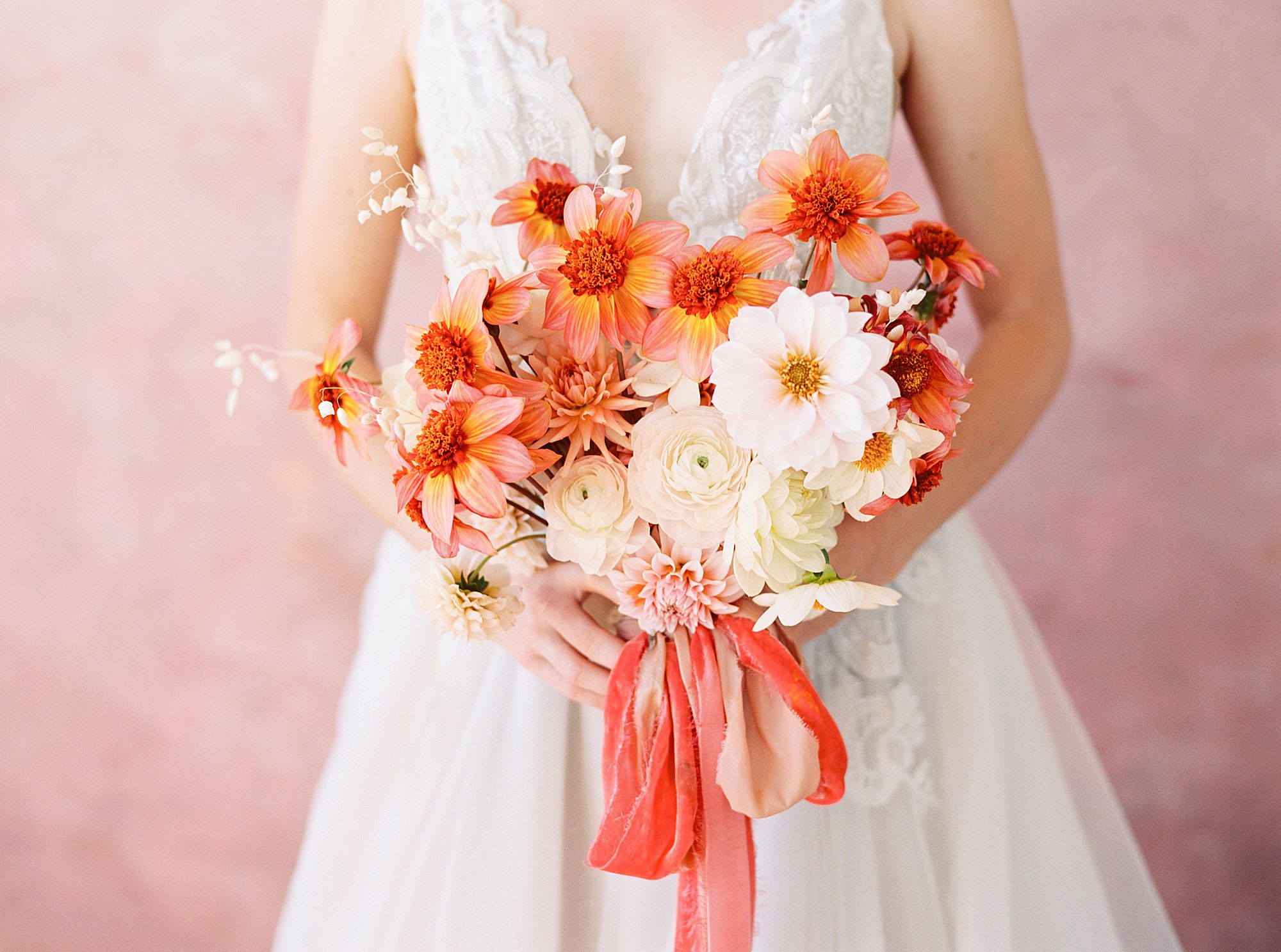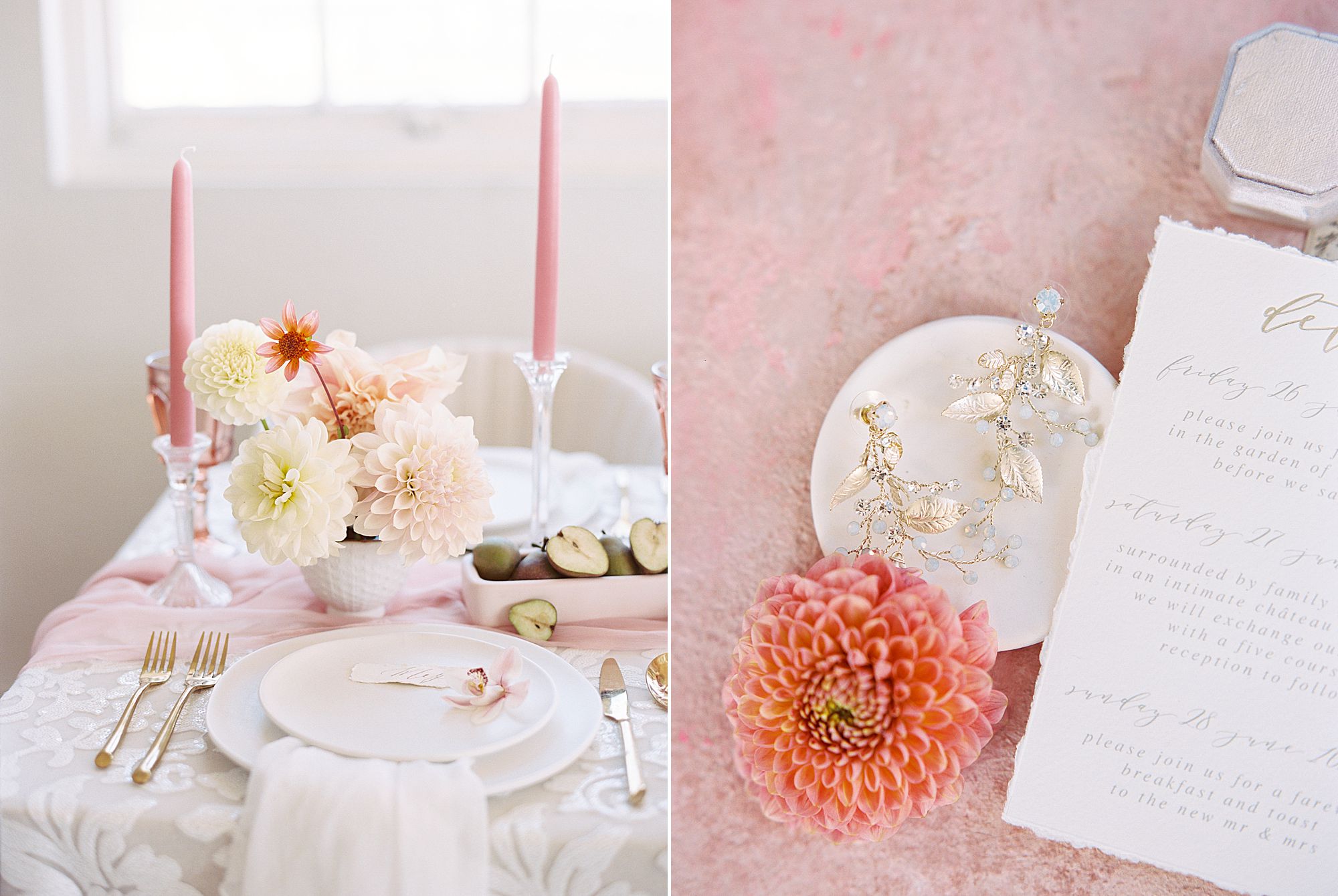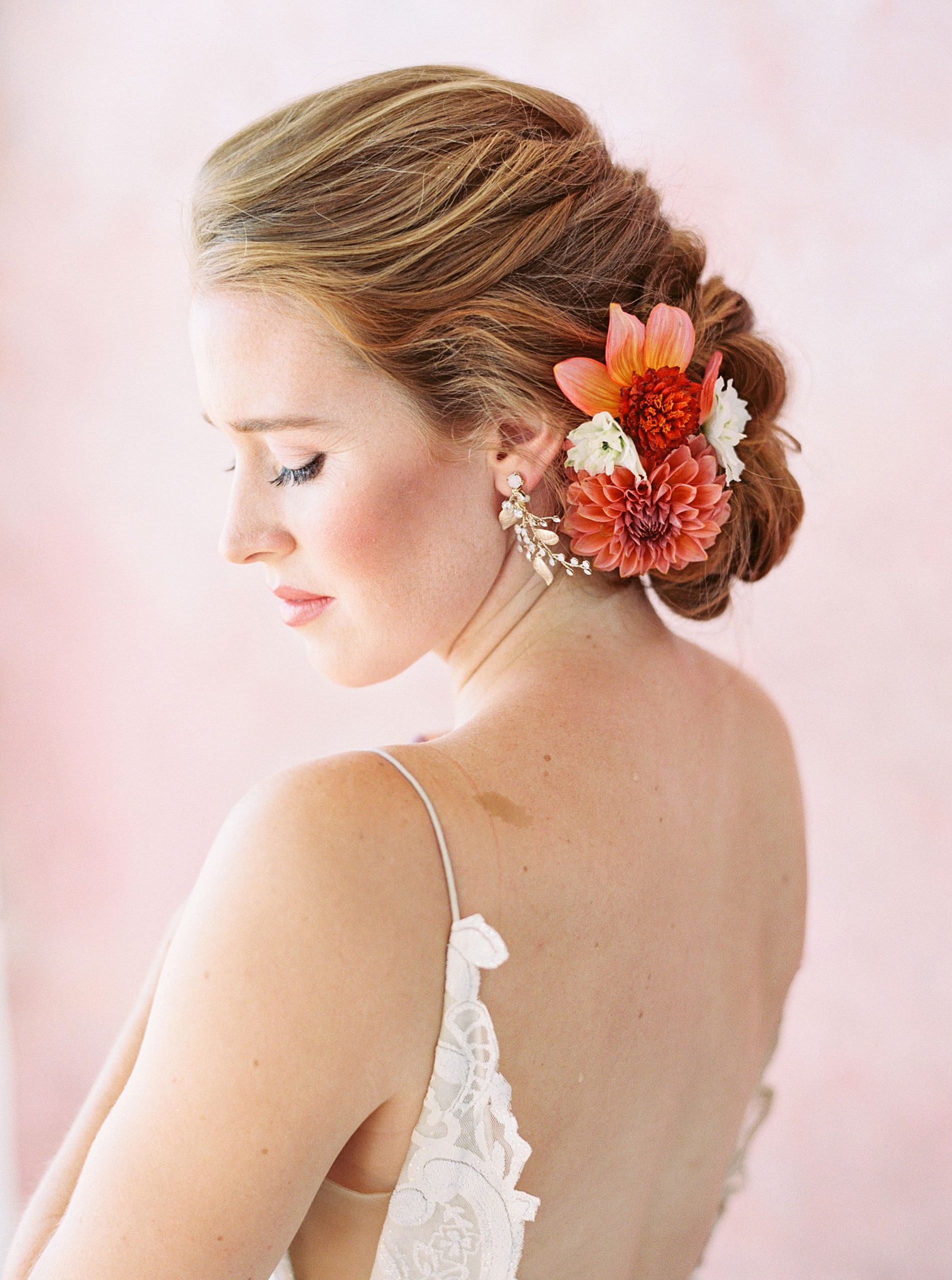 for the pink-obsessed bride
Are you a pink-obsessed bride? We love pink at weddings, especially pops of color. Check out this Pink Ombre Wedding Inspiration featured on Style Me Pretty. Don't forget about this Black Tie Park Winters wedding full of pink and black details. Or this Maples Wedding Inspiration full of pink spring blooms and bunnies. We love our pink-obsessed bride clients because we love pink too.