This Sacramento Vow Renewal with Moroccan Vibes + Calligraphy (by yours truly) was featured on Green Wedding Shoes today!
From the creative team:
In today's society, we celebrate love on the wedding day. With large gatherings, sparkly dresses, and lots of champagne, we toast to the bride and groom surrounded by family and friends. But marriage is what lasts. Continually loving, fighting for, and supporting your partner day in and day out is what life is made of. While we love the love on wedding days, we love anniversaries even more. Continually living out your vows should be celebrated too. And that's why we wanted to celebrate Maia and Vlad on their fifth anniversary. A renewing of vows, an intimate dinner party, and a romantic evening together is exactly what five years of marriage calls for. There's no reason to dismiss celebrating your love as time and life goes on. It should be celebrated, documented, and enjoyed. After all, that's what marriage is about, right?

We decided to celebrate this couple in a boho Moroccan styled shoot we called, Bohemian Rhapsody. Just like the old Queen classic, this evening had a lot of character. We wanted it to be eclectic, spontaneous, vibrant yet elegant, and of course, bohemian!

When it came to the styling, we drew inspiration from  Morocco with all its colors and decor items such as lanterns, rugs and pillows. With a focus on navy blue,light pinks and peaches, we created  an eclectic and Moroccan vibe for them to celebrate their love.
Dressed in blush and a Moroccan gold headpiece, Maia and Vlad stood at the altar in front of calligraphy of a poem they both held near and dear to their hearts. Addressed on Moroccan scrolls, the couple read their vows to each other – a declaration of their continued love and support for each other and their daughter.  
And in true Moroccan fashion, good food had to be part of the mix as well! Maia and Vlad indulged in some middle eastern inspired foods that not only tasted good, but looks gorgeous as well! They indulged in Moroccan couscous salad, crostini with fig jam and other delicious appetizers inspired by Moroccan culture and styled colorfully. .
Knowing that this is the real life, not just fantasy, and there is no need to escape from reality. As the sun went down, they shared kisses under the stars and lights, reminiscing that five years was just the beginning.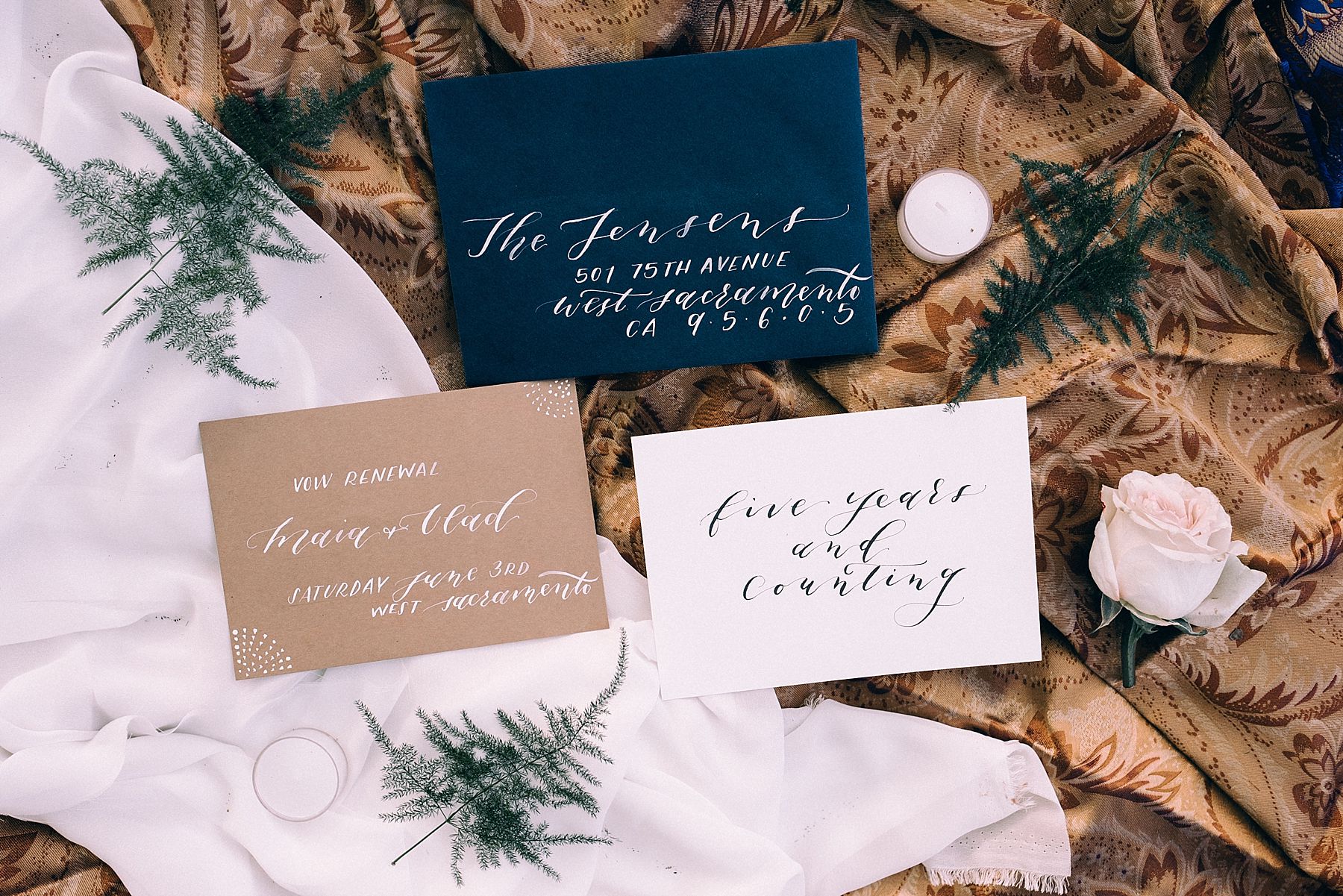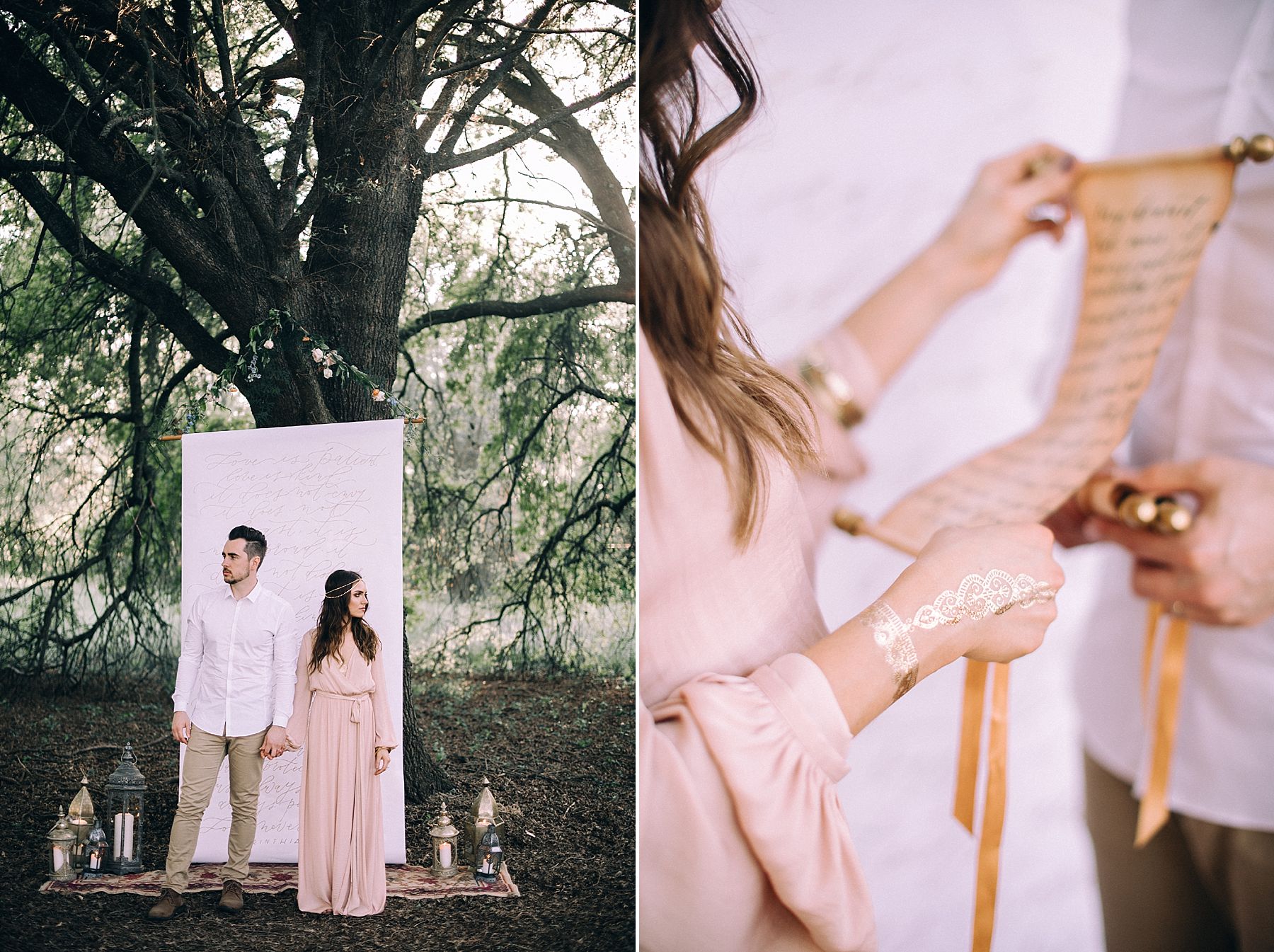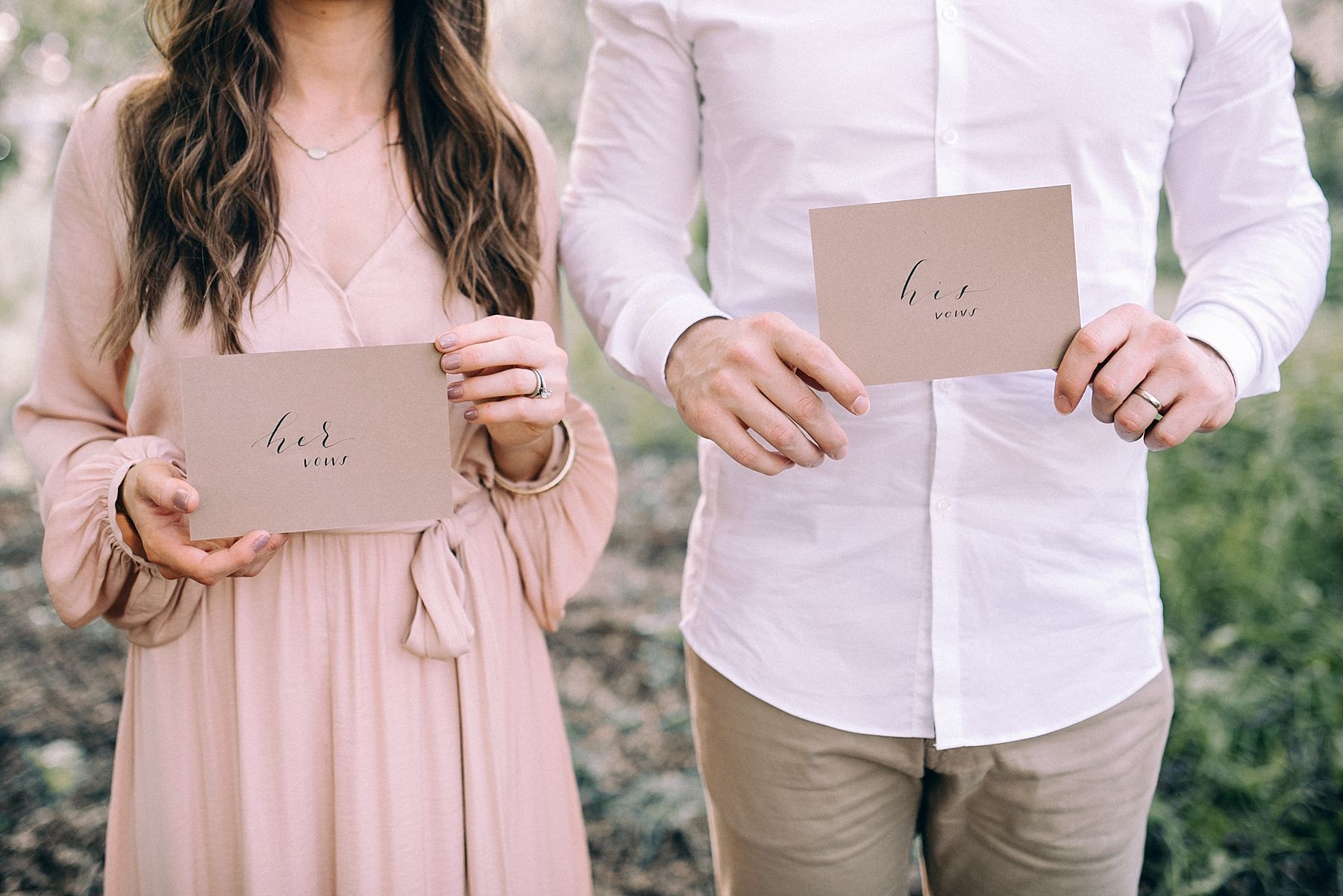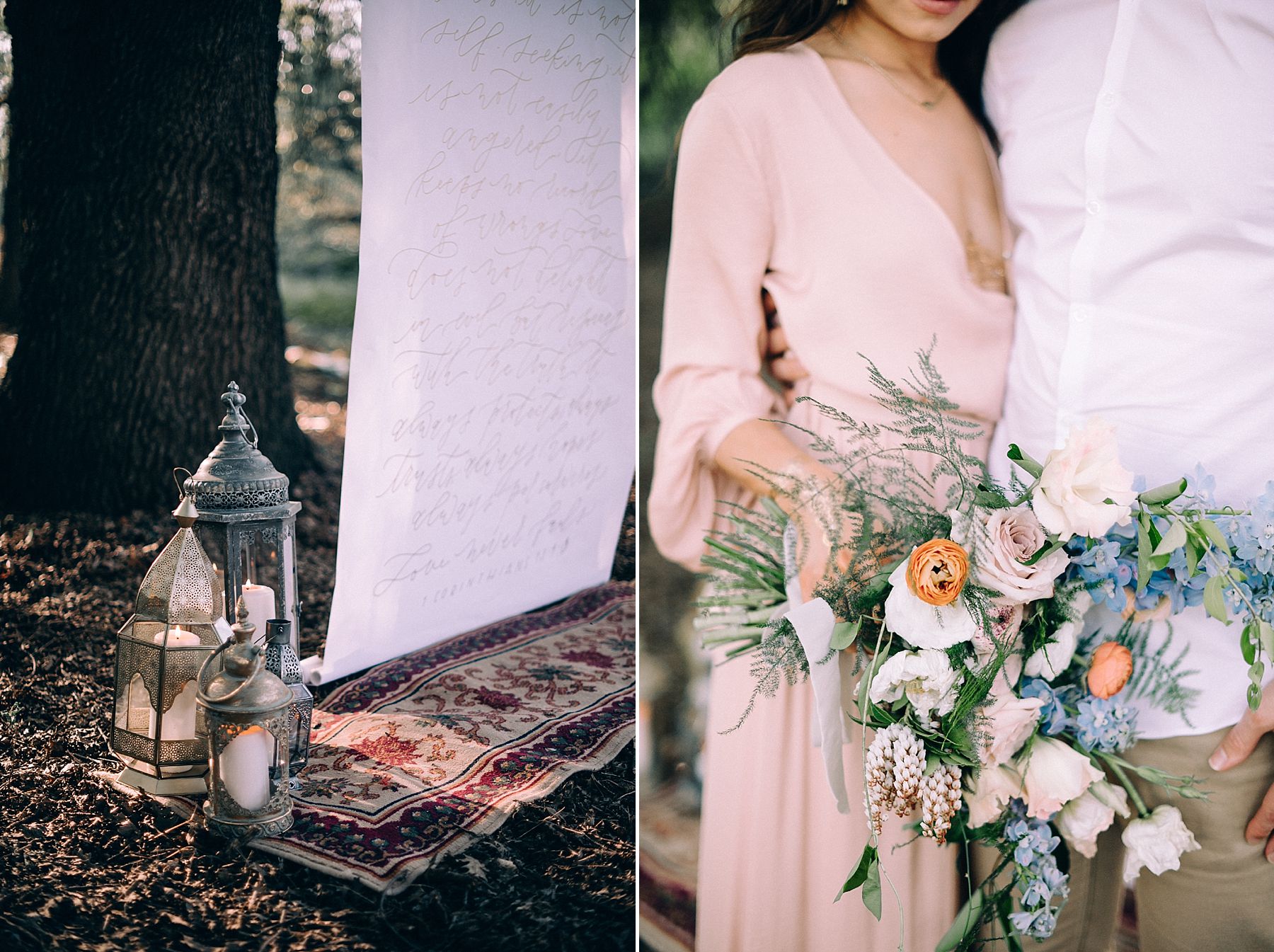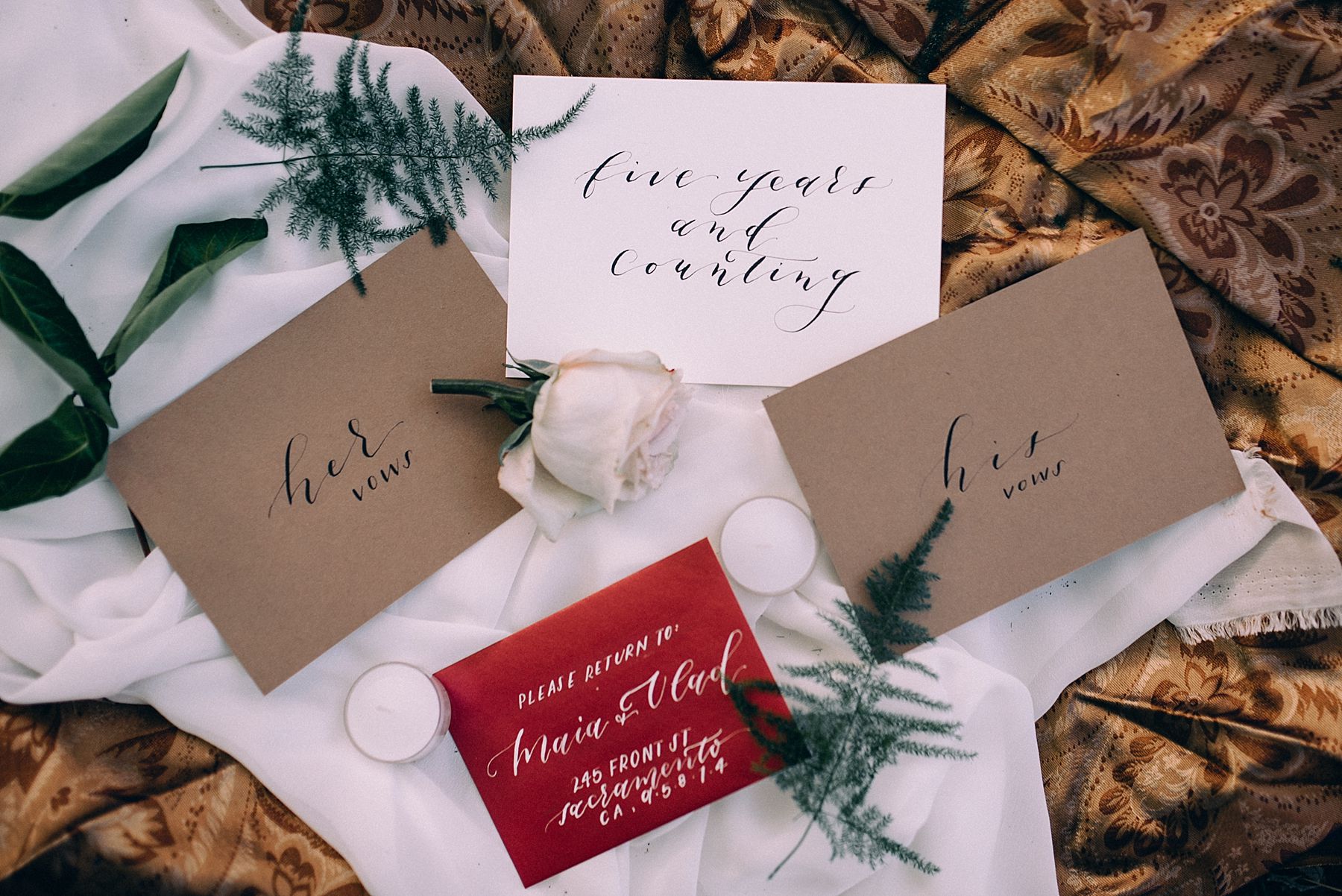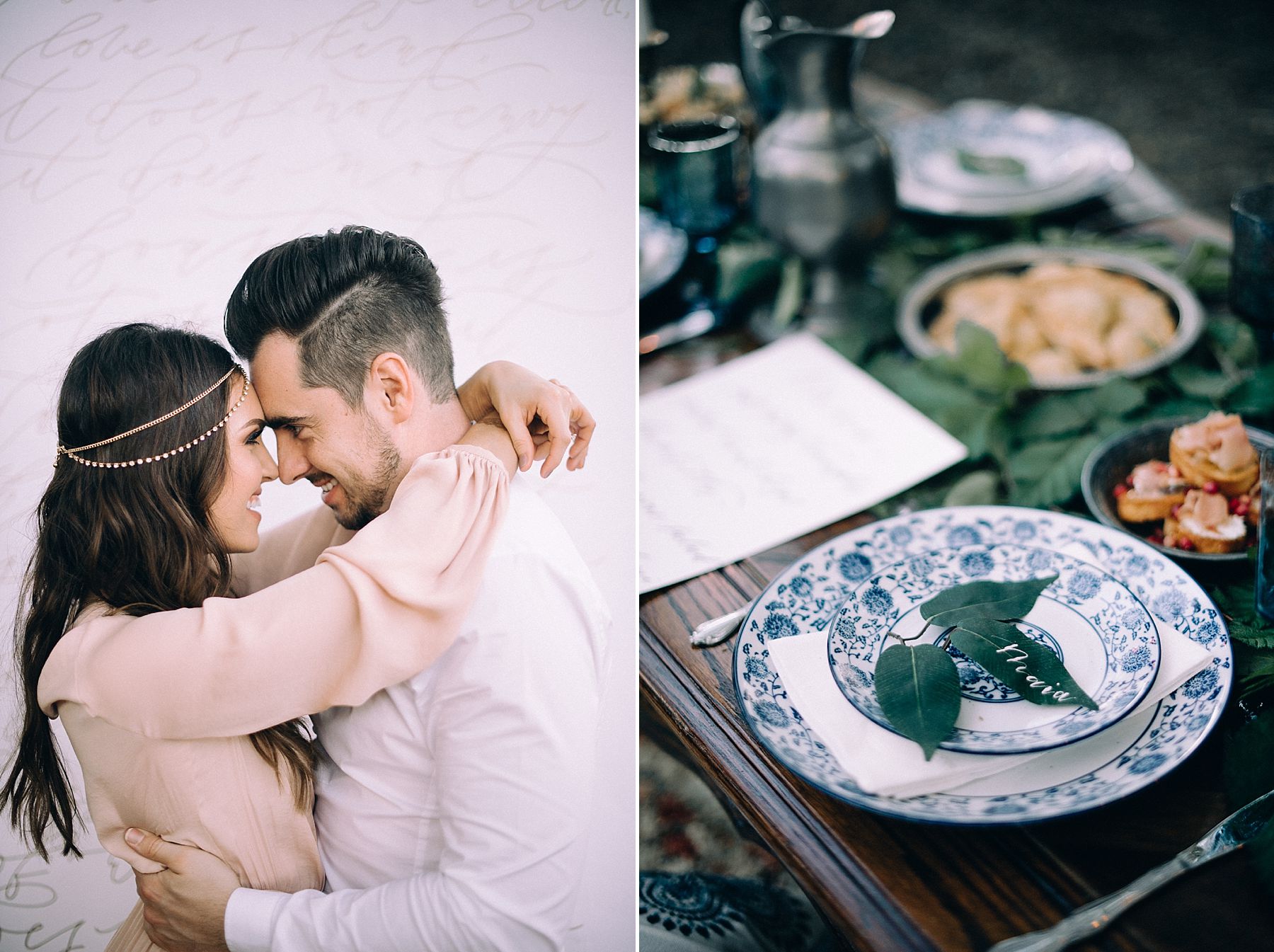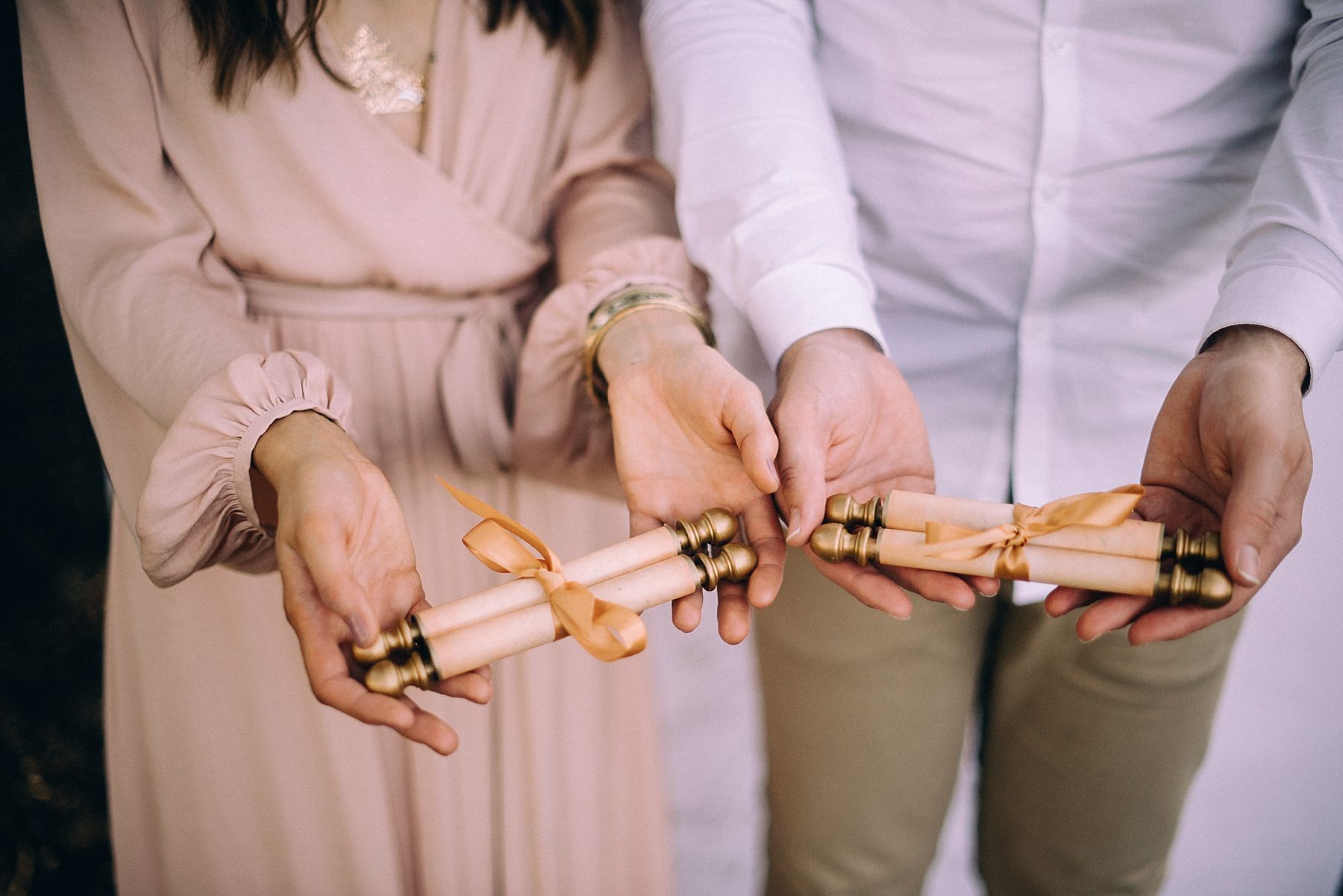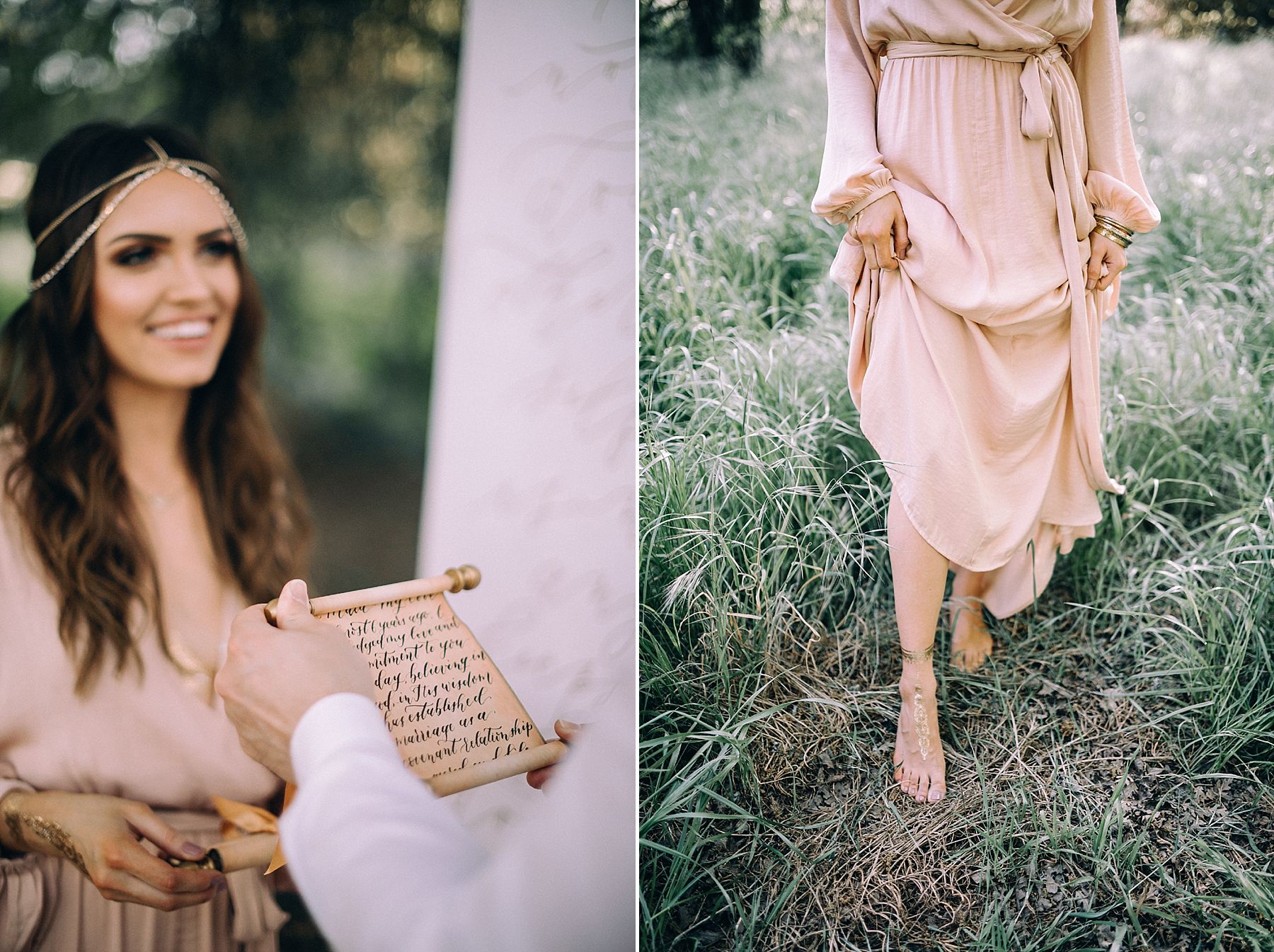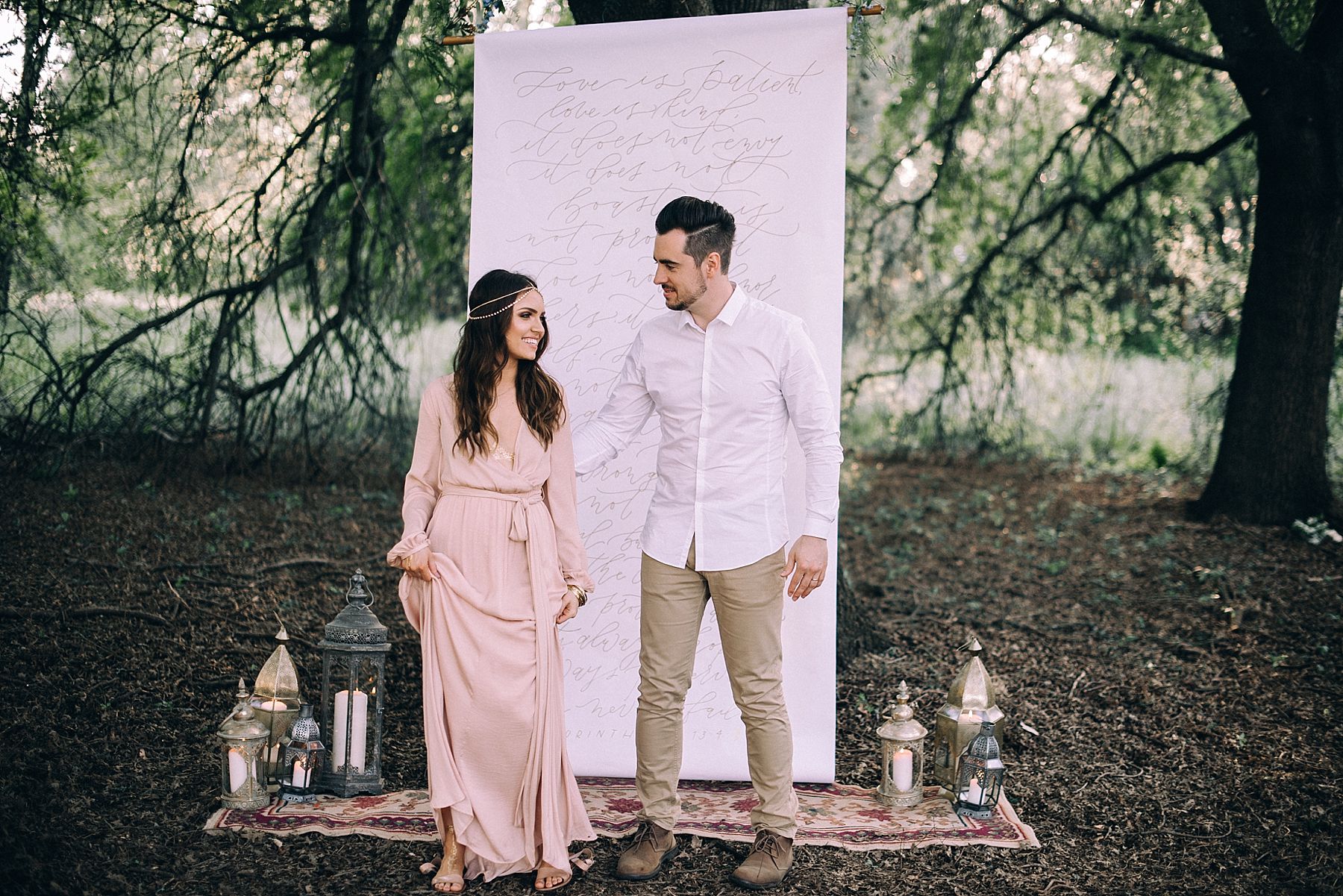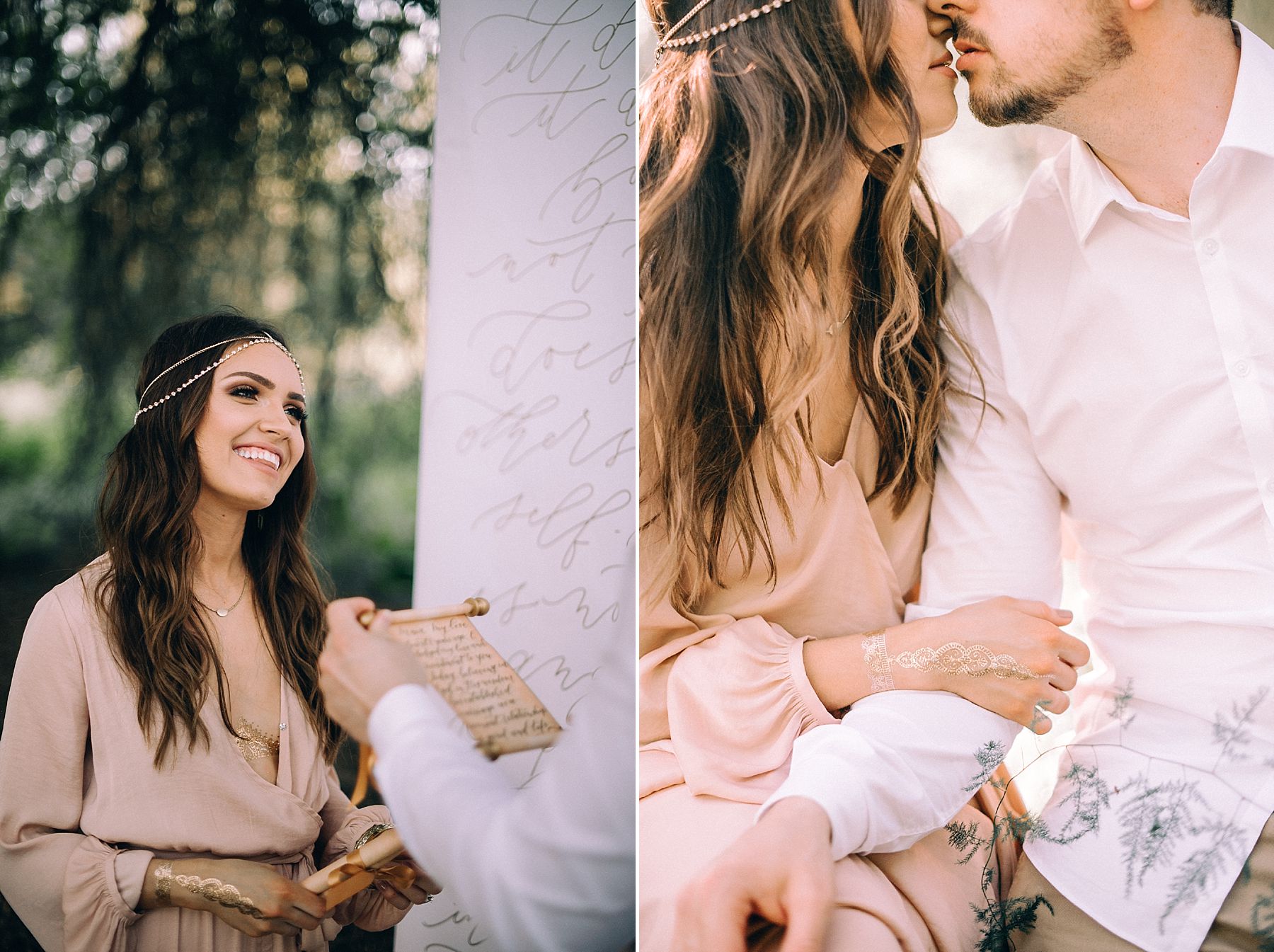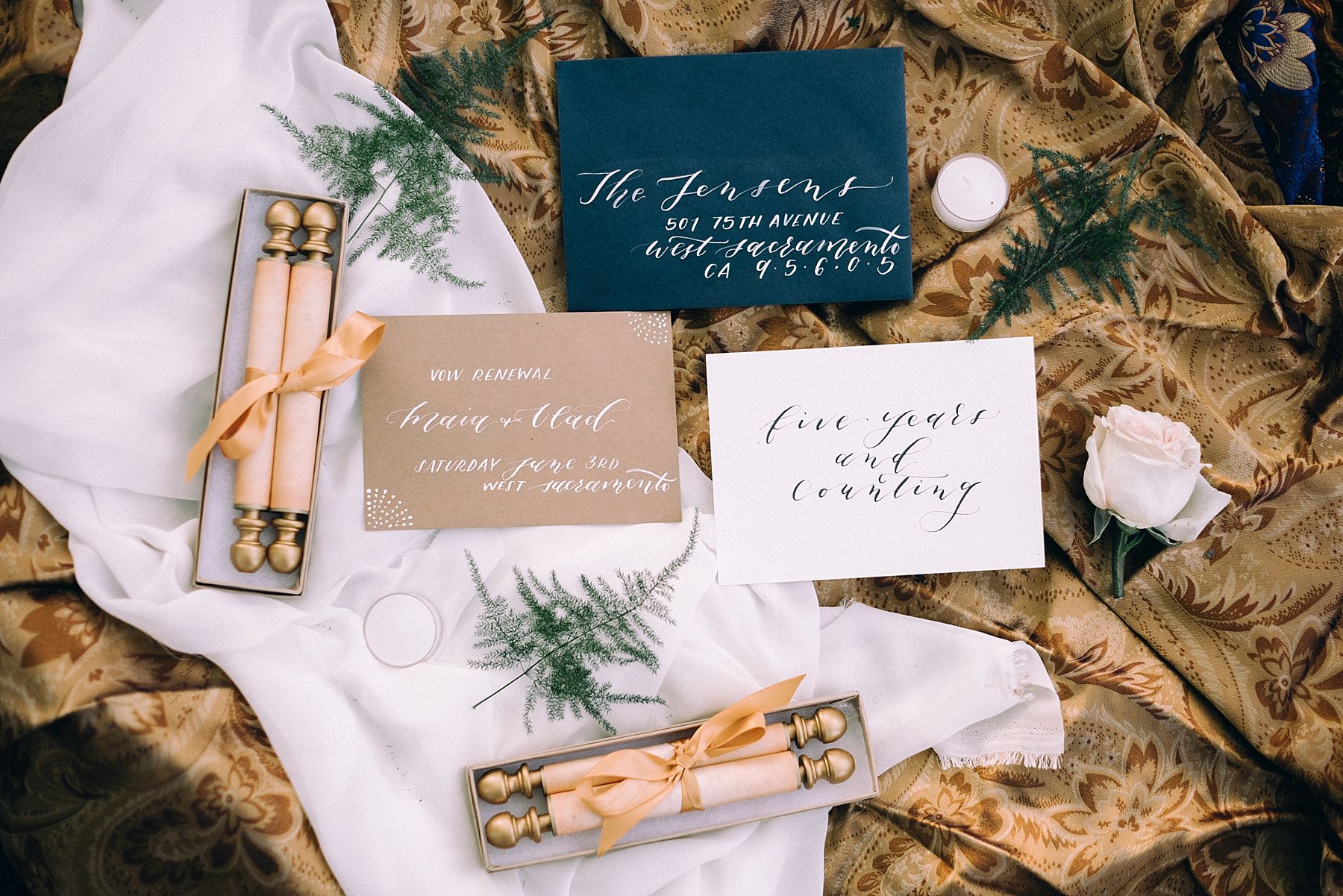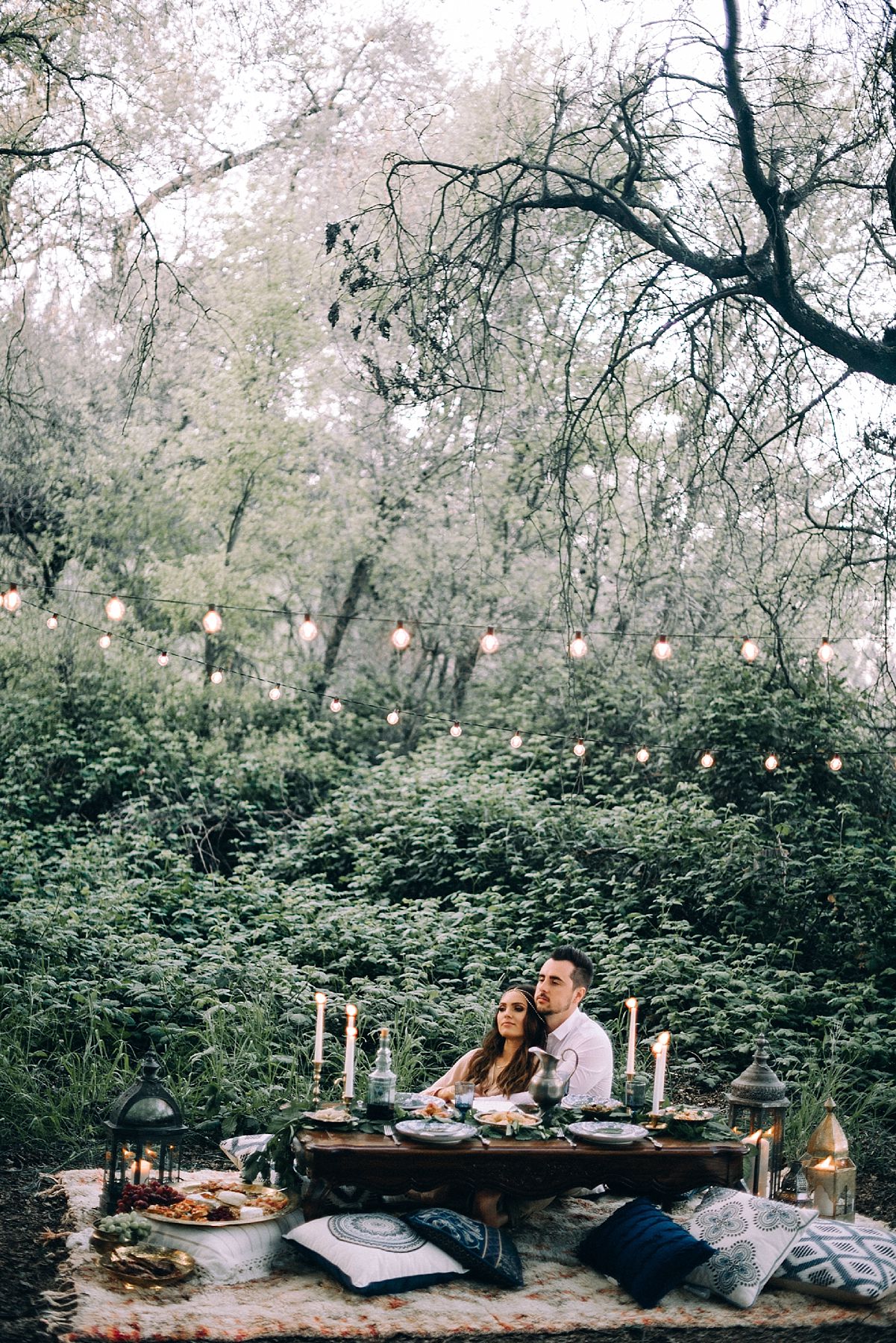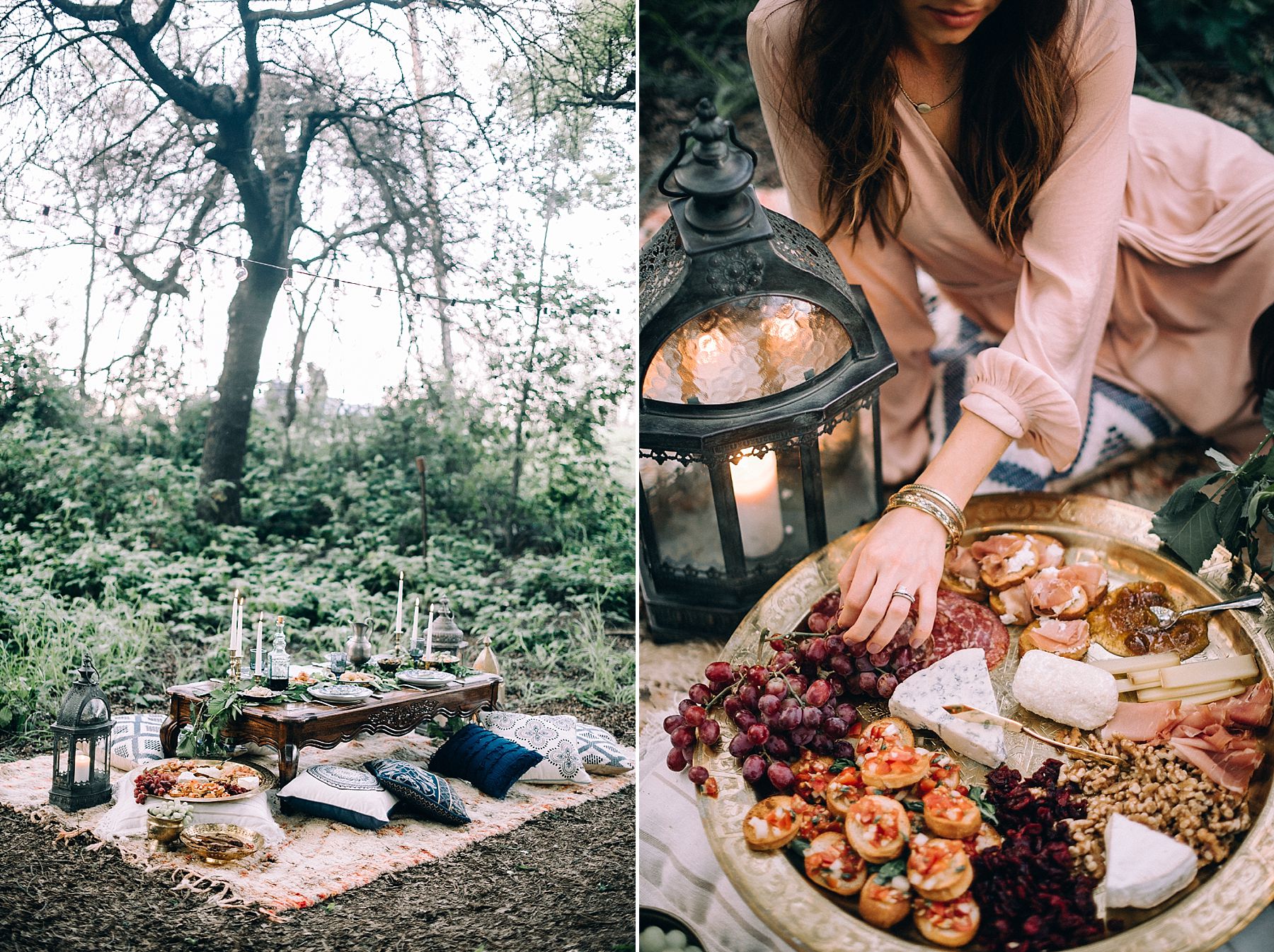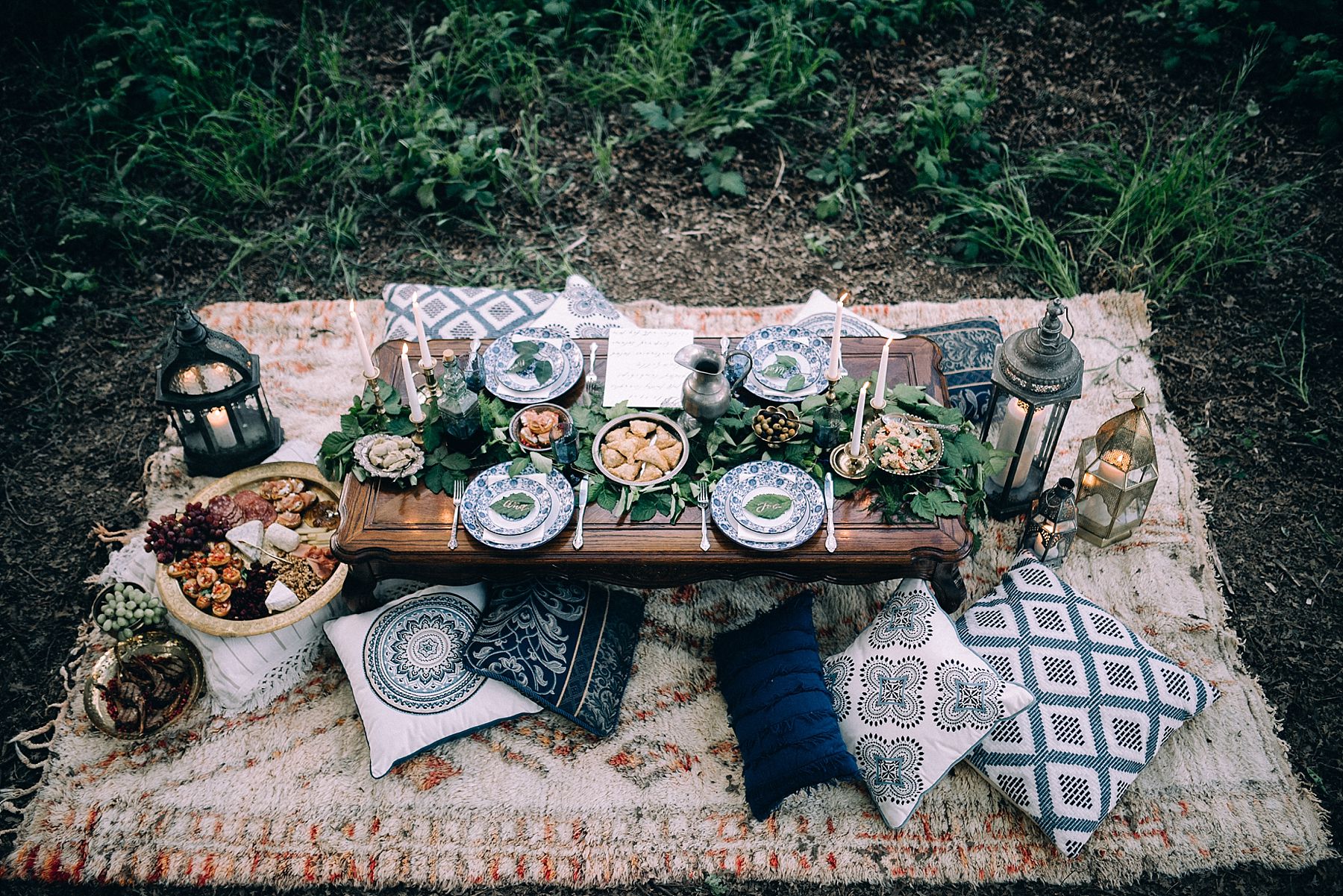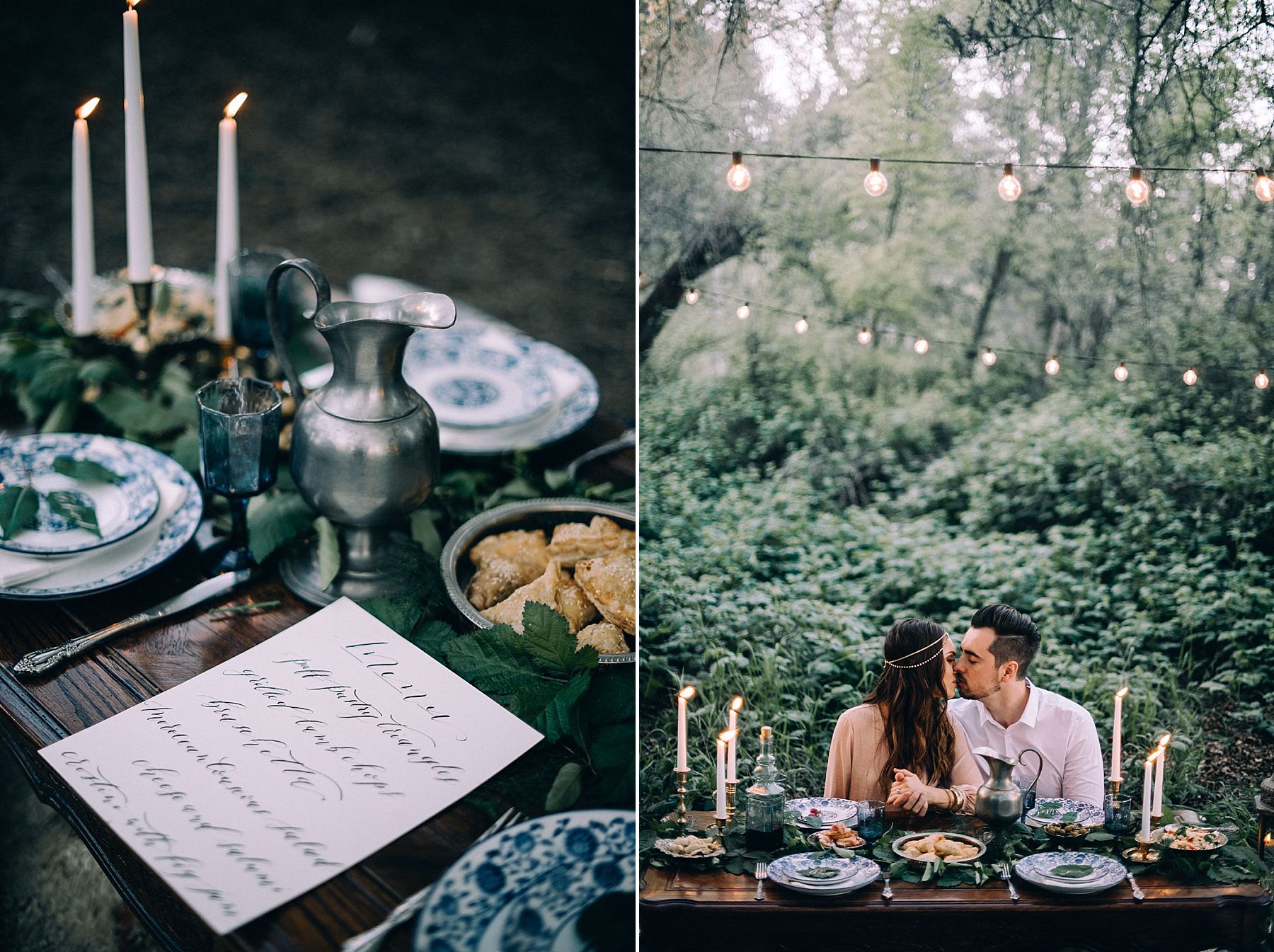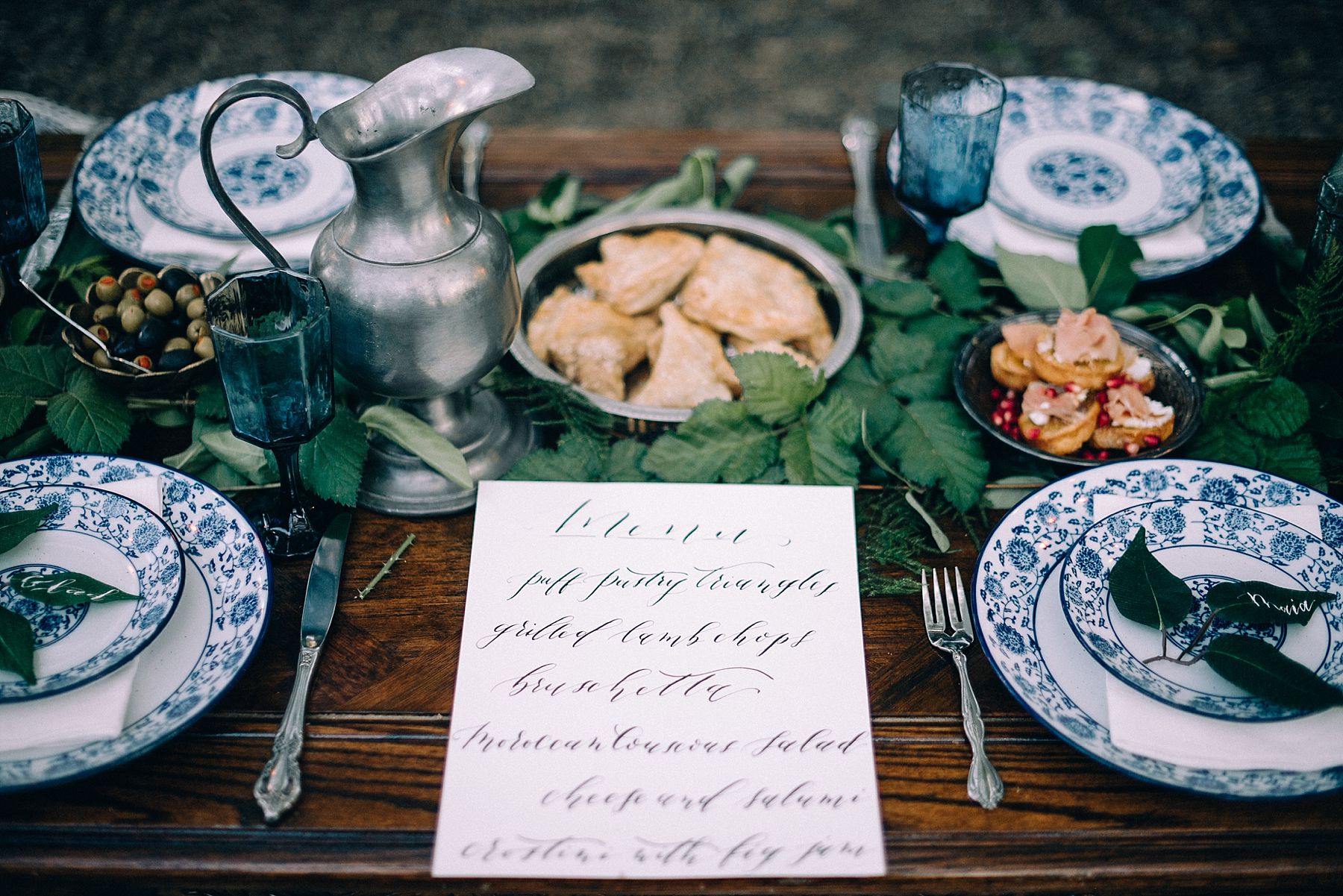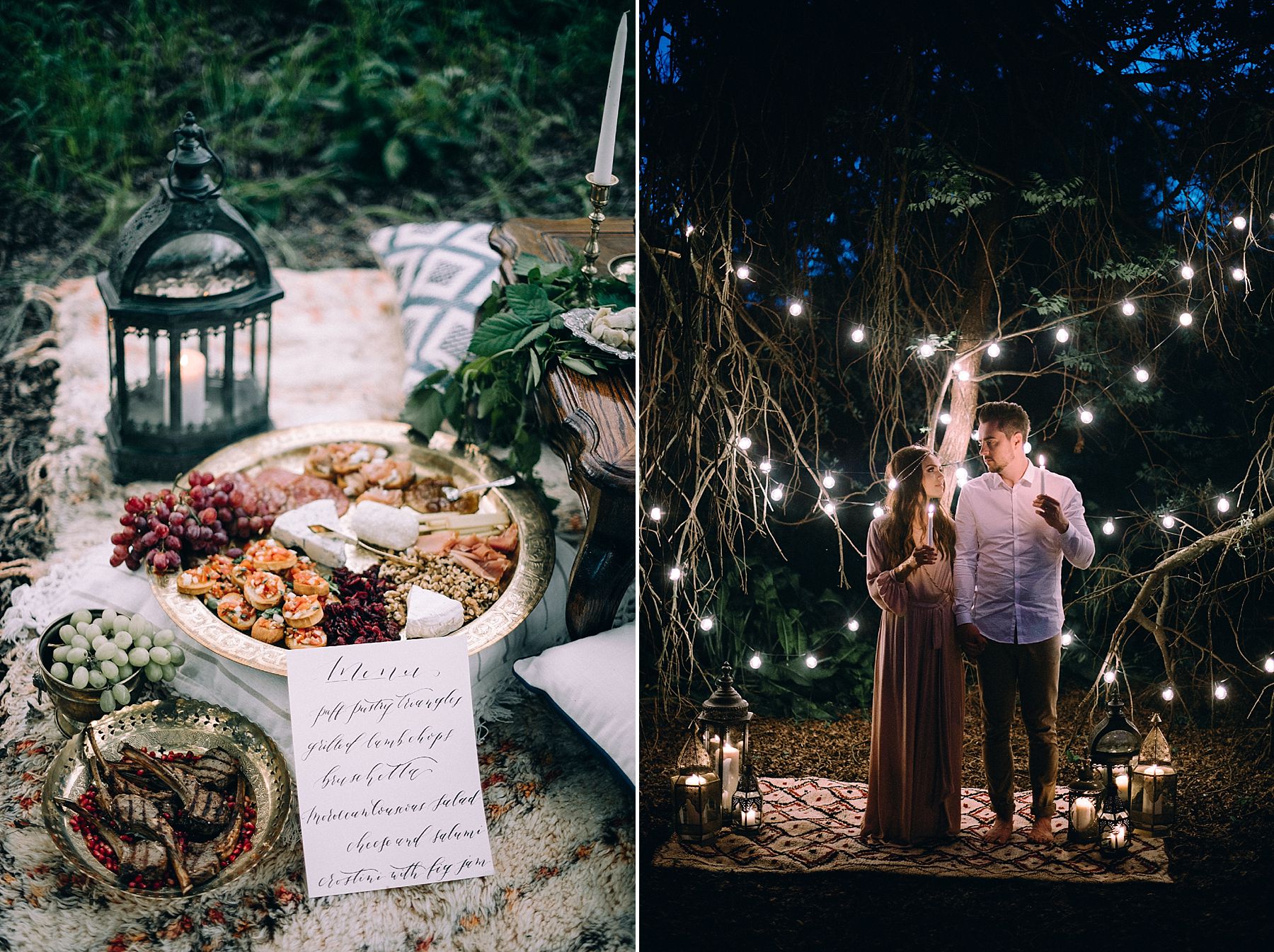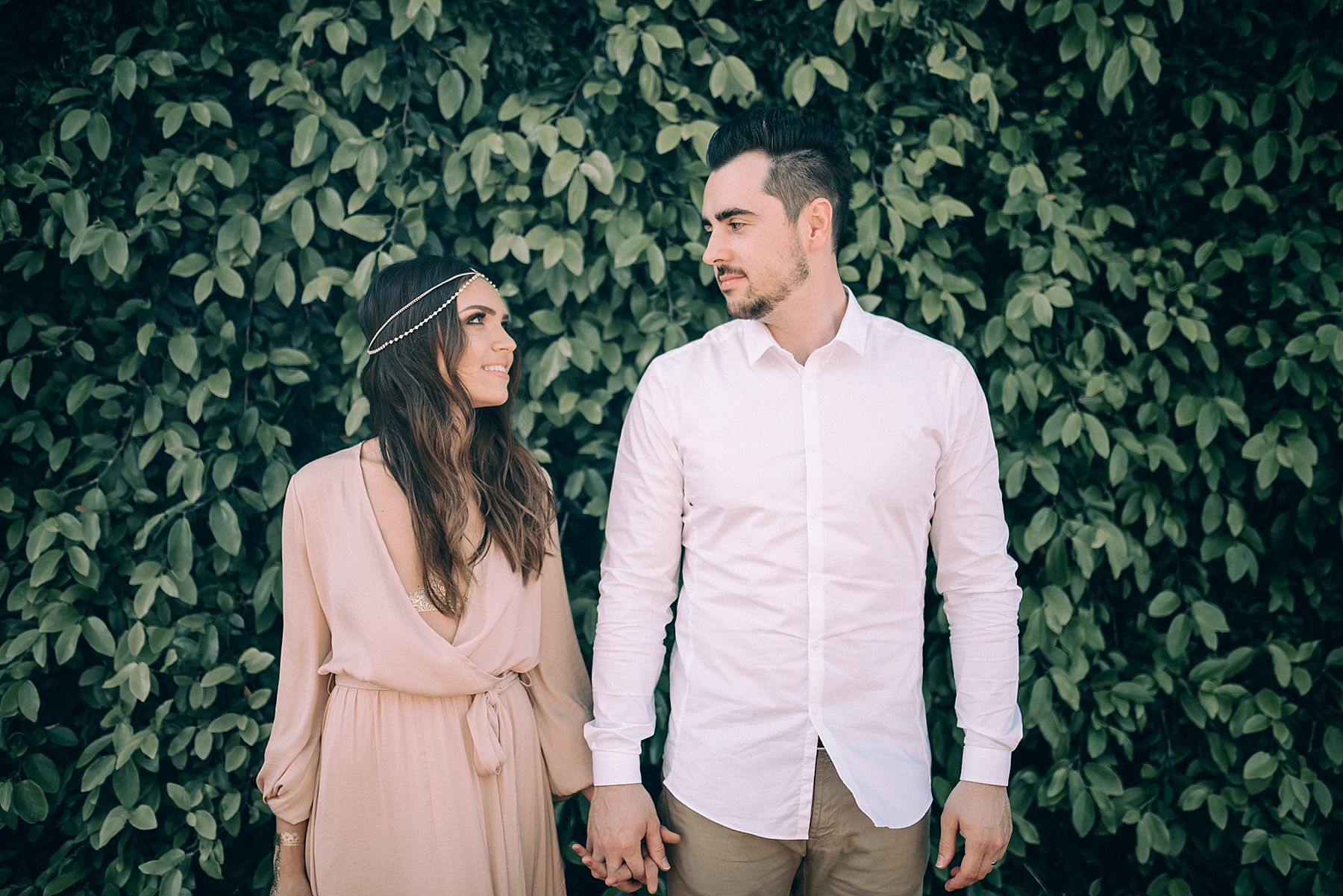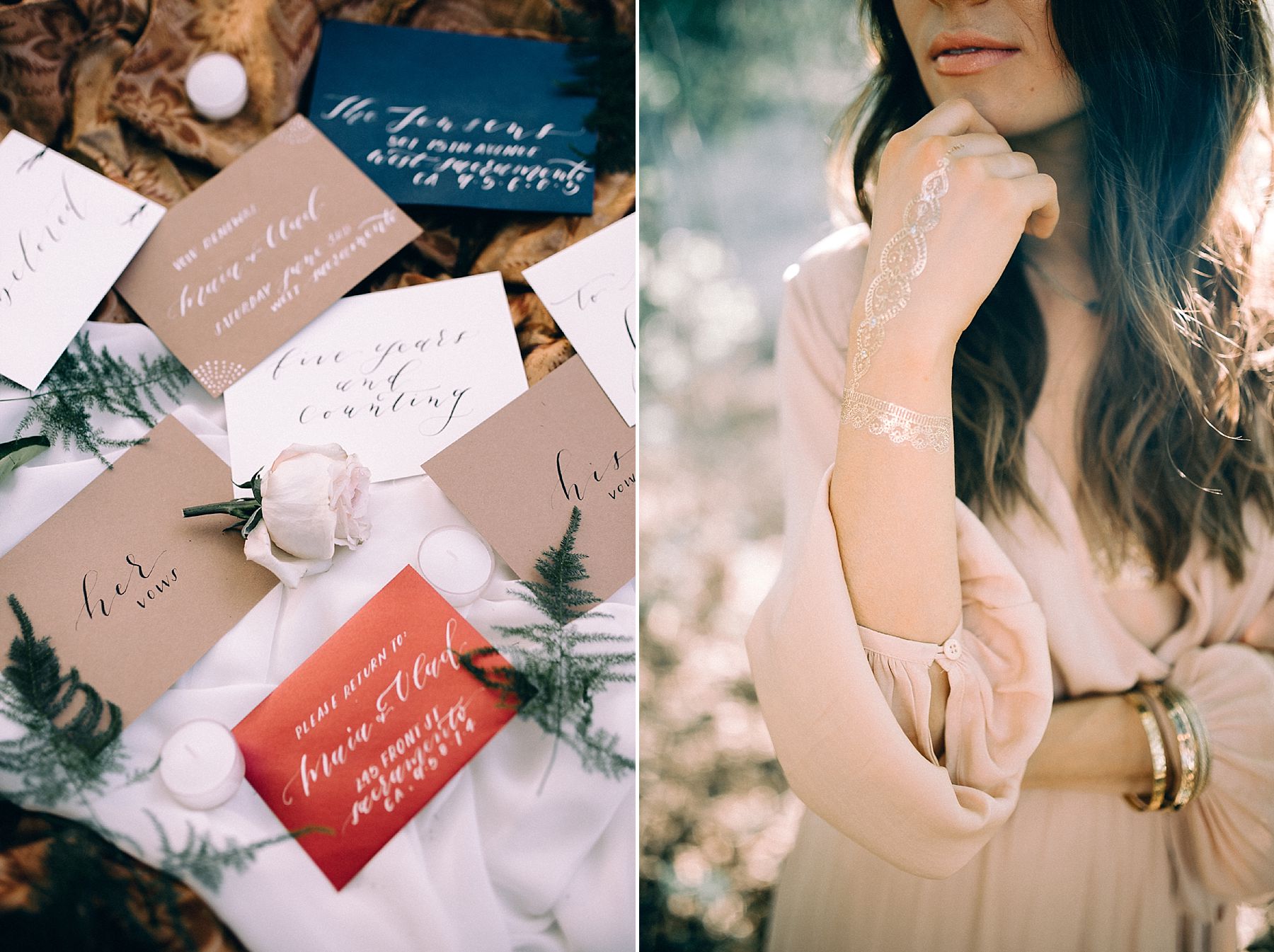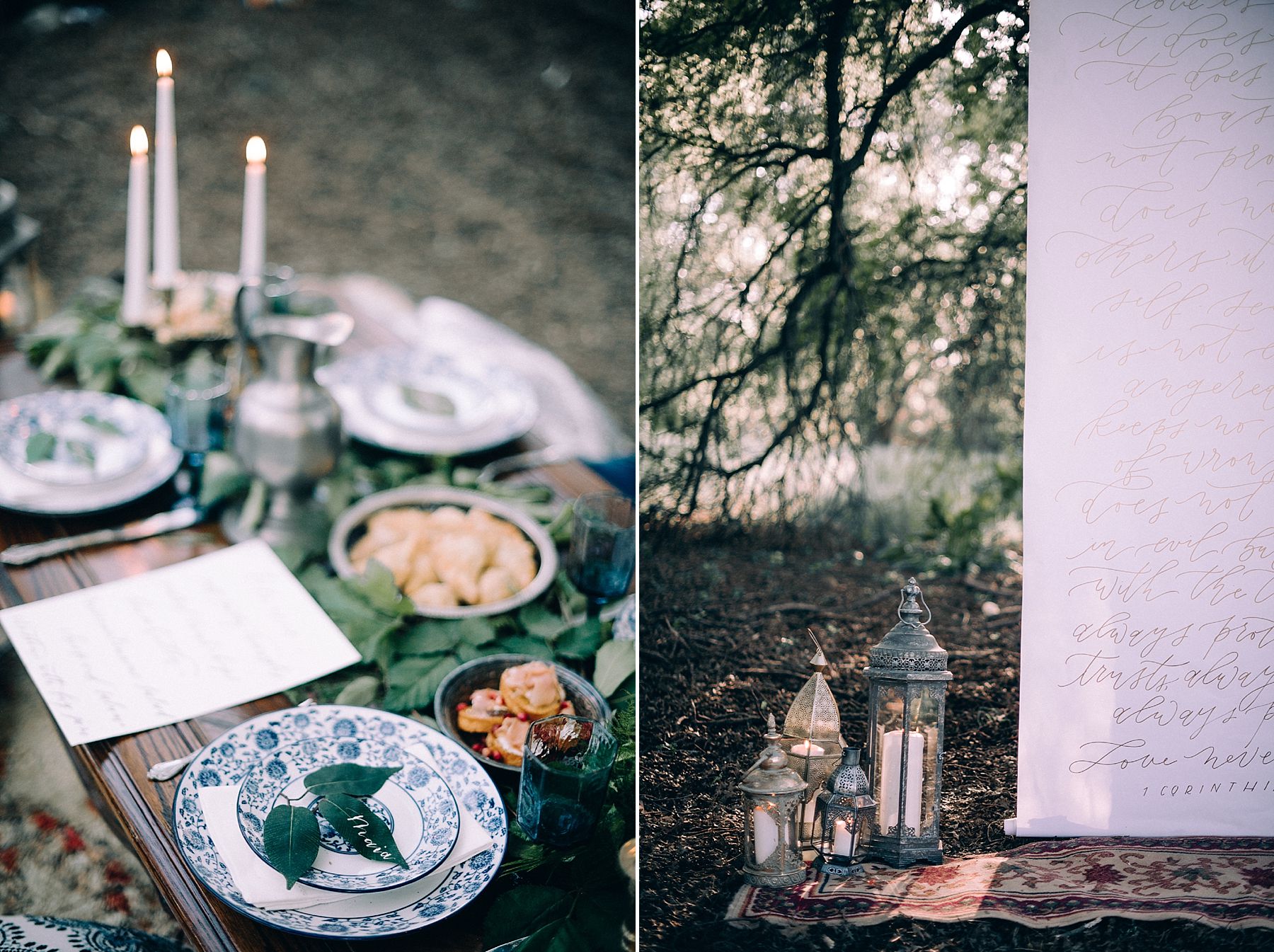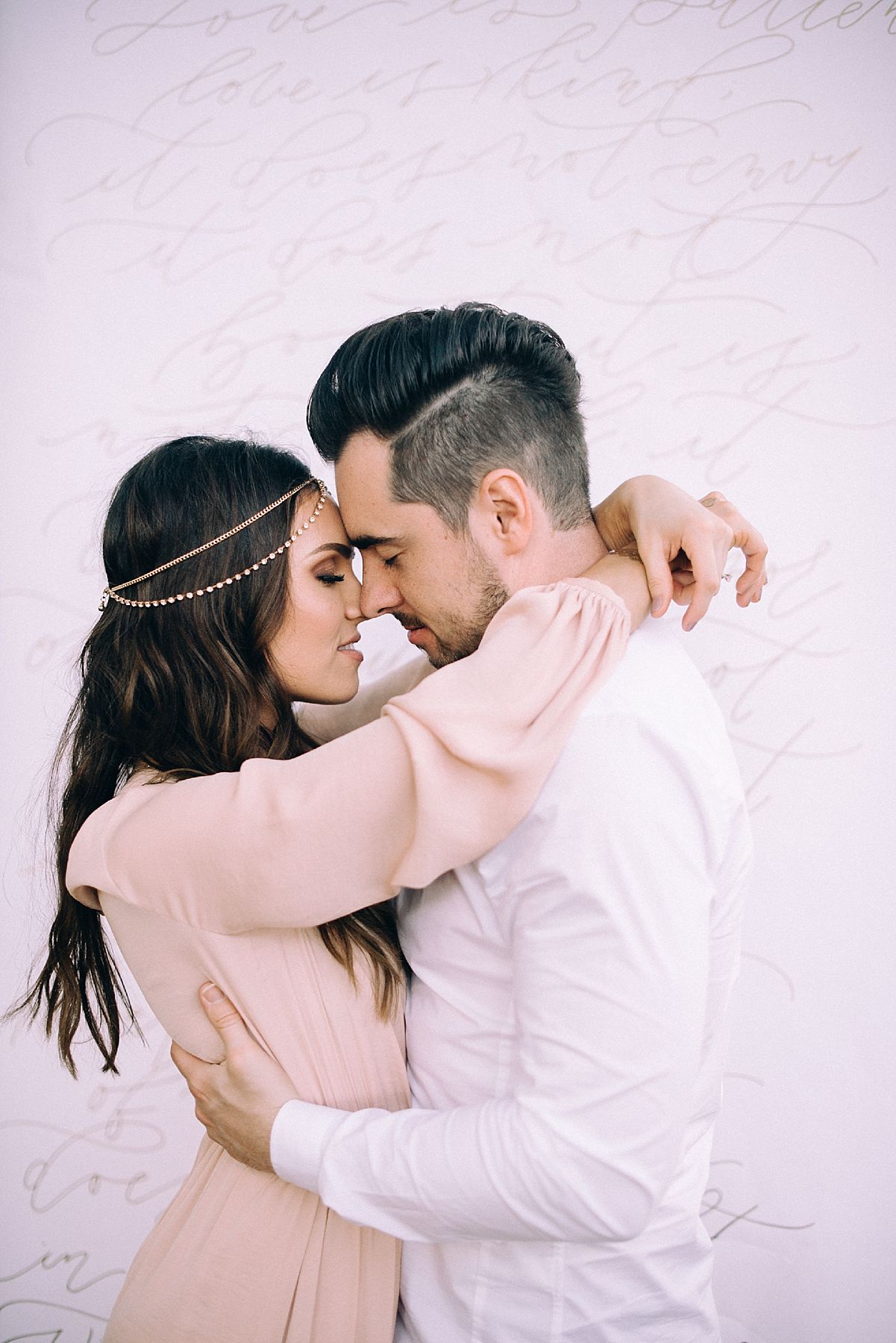 Sacramento Vow Renewal with Moroccan Vibes Creative Team:
Styling & Design: @4theloveofparties

Hair: @davidmuzichuk
Make up: @elonachap
Florist: @walnut.and.main
Models: @maia_shcher & @impera_vs

Calligraphy: @ashbaumgartner

Rugs: @kechmaradesigns

Catering: @citrusplazacatering

Jewelry: @noondaycollection

Photography: @loveandtheory

Scrolls: @artfulbeginnings 
Wedding Calligraphy
For this Sacramento Vow Renewal with Moroccan Vibes, we created a wide variety of wedding calligraphy pieces including an invitation suite in deep rich jewel tones, a calligraphy backdrop, and menu. Ashley also wrote Maia and Vlad's renewal vows to each other on handmade paper scrolls. What a beautiful renewal it was! See more of Ashley's calligraphy work here.